Scott Brown makes emphatic title claim for Celtic
Lead over Rangers will be bigger if remaining games are played, claims captain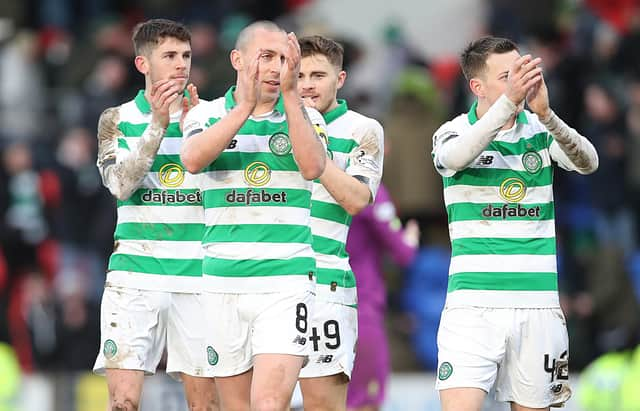 Celtic captain Scott Brown believes the Scottish champions would open up a bigger gap over Rangers at the top of the Premiership and win a ninth consecutive league title in style if the season can be completed on the pitch.
Uefa's executive committee has opened the door for the SPFL to call an end to the 2019-20 top flight campaign if it can prove it faces insurmountable financial difficulties amid the COVID-19 crisis or is prevented from resuming fixtures by a long-term government ban on large events.
The SPFL board are due to meet on Monday to discuss their next move, having already secured the authority to curtail the Premiership through the controversial passing of their resolution to the 42 member clubs last week.
The Championship, League 1 and League 2 have already been formally ended with the final standings in the tables decided on a points-per-game basis.
The same action in the Premiership would declare Celtic champions and relegate Hearts, although ongoing league reconstruction talks could spare the Tynecastle club.
Rangers, backed by Aberdeen, are leading calls for the season to be finished on the pitch which also remains Uefa's preference.
The Ibrox club are 13 points behind Celtic with a game in hand on the champions, two Old Firm fixtures still outstanding and 27 points to play for.
Brown is adamant Celtic also want to conclude their remaining eight league matches, having been in a rich vein of form and on course for a fourth consecutive domestic treble of trophies when football was suspended on 13 March.
"We obviously want to play the games," said Brown. "We think if we could continue playing, we could extend our lead at the top. I would love to see the league finish.
"We've had a fantastic season. We are 13 points clear with eight games to go, our goal difference is a lot better as well, so we're in a privileged position.
"It's been a long, hard season already but we are also in the semi-final of the Scottish Cup but we'll need to see what happens.
"We obviously want to play the games and finish the season. But if the government decides to call it, that's up to them.
"It's hard. We want to finish the season. But no one in the world thought this was going to happen so we need to play it day by day."
Brown, speaking on the Sky Sports Football Show, expressed sympathy for the administrators seeking a solution amid the pandemic which has forced management and players at many clubs, including Celtic, to take significant wage cuts.
"It's a hard position for anybody, to be honest," he added. "A lot of the leagues are exactly the same as us. It's day to day, waiting to see what Uefa say, and we have to follow that.
"It's like any league in the world. We want to play. That's our job, that's what we get paid for, and what we love to do as well.
"Everyone wants to see football back – but we need to make sure it's as safe as possible when it happens.
"Throughout the SPFL there's been a lot of deferrals and cuts. That's the same at Celtic. Everyone is together, this is what's amazing about this club."