But as I briefly peeped above the sea of jubilation, across to the press area which was a pocket of relative stillness amid the mayhem, my second thought was simply 'thank goodness I'm not working'!
While being able to cover major sporting events is a privilege and a joy, sometimes it is better to be part of the chorus line than take on the role of narrator. Because while Tuesday night's match threw up statistics and analysis aplenty, the fact is the evening was one fuelled by emotion. It was a feeling as much as a result; an 'I was there moment' that will live longer in the memory than a report. And, who you were there with matters on those kinds of nights.
Football after all is about camaraderie, family, friends, tribalism, and the level of passion that, professionally, has to be contained when on duty. I know that colleagues who were charged with meeting deadlines as challenging as the demands placed on Steve Clarke's men will have shared the ecstasy of the Tartan Army, they are just not allowed to express it so freely as the paying fans who packed out Hampden. Unperturbed by press box etiquette or the pressure of finding a way to report facts and feelings as deadlines loomed, I could soak it all in. And, I could witness the solidifying of the connection between the Tartan Army's newest recruits and the national team.
The sad fact is that thousands of Scottish football fans had become disenfranchised. Somewhere between the age group that had grown up expecting major finals and now there was a lost generation. While foot soldiers of old had, fuelled by national pride and hope, gamely signed up for campaigns only to be left open-eyed and broken like the main protagonists in a Wildfred Owen war poem, there was no fooling or fuelling the majority who came after France 98.
The survivors of previous tours barely had the energy or enthusiasm to drag themselves to games and those who did were often there for the party rather than the football. It was hardly the stuff of propaganda posters. 'Your Country Needs You (but to be honest, we'll probably come up just short and you will no doubt end the night crying into your pint or your pillow)' It wasn't a rousing call to arms so the people who came behind were not willing to follow them over the top when failure seemed inevitable.
That has changed. Slowly but surely. The era of a half-empty, muted national stadium is behind us. The players and fans have bounced back. There are fresh faces in the squad and in the stands and on Tuesday night the players defied the odds. Claiming a significant scalp, they forced the rest of Europe to sit up and take notice. There was no glorious failure on the pitch, in fact no failures at all, while the packed stands crackled with anticipation and then belief after Scott McTominay's first effort hit the net. Clearing its throat, Hampden Park roared once again, defying critics who insist the shallow bowl is not conducive to a hair-raising, goosebump-inducing atmosphere.
"Look at this place - I've never seen anything like it, it's incredible," said McTominay after his second brace in two matches secured the victory. "The manager said that this is our chance to create legacies as Scotland players. These are the nights in 20, 30 years that people remember. We can't thank the fans enough."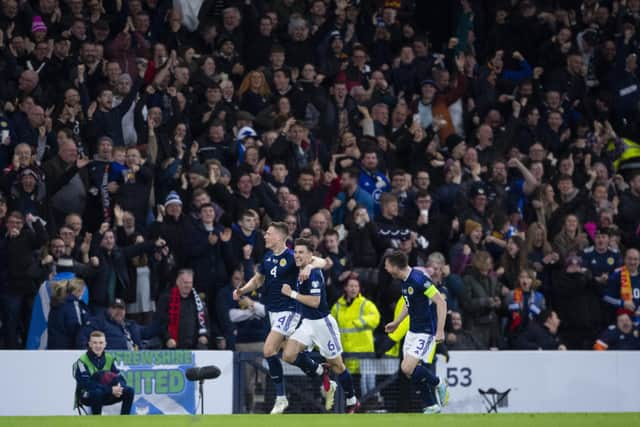 The first time since 1984 that Scotland have bettered Spain, the first time ever that Scotland have started a qualifying campaign with two wins and two clean sheets, and they managed it with a performance which surrendered the majority of possession but still produced the greater number of attempts on goal. Those who were born just before or long after the last stand-out result, when James McFadden's goal stunned France in 2007, finally got an idea of what those international David and Goliath moments feel like and if the youngsters around me were any indication, they loved it.
Having grown up attending Scotland games, travelling on football special trains with my dad and brother, I had an early introduction to the varied sights and collective sounds of the Tartan Army and I've always felt sorry for those who didn't have that experience. There were so many kids who grew up without heroes in dark blue, viewing their national team the same way they viewed parents turning up to collect them from parties - an embarrassment but one they could do little about. But the pride is returning. That awkward phase is over. The fact that Scotland Supporters Club numbers are up tells you that, as do the sell-out crowds, the clamour for tickets and for shirts.
On Saturday the young lads in front of us came decked in kit but by Tuesday night, flags, and kilts had become an additional part of their attire. By then everyone was on their feet for the full 90 minutes and the volume had been cranked up.
My nephew who grew up obsessed with Barcelona and, as a four-year-old in 2010 headed to Hampden only to see the Spaniards, is now a full-fledged member of the Tartan Army. Totally hooked and John McGinn has replaced the likes of Xavi and Iniesta. There is no malaise, no embarrassment, just rousing renditions of classics like Doe a deer, We'll Be Coming etc, as well as more recent additions about McGinn and McTominay, and excitement about upcoming games.
From the tots in front of us to my octogenarian dad, the enthusiasm is back, and if that pride and belief continue to grow I'm half expecting those kids to be full-blown Bravehearts by the end of the campaign.