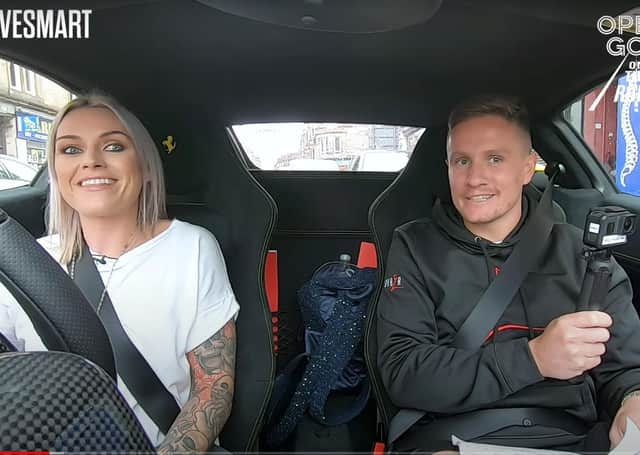 Television has a term for those moments when a much-loved show comes a cropper by straying from a tried and tested formula. The bantersome Simon Ferry is more of an internet star but could it apply to him, too? Stepping into pop singer Amy Macdonald's car, he wondered if he might be about to "jump the shark".
"Mate, my only interest in life is football," admits the host of the online chat show Open Goal. "If I meet someone in a social situation and they're not interested in it I'd be struggling for something to say to them."
Macdonald is not so far removed from the game in that she's married to Ross County's right-back; nevertheless, the normally ebullient Ferry had cause to ponder possible overreaching. "I don't really know about music so that interview was going to be a wee challenge. But I think it went okay. Amy drives a Ferrari so being in one of them was decent. My main worry was holding out for an hour without farting in such a fancy motor. I didn't really want to pump on 
Richard Foster's booster-seat!"
Maybe Ferry could broaden his scope after all; he's ambitious for this burgeoning meeja career. But right now there's plenty of fun to be had talking football, and plenty of daft stories to tease out of gnarled ex-pros and guys still getting a kick at the ball. And very definitely right now, with the game quarantined, Open Goal is proving a lifeline.
He says: "This lockdown is a massive challenge for footballers and especially the full-time boys. When I went down to part-time it took me a whole year to get over not being in a dressing-room every day. Right now, that will be affecting players physically but also mentally. They'll be missing a laugh and a joke."
Ferry has upped broadcasts to meet this need. "I've had so many footballers messaging me saying the podcast is helping them get through this tough time. And it's not just footballers. I'll be up the Fort [shopping centre, near his Glasgow home] and ordinary folk will say this stupid nonsense is lifting their spirits. That's lovely to hear."
YouTube viewing figures have rocketed
Viewing figures on YouTube have rocketed, both for his one-to-ones - usually on the sofa by sometimes in the subject's car, a la Peter Kay and James Corden – and the sister show where he's joined by Kevin Kyle and Paul Slane. Assuming the country has stopped social-distancing come September, their pungent holdall of wind-ups, mickey-taking, mild abuse and hoary reminisce will go live at the Hydro. All 13,000 tickets have already been snapped up.
How has Ferry got here? A modest playing career, for one thing. He's 32 so it should still be ongoing, and it is at Peterhead but only just. "Mate, I'm on the pitch, you could say that. But saying 'F****n' hopeless' might be more accurate." Currently helping coach the first team at Balmoor, he knows he should have achieved more in the game but always loved a "carry-on" too much. Now the knockabout humour has found a legitimate expression.
"I'm pretty sure lots of my managers signed me because I was good for the dressing-room and I have to admit I was always better there than on the park. Tommy Burns, when I was at Celtic, liked my lively personality. It was nothing to do with my footballing ability!"
So he was a natural comedian who'd been searching for the right stage. And one that wasn't sorting letters. "When I left Dundee, my last full-time club, and came to Peterhead my wage dropped from 1300 quid to 300. I've got a wife and two boys and needed something else so I took a job at the Royal Mail at Springburn, doing the midnight shift.
"It was winter and because I don't drive I had to walk to the depot. You're Edinburgh, mate, eh? Maybe Springburn's like your Pilton, kind of where Deeks and Gaz [Derek Riordan and Garry O'Connor] are from. Walking Pilton at night would be no problem to them – they ran their scheme – but I'm a wee posh boy from Dundee! Actually I'm not – I'm just bigging myself up for The Scotsman.
"The work was boring but it was a canter for me because the bosses knew I'd been at Celtic and loved football stories – everybody does, don't they? – so a lot of the time I was outside with them on fag breaks, me holding one but not lighting it. I reckon if I'd stayed I'd be running the Royal Mail by now but then I got the chance of the podcast. I'm determined to make a success of it in a way I wasn't as a player. For one thing: I don't want to have to go back to chucking letters in sacks. There were times doing that job, even though it was easy, when I thought: 'How am I here? What the f***?'"
Kevin Thomson was the perfect first guest
Ferry is more than happy to send himself up and trash his own time as a player, although he takes issue with Wikipedia's description of an own goal he scored for Swindon in a League One playoff semi-final as "hilarious": "It hit off the wrong bit of my foot but the goalie should have caught the ball before then. He was too nervous and I'm blaming him." But right away he knew what he wanted from Open Goal. The first guest three years ago was Kevin Thomson and, like the others in those early weeks including Aiden McGeady and Charlie Mulgrew, he was given specific instructions by Ferry: don't be bland, football is more than a game of two halves, tell us something we don't know. Thomson understood, spilling the beans about losing the Hibernian captaincy, falling out with manager John Collins, the naivety displayed by both parties and his regret over the notorious tabloid headline "I'd crawl along the M8 on broken glass to sign for Rangers" – words he insisted he never said.
Says Ferry: "I knew Kevin would be perfect. He's desperate for the world to hear what he's got to say and with good reason – he's got a great football brain. I told all of the guys who came on the show early days: 'You need to go for it. If you don't want to, dinnae bother.' If they'd been boring that would have set the standard for other guests. Charlie gave me wee nuggets as well, stuff about Lenny [Neil Lennon] flinging his sandwiches at James Forrest. Him and Aiden to this day like to tell me how they made the show what it is." Angling for a percentage of the profits, perhaps? "These two don't need it. They're both richer than the Queen!"
Ferry in that first instalment was pretty much as he is now, save for the Peaky Blinders haircut and the 1970s-style tabard, perfect for handing out cheese-and-pineapple sticks at a houseparty, both of which drew ridicule from Thomson. That is: bouncy enough to suggest he covers himself in Ralgex before the camera rolls, but rapt at every reveal.
Open Goal seems like the antidote to the anodyne footballer interviews of which we're all too familiar.
Ferry defends players, saying: "PRs tell them what to say now. I think footballers are desperate to give their opinion and show their personality but clubs are too afraid of the headlines."
Did Ferry ever undergo media training? "Not me, mate, I never played for big-enough clubs, although at Swindon Town [Paolo] Di Canio analysed every interview done by the players. I liked doing them but I used to think: 'I better watch what I'm saying or on Monday the manager's going to be in aboot my baws'.
"On the podcast I try to make the atmosphere like a dressing-room. Those who haven't been in one for a while will hopefully lapse back into the old routine of constant slagging and the guys playing just now will be well used to that. I expect to get a pasting but will give a wee bit back. It seems to make for a decent watch."
'I didn't do enough with my playing career'
Ferry grew up in Dundee's Menzieshill where he was friends with Bobby Linn (Arbroath), Jamie Winters (ex-Aberdeen) and Chris Glennie (son of Bobby). It was only ever going to be football for him "because I was hopeless at school". He was spotted by Celtic, progressed through the junior ranks and signed pro at 18 in 2006, but the numbers next to his name in the records are 0 (0) – no first team games or goals.
"I didn't do enough with my career - nowhere near. This is going to sound like a pure pathetic excuse but when Tommy Burns died it kind of did me. Tommy knew I was a f***aboot but he was the one who looked out for me. He told Michael Gardyne he couldn't share a flat with me because I'd be wanting too much of a carry-on. He was always trying to get me to train harder.
"Later, when I went back to Celtic to train the Under-10s, I heard Brendan Rodgers describe what you needed to become a top player and I thought: 'I did absolutely none of that.'
"I never went to the gym, couldn't wait for training to finish, didn't think about diet and always wanted a laugh. I was a million miles away. When I managed to play half-decent it was always when I had a guy like Tommy or Paolo watching over me. That probably says something about my weak mentality."
One of these half-decent spells was being part of the Scotland Under-19s team which went all the way to the final of the 2006 Euros for the age group before losing the final to a Spain side containing Gerard Pique and Juan Mata. "I played every game of that tournament, keeping the likes of Graham Dorrans on the bench, which was an absolute disgrace by the way."
To be fair to Ferry, he was blighted by injuries throughout his career. One of his notable guests on Open Goal has been Gordon Strachan, whose prickliness can intimidate some inquisitors but not Ferry, who remembers the encouragement his old Celtic boss proferred while our man was stuck on the sidelines.
"I was on the bike as usual, which was soul-destroying, and Gordon would jump on next to me for half an hour and say things like: 'Everything's going to be fine. Even if your ankle doesn't get better, your infectious personality will get you through life'."
Advice from Fenners on Soccer AM
Maybe Strachan knew something he didn't and although Ferry didn't have designs on the life he leads now, there were little signposts en route, and encouragement from others. "When Soccer AM came down to Swindon I tended to be the idiot they interviewed and Fenners [reporter John Fendley] told me I should think about telly or something when I finished playing.
"At Portsmouth I wrote a column for the local paper which gave me the chance to spout absolute drivel and I loved that.
"At every club I'd hang around the most experienced guy in the dressing-room like a pest and try to get them to tell me their life stories. Then at Dundee a couple of players thought I might be onto something. 'Why not try asking questions for a living?' they said. 'Because really that's all you ever f****n' dae'!"
It's not all about him, he says, crediting the contributions of Kyle and Slane and insisting that the players are the real stars. "They've got the stories, all I do is tee them up. If I can do that, anyone could." Best guest? "I don't really want to pick one because they've all been great in their own way but Gaz and Deeks would be right up there as boys who broke out of their scheme – even though a lot of Gaz had to be left on the cutting-room floor otherwise he'd have got us all the jail."
Who's he been nervous of interviewing? "Michael Stewart. He's so clever. I thought: 'First question I ask he's going to think I'm thick as s**t.' Or as thick as Gaz and Deeks – sorry, boys! But I wasn't wanting to talk about the big, important stuff which usually gets him going and I think he enjoyed that. He was great, too, bang on."
And top of the wish-list? "Di Canio. For one thing, he's the most stylish man ever. Skinny jeans, desert boots, big furry jackets – it sounds like a straightforward look but I'd make a total arse of it. He's also the most enthusiastic man in football, completely and utterly obsessed with it, and at Swindon that was so infectious.
"I mean, he's a screwball. He'd say: 'I know I'm mad. And you might not like me, but please follow me. I hated [Fabio] Capello but we won together. It's okay to hate your manager. That's how it should be'."
The influence of Di Canio, and Tommy Burns, has been so impactful on Ferry that, even though he wants to take Open Goal as far as possible, and hopefully break it onto TV, he fancies giving management a go.
"I love the coaching at Peterhead, absolutely love it. I might not be the best in the world – ha ha, what a joke – but I know I'm enthusiastic. The thought that I could one day be in charge of a club, pick my own team. I'd back myself to have a good go. Mate, if someone was daft enough to give me the chance I'd love that."