Rangers enter Scottish Cup pressure cooker as Celtic threaten 'most successful club in world' mantle
Presumptiousness maketh pillocks of folk often in football.
You can, though, absolutely take it to the bank that whoever wins Sunday's Scottish Cup semi-final between Celtic and Rangers will lift the trophy. There is nothing in the form or the make-up of either side to suggest they won't overwhelm a lower league opponent in the June showpiece. Absolutely nowt. Their derby meeting at Hampden then, as no less than the final before the final, is epic. And, therefore, as Alex McLeish - a man who knows about such things - pithily articulated this week, an encounter which places Ibrox manager Michael Beale under "monstrous pressure". The penalties for failure for the Englishman are nothing less than monstrously monstrous, frankly. If he cannot find a way to get the better of Celtic at the national stadium, it won't only clear the path to a treble for Ange Postecoglou's men. It will be ajudged the afternoon when a fifth clean sweep in seven years hoved into view for Beale's bitterest rivals. The afternoon when the two clubs historic major national trophy hauls edged towards parity - owing to the title and the Scottish Cup then considered only to require rubberstamping. Leaving Celtic only one shy of an Ibrox club that prize their 117 haul as an article of faith in having earned them the status of the most successful football club in the world. The afternoon when, through coming up short in four attempts, Beale's perceived ability to usurp Postecoglou in their crucial head-to-heads will take a further, desperately-damaging dunt.
Thoughts and prayers will be required for the 42-year-old in that scenario. Fairness and logic ought to dictate definitive judgements on his tenure - which kicked-off at a horribly awkward juncture of this campaign five months ago - should be reserved until next season. By which time he will have had the necessary time to shape his squad with wide-ranging player turnover, and shape them up with a pre-season programme. But fairness and logic are largely non-existent in the Glasgow football domain. The Rangers support's bubbling vituperations are at the molten phase right now. Nothing short of a volcanic eruption, then, will be set off by the wrong result at Hampden.
Allowing Beale to get some shut eye in recent days is the fact it is entirely possible he could avoid being buried beneath a lava of tongue-lashings from his own followers.
It wouldn't be an extraordinary turn of events if Rangers were to edge a victory in the semi-final. There hasn't been a chasm between the teams in their recent confrontations. Those of a Rangers fraternity have perhaps gilded the lily as to how tight were their 2-1 Viaplay Cup final loss in late February and the 3-2 league defeat at Celtic Park. Doing so by putting the outcomes only down to defense lapses…of which certainly there were two gruesome examples earlier this month. But Beale's team are capable of beating their fierest foes. And their manager truly gets what can make the difference - in the immediate and longer-term.
"I'm not panicking about it," the Englishman said when it was put to him that every successful Rangers manager must produce victories against Celtic, as have eluded him in three match-ups. "Not every Rangers manager has had the experience to be fortunate to be on an [unbeaten] run of [seven] games as an assistant manager against that team. You've had success and failure in the past. After three or four weeks being back at the club, we had it in our hands in the first game [at new year] with Malik Tillman one-on-one in the 85th minute to go 3-1 up, only for us to cough up a goal at the other end. It's fine margins. The last game was a good one between two good teams, two completely different styles in terms of the way we play. We had enough opportunities to take something."
Beale accepts Rangers have a Kyogo Furuhashi problem to surmount. The quicksilver finisher with 29 goals to his name this season has netted five times in the past three derbies. This weekend he will be seeking to become the first player from either side to score in four straight for 29 years. "I don't remember him missing a chance and I do remember us having opportunities that we have missed," the Ibrox manager said. "They have won two competitions already and it has been shown he has been the outstanding player. He has taken his chances. There is a stat – we have had the most shots and the most shots on target. We are not a million miles out in terms of clean sheets. A clinical no.9 is one of the reasons why Celtic have done well. He is obviously an excellent player."
Rangers, exhibiting intensity and intent lamentably absent in the derby maulings suffered by predecessor Giovanni van Bronckhorst, prevented Celtic playing through them for spells in the clubs' past two meetings. However, in the most recent, they faced rivals deprived of the fit-again Reo Hatate. A scamping presence who typically brings to Postecoglou's side an energy and space-creating wiles that their ancient adversaries can struggle to counter. The issue for the champions-elect is whether the Japanese midfielder can deliver such industry after being sidelined for the past seven weeks."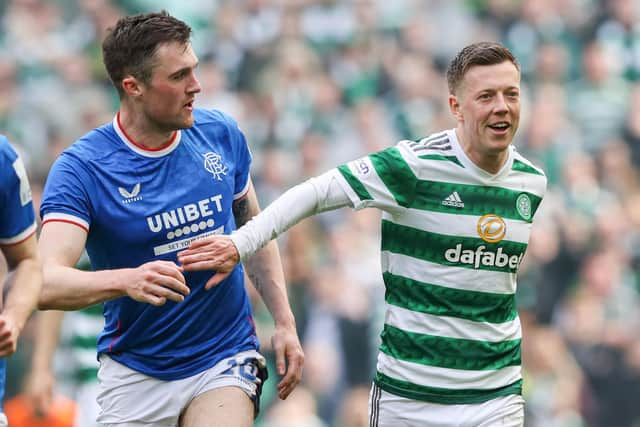 The Celtic manager doesn't downplay the influence of imponderables. He stated that the derby clash three weeks ago was "riddled by mistakes" from both teams. It isn't straightforward to expunge entirely iffy decision-making in the frenzy that will be created by the 50-50 supporter split at the national stadium. "When you play games of big consequence it's only natural, it's human nature. It's very hard to eliminate that," Postecoglou said. "What you do is try to control as much as you can, the parts that you need to focus on to play your football. That's not always going to happen. Nerves, anxiety, the occasion will always seep into this kind of contest. It's the team that settles the best and stays clear-headed in those kind of moments that has more chance of success. I thought it was a game of many mistakes last time. Within that, though, there were some quality goals from both teams. So the quality was still there, there was a smattering of both elements.
"It will be the same on the weekend. Such a big game and with the atmosphere the way it will be it's inevitable that some mistakes will be made. You just have to minimise those.
"They're human beings. For all the best will in the world they still get affected by this. But the successful ones, the ones who perform on these days, are the ones who can sort of block as much of that out. You still have to bring the passion. You still have to bring the human emotion. You can't just go out there and just stroll about. You can't stay sterile in such an environment. You've got to let it drive you, but you try and use it in a positive way rather than something that inhibits you." The Rangers manager and his players should take note. Or else ghastly consequences await.
Comments
 0 comments
Want to join the conversation? Please or to comment on this article.