Optics of Celtic's Dubai trip further crush supporters' spirits
Celtic have made more missteps this season than a sozzled tap dancer.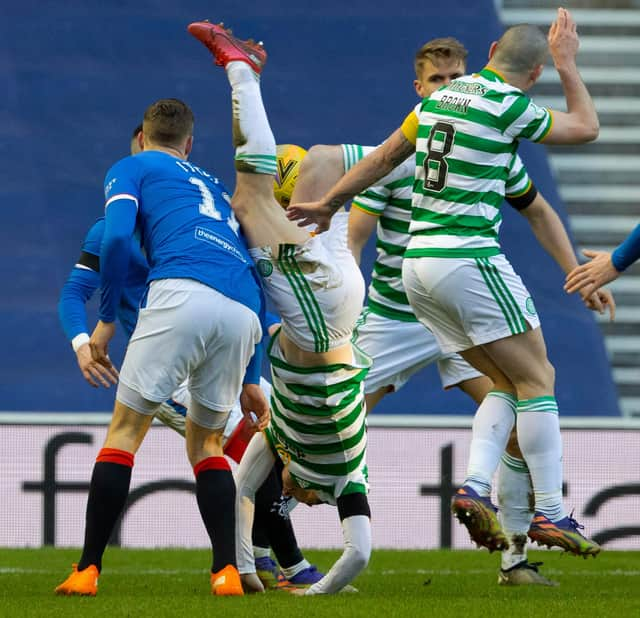 Celtic's Callum McGregor upended in derby defeat that came following successful system change that the last Dubai trip was credited as ushering in. (Photo by Alan Harvey / SNS Group)
And into that category can surely be placed their decision to jet off to Dubai this week for a "mid-season training camp". It should be stated no rules were circumvented by the club in jetting their players out of the country in the middle of a pandemic. Yet to do so in a week in which Scotland re-enter a full lockdown long trailed hardly serves the spirit of the restrictions so many are struggling under in the arctic home they have left. Crucial other elements have merely compounded the uproar the jaunt has inevitably created among a support looking to call out their club for absolutely anything against the backdrop of an horrorshow of a season.
Meltdown in minus temperatures
These ensured that even as the mercury dropped to minus six in Scotland last night, it was still possible to encounter a meltdown. All required to be plunged into that was to witness the social media reaction to photographs showing Celtic manager Neil Lennon and his captain Scott Brown relaxing poolside on their sun loungers in their Dubai hotel with beers by their side. Even if there were no spirits in evidence, to employ the faddish current terminology, the optics did not look good. At all. Not when this – superficially – devil-may-care scene came little more than 24 hours following a derby defeat that has meant their 10-in-a-row bid now requiring to be spoken off in the past tense. A quest that has appeared to consume the every waking hour of their followers, forever and a day.
Supporter moral relativism
Now, the moral relativism of Celtic supporters to what they see as egregious behaviour – the imbibing at sunshine-soaked bars as would not be allowed in frozen Scotland described as everything from a "slap in the face" for fans, to "outrageous lack of respect" – ought to also be called out here.
Footballers are human beings, they should be allowed down time, and a few beers more than a week before they next play hardly represents Bacchanalian excess. Equally, just because they have fallen 19-points behind Rangers in a title race that their faithful prized beyond all others doesn't mean they should have immediately donned sackcloth and ashes. These same supporters would have no quibble with their club paying these same players weekly fortunes, or them using such gains to pour Don Perignon on their corn flakes of a morning, were Celtic leading the Premiership by 19 points. Right now, though, the perceptions that can be cast on it makes the Dubai winter training camp seems an unnecessary wedge-driver between the club and support … if any more wedges could be driven between these constituencies.
No need for system change as with last Dubai trip
For justification, Celtic cite the potential importance of the double sessions that they will undertake across the week in the United Arab Emirates (an area whose appalling human rights record should make it a no-go zone for those with consciences many would argue, but that's another story). They will point to the recuperative effects of such intensive coaching clinics in turning around their season a year ago.
The current situation, though, is entirely different. Back then, Lennon successfully worked on a switch to 3-5-2 with Celtic at the stage beginning to look sterile in the Brendan Rodgers' patented 4-2-3-1. Now, whatever might be said about the grim league position in which Lennon's men find themselves, there can be no doubt that since switching midfield diamond a month ago and operating with two strikers, they have found their rhythm. A run of five games in which the only goal they have conceded – to end a sequence of four league wins – was of the own variety surely testifies to that.
It was no system failure that engendered the defeat at Ibrox – unlike with the derby loss a year ago that was followed by going back to the drawing board successfully in Dubai. Indeed, however bonkers it may sound, the outcome at the weekend was the product of their most commanding against their bitter rivals showing since Lennon returned for his second spell in February 2019.
Ahead of the encounter, the Celtic manager had reflected enthusiastically on the fact that his players were looking remarkably fresh. Moreover, he forwarded the belief that they were performing with a spirit and unity of purpose of which they had appeared devoid during their ruinous spell of two wins in 12 between October and early December.
The clinching of the quadruple treble with the Scottish Cup final shoot-out success was presented by Lennon as having bonded a band that had seemed fragmented as certain players sought moves during the extended summer transfer window.
All of these factors challenge one of the other motivations that would be forwarded for the purpose of the Dubai trip. At junctures this season, both Lennon and Brown having touched on the difficulty of establishing camaraderie among a squad that comprised half a dozen new arrivals this season under the regulations imposed on football clubs to allow football to be played during this Covid-19 age.
Chance lost for quick derby recovery
Moreover, Celtic spending this week in Dubai could have an adverse impact on their ability at least to quickly move on from the loss to Rangers. The 19-point gap between the clubs is exaggerated because Lennon's men have three games in hand. They had this midweek and next midweek in which they could have played two of them. On current form there is every likelihood they would have won these games. But in moving their hosting of Hibs to next Monday, they have been denied the opportunity to apply even a smidgen of Steven Gerrard's men at the earliest possible opportunity. Celtic may have organised their Dubai trip in good faith. However, it has just ended up looking like bad practice.
A message from the Editor:
Thank you for reading this article. We're more reliant on your support than ever as the shift in consumer habits brought about by coronavirus impacts our advertisers. If you haven't already, please consider supporting our trusted, fact-checked journalism by taking out a digital subscription.
Want to join the conversation? Please or to comment on this article.