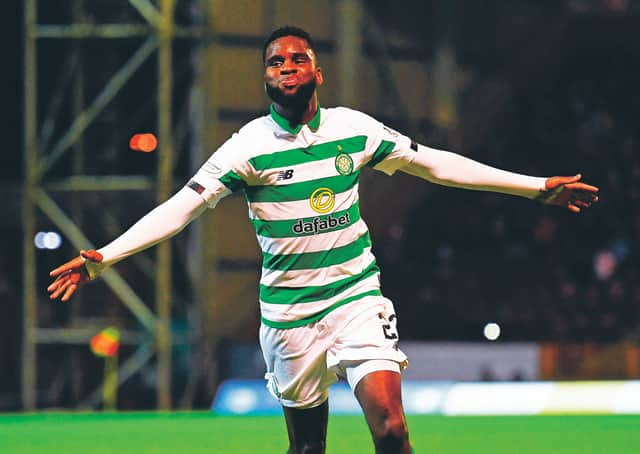 The suspension of football as the world seeks to tackle the health crisis caused by the Covid-19 pandemic has had no upside for clubs as they haemorrhage money while income streams disappear. The expected depression this will cause in the transfer market – and the shift in the summer window to do business that will be necessitated by the shutdown – could bring more than a crumb of comfort for Celtic, though. The club's French defender Christopher Jullien is adamant that the current circumstances will ensure his countryman Odsonne Edouard won't be tempted to move this year.
The 22-year-old striker is the jewel in the Scottish champions' crown. Following his 39-goal haul in the past ten months – between his endeavours for Celtic and the French under-21s – it seemed inevitable he would be prised from his current posting by a predator from one of the big five leagues. Jullien, inset, doesn't see that happening now.
"I'm sure he will stay," said the 26-year-old who joined Celtic in a 
£7 million deal from Toulouse last July and is currently isolating with his partner and child in Scotland. "He is silent, he hides what he is feeling and he is someone who controls his emotions. But he is a really good guy, trust me.
"It's so difficult just now with the situation. People speak about transfers but who knows when football will be back? After that all the other stuff can happen. Don't worry, I am sure Odsonne is happy where he is. He is a good player and one day he will have a lot of clubs interested in him. But he is in a really good place right now with Celtic."
Like all of us presently, Jullien is struggling to make sense of the pause placed on everyday existence by the need to deal with the coronavirus emergency. He is philosophical about the inability to play football for the foreseeable future. As he is about the fact that, when games can be staged further down the line, there is little prospect that they will be played in front of supporters until the turn of the year. But as a man who has fed off the Celtic fans' energies during an impressive first season, he doesn't pretend that behind-closed-doors games will be the sport as he knows and loves it. "This is not a situation you can compare to any other. It's not normal," said the 26-year-old.
"It's not good for the players or the fans but with the disease it is just not possible to be where we want to be: in the stadium together. We have never lived through this before and it is going to be in the [history] books for years.
"For me the relationship with the supporters is the most important thing. Football, and sport in general, would not be the same without fans. I like to react with them and they have been great to me since I signed. I know they have been there since the club was created but since I arrived they have welcomed me. To give them something back has been really important to me.
"My wife's family is from Cardiff and they told me that I was going to experience something incredible when I signed for Celtic. I just wanted to be accepted. I have been and then I have tried to give them back everything that I could. Hopefully I have been great with them – they have been great with me. It could not have been better."
Jullien has one experience of playing behind closed doors. In May 2018, earlier crowd trouble involving Ajaccio – "their supporters had done some really dirty stuff in the previous match" – led to the Corsican club's relegation play-off first leg away against Jullien's Toulouse being moved off the island and instead held in Montpellier's desolate Stade de la Mosson.
"It was different because you hear everything on the field. Every word that is spoken you can hear," he said. "It takes some getting used to, and though we won the game [3-0], it was a strange moment."