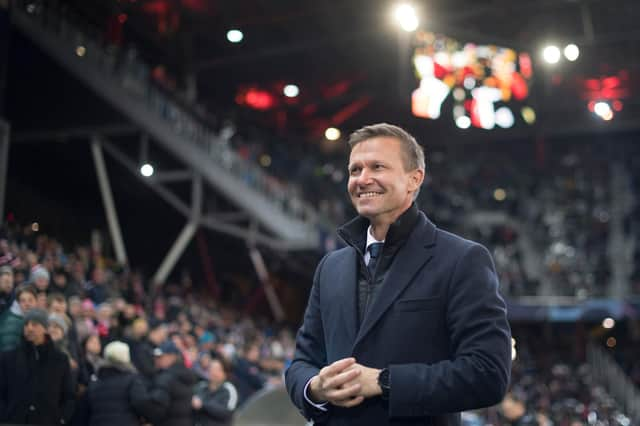 FC Salzburg head coach Jesse Marsch has been tipped for Celtic by the likes of John Collins and Pat Bonner. (Photo by Andreas Schaad/Getty Images)
That the 47-year-old, currently helming FC Red Bull Salzburg, has not only had endorsements from Pat Bonner and John Collins but James McFadden as well in recent days is testament to Marsch's vertigous trajectory in the European game.
Both Bonner and McFadden spoke glowingly of the former US international on the back of being treated to his thoughts on the game and coaching at a UEFA Pro-licence course. Storied Celtic keeper of the 1980s and 1990s Bonner described him as a man "who thinks outside the box", understands the motivations of the modern-day footballer, and judged him "a bit in the Brendan Rodgers mould". McFadden, meanwhile, was impressed by his ability to understand "the culture of the environment" the game placed him in at his various stop-off points. There was a more simplistic appeal for former Celtic midfielder Collins. A night at Anfield in October 2019, to be precise.
The first American to guide a team to a victory in the group stages of the competition, defeat did not elude his team against Liverpool a year-and-a-half ago. However, the fact they recovered from a three-goal half-time deficit to draw level before a Mohamed Salah late winner proved a break-out night for Marsch. ""I thought 'Wow!, that's a good football coach," said Collins of the transformative effect the Salzburg coach had on his team.
Jesse Marsch on the touchline at Anfield during the UEFA Champions League match that saw Red Bull Salzburg recover a 3-0 deficit before losing 4-3 to Liverpool. (Photo by Clive Brunskill/Getty Images)
Marsch's profile – since embellished by a league and cup double at the Austrian club he took on over in June 2019, which he has every chance of replicating this season – rocketed post-Anfield courtesy of a rousing half-time address to his players that was delivered in part-German, part-English and large-part Anglo Saxon later going viral.
"How many fouls have we got? How many? Maybe two?" the 45-year-old began. "This is not a f*cking friendly! This is a f*cking Champions League match! We need to step up. There is too much respect for the opponent. Too much respect for the opponent!....There is no real tackle or a fight. They have to feel us, guys. They have to know we're f*cking here to compete, not just that we're stylistically gonna try to play the same way. But we came to f*cking play, right? That is what's most important," he barked before going to talk "a little bit about tactics".
Marsch, in those moments, demonstrated he is a coach that understands the game is played with both heart and head. He has required to combine both to grow his coaching career that might have withered after a first frontline post, that came with Montreal Impact in 2011 – which followed a short stint as assistant to the USA national team with Bob Bradley – ended within a year and the team in a lowly 12th place.
Returning to a no.2 role at Princeton Tigers the following season, in 2015 he was then plugged in to the Red Bull sporting franchise in which he remains on being handed the coaching reins at their New York football operation..to the disgust of the club's support, reeling from the loss of the idolised manager Mike Petke. A town hall-style meeting was organised weeks into his tenure to smooth the change, but it only betrayed the level of discontent.
James Forrest battles with Marcel Sabitzer in Celtic's defeat of RP Leipzig in November 2018. The occasion ensures that the Salzburg'sJesse Marsch, now being championed to be the next Celtic manager has sampled the best of the Parkhead club on and off the pitch, with Marsch then the assistant at the German club. (Photo by Craig Foy/SNS Group).
"You don't have to like me and you may never like me. That is the role of the coach," Marsch said at this rancorous gathering. "That isn't important to me. What's important to me is the team… If we lose, you will hate me. If we win, maybe you will put up with me. But give this team a chance to take the field and compete."
They did compete, with bells on. Marsch, who has described himself, appositely, as an "energy drink" for his forceful man-management and high-pressing on-pitch approach, ended up with a winning record that eclipsed any predecessor. That earned him the opportunity to further his development in football's crucible of the European game, and he was assistant to Ralf Rangnick at RB Leipzig for the 2018-19 season. The experience included a frenzied Celtic Park as the Germans were beaten in the Europa League by Rodgers' Celtic at their best.
Another Red Bull shuffle resulted in him being installed as Salzburg manager, the dubious cross pollination between the two clubs detested by fans of the Austrian side for perceived feeder status. It meant Marsch again being confronted by enmity on taking up his new role, including a "get out" banner. Now, those same followers fear he won't stay, following 21 months when he has hit most marks with aplomb. Salzburg were successful before he pitched up, a product of the financial backing they can draw upon. Yet, what is laudable about Marsch is how he has kept them competitive with his "different approach" to "leading people" – even if, for very good reason, they haven't been quite the force of last year for very good reason. That is because the down side to the Red Bull decision-making has meant that, as well as losing Erling Braut Haaland and Takumi Minamino to the natural football order – the Norwegian wunderkind heading to Borussia Dortmund and his fellow attacker Liverpool – in the past year also, fellow franchisers Leipzig have spirited away Hwang Hee-chan and Dominik Szoboszlai.
Marsch would be an outstanding Celtic appointment, but may well already be standing out too much for the Parkhead club to be in with a chance of landing him. He turned down Schalke in November – albeit with the club in a freefall that will result in relegation – but it is thought he could be in line to take over Dortmund in the summer. Celtic could hold an appeal for Marsch. Just not one that would be comparable to such an offer.
Former Celtic keeper Pat Bonner
A message from the Editor:
Thank you for reading this article. We're more reliant on your support than ever as the shift in consumer habits brought about by coronavirus impacts our advertisers. If you haven't already, please consider supporting our trusted, fact-checked journalism by taking out a digital subscription.