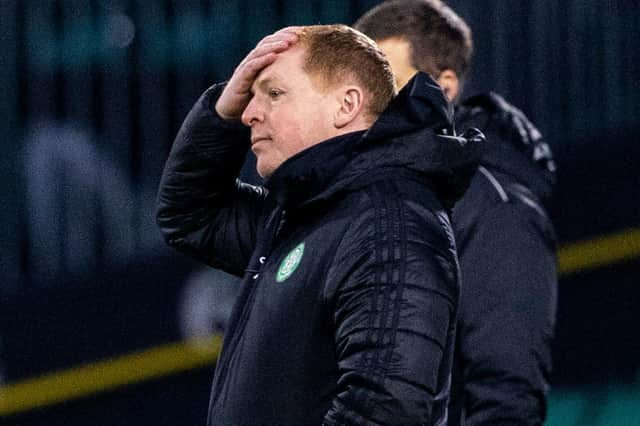 Neil Lennon has conceded that matters might be taking out of his hands when it comes to arresting the form slump that sank to a new low with the 2-0 League Cup loss to Ross County (Photo by Alan Harvey / SNS Group)
And it was all prompted by a battle that Neil Lennon seemed to sense he may have lost, the outpouring of rage following the 2-0 League Cup defeat to Ross County leaving him in an indefensible position.
A sequence that now stretches to two wins in 10, and has now seen Celtic's near four year monopoly of the county's honours ended in their 36th cup tie of the extraordinary run, Lennon knows deep down that major shareholder Dermot Desmond and chief executive Peter Lawwell may need to rethink the support they have given him as Celtic have crumbled on all fronts in this season for all ages in which they are pursuing a record 10th title.
Asked how he would feel if a decision were made to remove him following a 21-month tenure in which County's victory made for the first domestic failure of that period, he said: "'I'm not going to answer any hypothetical questions. But I think it's too soon for that. We've lost one trophy, that's gone. Our priority, as we know, is the league. It always is every time we go into a new season. We are out of Europe and it's not been great but there is plenty of time to turn it around. But it's alright me saying that. We have to show it with action now. And I think I should get more time at it, but if not then so be it.'
GLASGOW, SCOTLAND - NOVEMBER 29: There's a large police presence as Celtic fans gather outside Celtic Park after a Betfred Cup defeat to Ross County on November 29, 2020, in Glasgow, Scotland. (Photo by Alan Harvey / SNS Group)
The "so be it" hung in the air at the end of his press match conference that began to Lennon walking in as chants of "Lenny, Lenny get tae f***" could be heard from outside. He was asked how that made him - a man responsible for helping bring 21 honours to the club across two decades in which he has served as player, first-team coach and manager - made him feel.
Falling short
"It doesn't make me feel good obviously," Lennon said. "What can I say [about the chants]?
"That's their opinion and it's been rumbling for a while. It doesn't matter what I say or what bravado I put on because it won't wash. I have to turn it round with results.
"Do I see myself as the man to lead the team? Of course. I believe in myself. I am not always going to harp on about what I have done in the past. We are in the present and I know the expectations from the supporters and the board for the club. I am falling short of that at the minute, me and my backroom team. It's okay saying, 'We are going to turn a corner'. There is no point talking about it - we need to do it with our actions and soon.
"Otherwise the landscape could change for me very quickly.
"We aren't in a good moment at the minute and the game is a small microcosm of the season and the run we are on. Penalty and a set-play. It's symptomatic of our season. We are giving the opposition free hits. We dominated the game but lacked a bit of quality at times in the final third. The body language and attitude of the players was great before the game. We just have to defend the box better.
"The game is about both boxes and we weren't good enough in either of them. Ross County didn't have a lot to do to win, in terms of their attacking play. They defended stoutly but our final ball was lacking. There maybe a few players lacking confidence at the minute but they are human beings at the end of the day. There are no fall-outs. They are a good bunch and they are suffering a bit at the minute."
'It's about finding solutions'
It is difficult to see how Lennon's suffering won't be brought to an end by Dermot and Lawwell. He was asked if he had concerns the Celtic board would look to make a change.
"I can't answer that," he said. "But I spoke to Dermot and Peter on Friday and we want to find solutions to the problems we are having. On the evidence of today, we are still having those problems. I can't say what decisions the board may or may not make.
"I totally agree [it's not good enough] and the players know that. I don't know where it's coming from. I spoke to the players after the game and I said, 'We've gone from being rampant to being passive'. We have spoken about set-plays and giving away sloppy goals.
"But in the final third, it wasn't good enough either.
"I can get more out of the players, oh yeah. We have to get more out of them because some of them are playing with a little bit of anxiety for some reason. They are just lacking a little bit of confidence in their play, but as a group there doesn't seem to be too much evidence of it.
"They are absolutely devastated in there. It's been a long fantastic run and it's come to an end on my watch so I'm as devastated as they are about it.'"
Asked about body language and players playing for him, he dismissed the latter as a "cliche" not based on the reality of the effort, but acknowledged: "I've been here long enough to know that for some reason we are lacking that bit of oomph. You know what it's not just this one – for the majority of the season we haven't played the football we are capable of."
A message from the Editor:
Thank you for reading this article. We're more reliant on your support than ever as the shift in consumer habits brought about by Coronavirus impacts our advertisers.
If you haven't already, please consider supporting our trusted, fact-checked journalism by taking out a digital subscription.