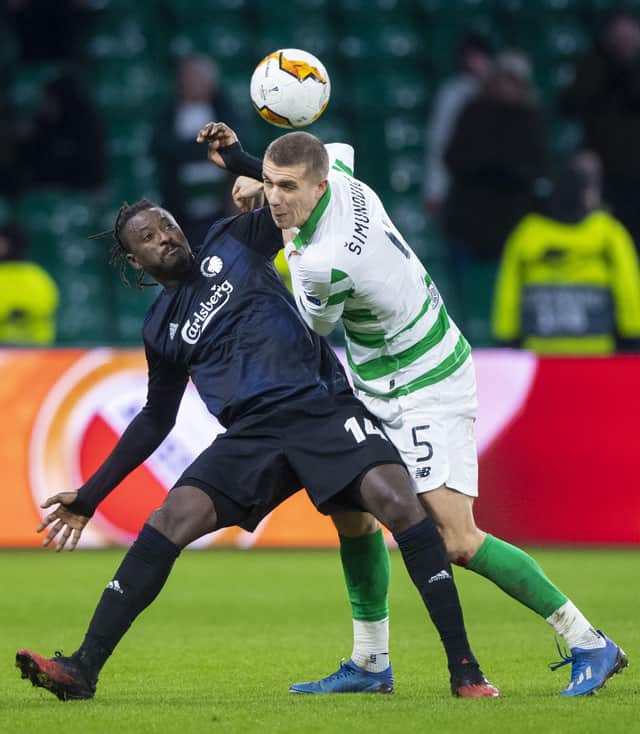 Jozo Simunovic's mistake led to Copenhagen's first goal in the Europa League clash at Celtic Park
Yet, even if he is forced to sit out tomorrow night's league match at Livingston, Jozo Simunovic, the fall guy for Thursday's 3-1 home defeat by FC Copenhagen which ended their Europa League campaign, will not return to the side.
The Croat did not even make the substitutes' bench for the tie in Perth, but manager Neil Lennon insisted that he has not been made a scapegoat for the capitulation to Copenhagen and that the artificial surface at the Tony Macaroni Arena has done as much to rule him out of contention as his below-par display against the Danes did. Lennon also claimed that the player still has a future with the champions. His current contract runs out in May, although the club has the option of triggering a one-year extension.
"Kris has felt his thigh a little bit [post-St Johnstone] so we'll wait and see how he is on Wednesday, but the rest of the team came through the game okay," said Lennon.
"The surface would probably work against Jozo. We'll just have to wait and see how Kris is and take it from there: hopefully, he'll be all right. He's going to have a scan on the thigh, but he's been playing with it for a couple of weeks, so we're hoping he makes it.
"Will Jozo bounce back? Absolutely. We got it back to 1-1 against Copenhagen so his mistake didn't cost us the game. It was the game management in the two minutes after we scored that cost us and we were all culpable for that.
"I didn't need to have a chat with him. We spoke this morning, about life in general and he's in a good place. His knee is not responding quite as we'd like, so he's a major doubt for Wednesday."
Livingston inflicted Celtic's only away defeat in the Premiership this season when they deservedly beat them 2-0 in October and Lennon has nothing but praise for the unfashionable West Lothian side.
"Gary Holt and Davie Martindale are doing some great stuff, so there's obviously a concern going there," he said. "We haven't even scored there in our last two visits, so we're going to have to rectify that somehow. It will be tough.
"We're going to have to roll up sleeves up because it's going to be a battle. Their home form is terrific and it's a really difficult venue.
"They're a team I admire. There are no superstars in it, but they work really hard and they've got great energy. Physically, they are a really tough team."
Lennon also downplayed the fact that Livingston's record on their synthetic pitch is considerably better than their away form. "They've had a few decent results away from home as well," he said. "You only have to look at their league position to see that they've held their own at home and away.
"They beat us 2-0 and, okay, we were down to 10 men, but they made life so difficult for us and it's going to be exactly the same on Wednesday night."
Christopher Jullien, the £7m summer signing from FC Toulouse, pictured, had been handed a crash course in the more physical aspects of the Scottish game that day as he was rag-dolled by Livingston's burly target man Lyndon Dykes (who scored the Lions' second goal) from start to finish. There were doubts expressed afterwards over the 26-year-old's ability to cope with those tactics but Lennon claims that, while shocked at the time, the centre-back has learned to relish that type of challenge.
"He bounced back really well from that day," he said. "It was something he wasn't used to. He'd obviously come from a different football culture but he learned from that experience and he's embraced it now.
"He's been superb for us this season, both at home and abroad.
"That was a big lesson for him but it's one he learned quickly.
"There's a maturity about him and he has leadership qualities. He's integrated well and the boys like him.
"In some of the big games he's put in some heroic performances. In Copenhagen he was outstanding. He had a great game against Lazio in Rome and there have also been super performances from him domestically.
"His goal tally is right up there as well, with seven for the season already."