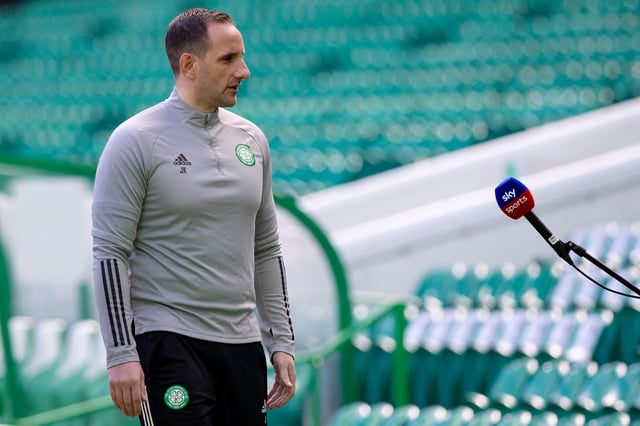 Celtic interim manager John Kennedy speaks to Sky before the Scottish Premiership match against Rangers at Celtic Park (Photo by Craig Williamson / SNS Group)
The interim boss has come under-fire for picking a side that bears the halmarks of those selected by Neil Lennon prior to his departure.
Much of the criticism centres around the decision to stick with the same 11 who failed to score against Dundee United two weeks ago, particularly opting for Scott Brown ahead of Ismaila Soro, who impressed in the previous derby at Ibrox in January.
Here is a selection of comments from social media:
JungleLion (@JungleLion_): Seriously,what was the point gettin rid of Lennon,same team and same tactics
Daniel Gallagher (@_dgallagher99): Soro's energetic performance really helped us in the previous Derby, nice to see him dropped for Brown. Really thinking ahead to next season with that one. It's criminal how we haven't used the second half of this season to help prepare us for next season
Lothianno4 (@Lothianno4): Taylor for Laxalt for me. Laxalt will leave that area behind him free for Morelos to roam in.
Chris Gunn (@Gunnie__67): It's like Lennon never left
MacColla (@MacCrolla1): Love Broon. One of the greats. But we were all over them at Ibrox when we played with Soro in that position. Would've liked to have seen Griff start beside Eddie. MoI has been a man down against Rangers every time he's played
Liam Boyle (@xliamboyle): It's the team i woulda put out to be fair... Still plagued with weaknesses
James Chambers (@JChambers1984): It's browns last old firm potentially so he was always going to get a start. I do believe him and Morelos will both see red today. No matter the result today we will kick on next season and prove Glasgow is green and white yet again!
Garry Munro (@GarryMunro4): All that selection does is confirm Kennedy was definitely part of the problem under Lennys management, Soro was the heartbeat that controlled the pace and rhythm in the last Derby, his energy is vital for a game like this. Lenny would as well still be there.
The legend (@Thelege01259054): I said after Lennon left I was willing to giv Kennedy the chance to prove he had his own ideas and style of play this is shocking it's as if Lennon has text him the team this morning! Soro was outstanding the last time we played them yet benched?
Redgauntlet (@Redgauntlet1): So play the same team and shape that has got us nowhere all season. And there are people who think Kennedy will get the job. They try that and you'll see protests like never before. Might as well have kept Lennon til the end of the season if this is the team.