Neil Lennon admits he will have to "prep" Celtic players differently to cope with no fans against Rangers
Celtic managers throughout time would have looked at the club's next two fixtures and made a standard observation.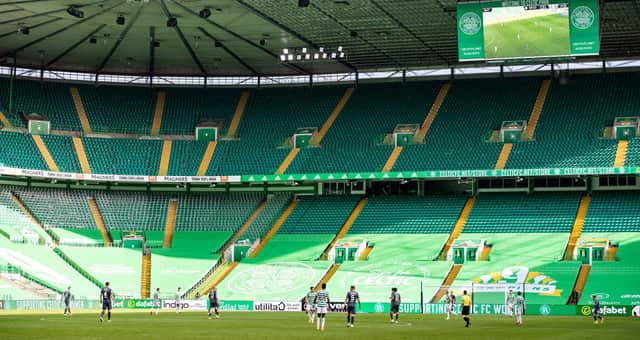 The empty stands as Celtic played Hibs last month that Neil Lennon believes his men will have to adapt to in next week's derby with Rangers (Photo by Alan Harvey / SNS Group)
They would have offered up that a derby hosting of Rangers and then a European tie against AC Milan in Glasgow five days' later were high-octane encounters that would take care of themselves for their squad. However, the global pandemic has created a unique age. The absence of supporters in stadiums to create an electrifying ambience for players to feed off means Neil Lennon will break with tradition.
The Celtic manager believes he will have to manage the mindset of his men in a fashion different from how he normally would in the lead up to a face-off with their fiercest foes, which will roll around next Saturday. Indeed, Lennon confesses he would have struggled to cope with such intense clashes in the antiseptic environments created by ghost grounds.
"We will work with the players as best we can to deal with that and prepping them as best we can for the games," he said. "They are amazing games to play in so we have to adjust without supporters as best we can. "They have done remarkably well. I don't know how I would have dealt with it because I thrived on atmosphere. I thrived on the crowd and some players do really thrive on it. That is missing at the minute but we are still winning games and winning them well. We have had four clean sheets as well, which has been overlooked. We have tidied up defensively and I can't ask any more for what they are giving me."
Although performances have been mediocre, for Lennon Celtic's Premiership record of eight wins and a draw - and run of eight straight victories across all competitions - is all the more commendable because of the Covid-19 backdrop to this campaign. A backdrop that will impact severely on his derby selection.
Ryan Christie will be unavailable because he is required to self-isolate after his close contact at the Scotland camp with Stuart Armstrong, who has tested positive for Covid-19. Meanwhile, Odsonne Edoaurd is unlikely to feature as a result of his positive Covid-19 test on Tuesday while on duty for the France under-21s.
"The squad has played very well," said Lennon, speaking before these developments. "I think there is far more to come from them in terms of level of performance but I do think still that the lack of supporters in the stadium doesn't help at times with the intensity of the play. You can see that with other results around Europe – you look at Liverpool and Manchester United, Man City. We have been pretty consistent in our results and we have adapted as well as anybody to it.
"We were disappointed with the Ferencvaros result [with the Hungarians ending the club's interest in the Champions League six weeks ago]. We dominated and we could and should have won but the response has been magnificent and I am thrilled with their mentality and the amount of work they have done in between the games and in between travelling to Sarajevo and Riga. My backroom team have done amazing work with the players and the game preparations so we are in a good place and long may it continue."
Want to join the conversation? Please or to comment on this article.