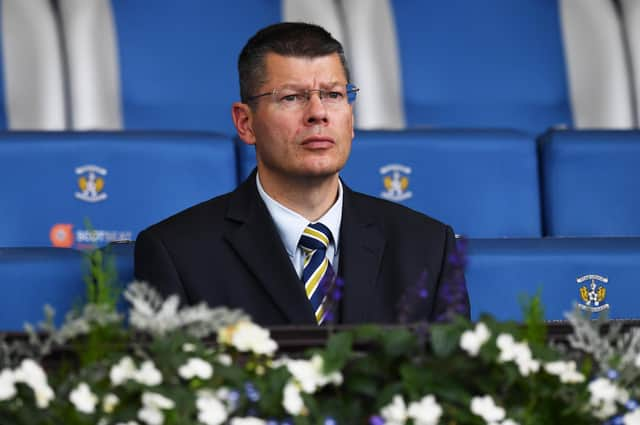 Neil Doncaster has explained why an expanded Scottish Premiership wouldn't necessarily be a good idea
League reconstruction has been particularly relevant recently given the rapid rise of teams in the Lowland and Highland Leagues, with suggested expansion for the fourth tier but SPFL chief executive Doncaster played down the idea of shaking up the Premiership.
Asked about the prospect of enlarging the top division to 16 teams, he replied: "I'm not at all certain that an expanded Premiership would increase either matchday or broadcast revenue.
"A 16-team Premiership would presumably be played on a one home, one away basis as opposed to the current set-up of two home, one away or vice versa before the split.
"In a smaller league, you end up with more big games. You're likely to end up with lower matchday and broadcast revenues in a bigger league.
"We assume that, because the bigger leagues around Europe have more clubs in them, that's the most common league model.
"That' not the case; a ten or twelve-team league is far more used across Europe than an 18 or 20-team league."
Atlantic League proposals
Recent news of a potential step forward in terms of a merged Dutch-Belgian league again raised the issue of the long-discussed Atlantic League but while Belgium and the Netherlands have the advantage of similar-sized leagues in neighbouring countries, it is a different story for Scotland.
Ironically it was the club president and chief executive of Dutch Eredivise side PSV Eindhoven who first brought the prospect of an Atlantic League to the table shortly after the turn of the Millennium, with Celtic and Rangers later involved in preliminary discussions around the establishment of such a competition.
"The Dutch and Belgian leagues have been in some form of discussion around a merger for many years, whether it actually happens is another matter," Doncaster said.
"It's very difficult to combine leagues; not least of all because of the European places and how UEFA would allocate them, but I do think that UEFA is more open-minded to mergers of leagues as a potential way of bridging the polarisation of wealth in European football that we've seen in recent years.
"Everyone recognises, and UEFA recognises, that polarisation of money in football is a bad thing. The difficulty is what you do about it.
"Whereas the idea of merged leagues may have been anathema in the past, I think increasingly it is gaining traction as a concept that may be part of the solution.
"Scotland's difficulty is a geographic one. Our nearest neighbours are the English Premier League who, financially, are light years ahead of us.
"The challenge is how you work more closely with leagues around you that are so different in financial scale but that's a challenge that a number of us in Scottish football are working on."
A message from the Editor:
Thank you for reading this article. We're more reliant on your support than ever as the shift in consumer habits brought about by Coronavirus impacts our advertisers.
If you haven't already, please consider supporting our trusted, fact-checked journalism by taking out a digital subscription.