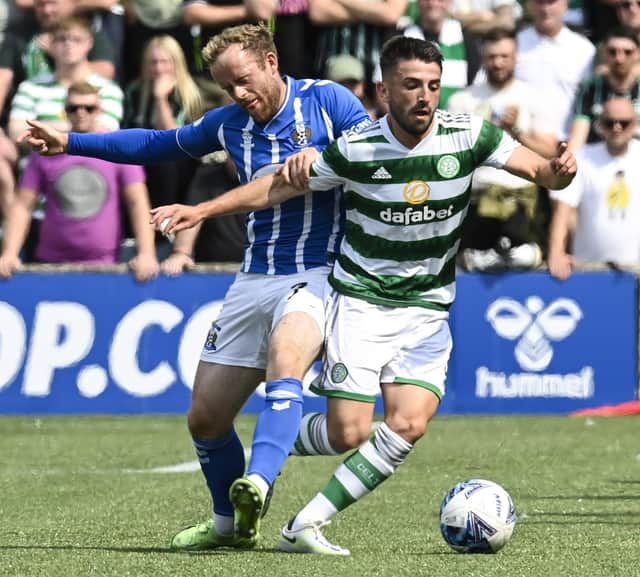 Few full-timers in his profession have completed a law degree by the age of 27. Few would give such an brutally honest reply to his thoughts on being denied the chance to come up against an old mucker in the highest-profile cup game of their career. McKenzie serves up the unvarnished truth over the injury absence of Greg Taylor in the Celtic side that his Ayrshire side confront in Saturday's Viaplay League Cup semi-final. A clash that will see Kilmarnock's longest-serving player take to the Hampden turf for the first time.
It was put to him that it must be a source of regret he won't be lining up against a Taylor who was his brother-in-arms at Rugby Park for three years, and who remains an occasional playing partner for the golfing devotee. Without a moment's pause, that brought a response of the most unequivocal kind. "No," he said, with a dead-eyed firmness. "The way he's playing for Celtic ... people were giving him a bit of gyp 12 months ago but look at him now. He's one of their key players and I think they missed him last Saturday [in Celtic's 2-0 home win over Derek McInnes' side]. Am I disappointed he's not playing? No. He'll have more of those to play in."
McKenzie can't resist joshing about how Taylor has forgotten about his Kilmarnock roots, and former team-mates, since his £3million move to Celtic in 2019. "We're in touch now and then," he said. "Now he's at Celtic he doesn't talk to us. He doesn't talk to many lads, actually. It was a few months ago we spoke but it's not a regular thing. It's usually a text when it's summer time and he wants a game at Royal Troon. He'll be paying now all the money he's on …"
McKenzie knows what it would mean to the club to replicate their 2012 success in the competition, which came with their 1-0 final win over Celtic delivered by a goal from substitute Dieter Van Tornhout . The 29-year-old was a contracted Kilmarnock player then. Agonisingly, though, he had been farmed out on loan to Brechin City two months before the mid-March triumph. "This semi-final does mean a lot," he said. "My whole career I've not had the chance to do it, so it's exciting. I remember for the semi-final against Ayr in 2012, Brechin had a game that was called off and I was driving back from wherever me and my dad had been going, so we were listening to that on the radio. I was able to go to the final. All the youth team lads got tickets. We were sat in the corner next to where Lee Johnson put the cross from which we scored. I think they came and celebrated in that corner so it was a great day. We weren't part of the celebrations afterwards but it was a massive day for Killie and a shame to miss out on.
"It does remind you anything can happen. Celtic were flying then. Even the Killie fans were going there with a bit of anxiety. But decisions went our way, Cammy Bell made a great save early on and even the penalty [claim in added time with Anthony Stokes], when seeing it in the highlights it was one of those you's expect the ref [Willie Collum] to blow and give because that's just what happens. That day it didn't happen, and against Celtic you need things like that to go your way."