Kilmarnock still fuming after SFA explain Celtic VAR call - 'anybody who knows football, knows that is a penalty'
Kilmarnock manager Derek McInnes is not satisfied with the explanation he received over his side's late penalty claim against Celtic and feels let down by the failure to invoke a VAR review.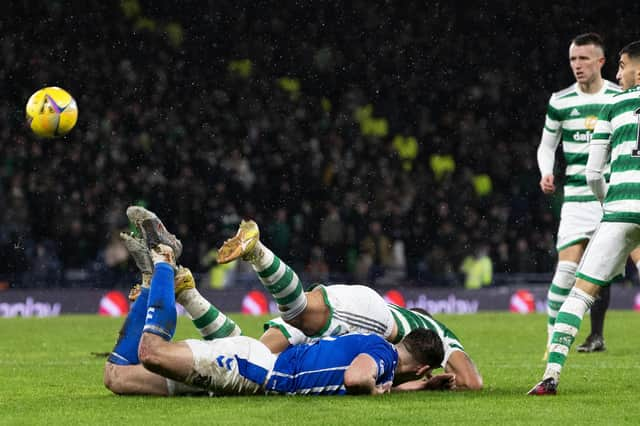 Joe Wright went down in the penalty box after Giorgos Giakoumakis made a clumsy attempt to win an aerial ball from behind the Killie defender. Willie Collum played on and there was no requirement for the experienced referee to take a look on his monitor from his video assistant, Greg Aitken. Giakoumakis scored moments later to seal a 2-0 victory for Celtic and a place in the Viaplay Cup final.
McInnes has since discussed the incident with the Scottish Football Association's refereeing department and the response did nothing to assuage his frustration. Speaking ahead of Wednesday's cinch Premiership clash with Rangers at Rugby Park, McInnes said: "We don't want to dwell on it but it has to be said it was the wrong decision. I spoke to the refereeing department and wasn't satisfied with what I was told.
"For years, we as managers and clubs, we supported the whole movement for VAR coming into Scottish football. We wanted to make a modern league, don't get left behind and all the rest of it. We wanted to try and help the referees as much as we could. For years I would phone Hugh Dallas on a Monday morning, John Fleming or Crawford Allan, about grievances over decisions and they would always say that the referee only had one look at it, only one chance, or his view was blocked and if he could see it as he sees it now it would be different. We have now, as clubs, put so much outlay for VAR. We now have the ability to look at it again. We were deserving of somebody – the referee and VAR – looking at that incident again.
"We had 8,000 supporters who made the effort to go to Hampden and sit in the rain and support their team. We were deserving of someone making the effort, the referee making the effort to go and look at VAR and check that incident. It's a penalty kick all day long and I don't know anybody (who) has said anything different to me. Anybody who knows football, knows that is a penalty. The incident, in a semi-final stage, was exactly why we wanted to bring in VAR, to arrive at the right decision more often. We were deserving of someone taking the time to look at it again. If they arrived at the same conclusion that would have been even more worrying but they should still have made the effort."
It was a second 2-0 defeat on consecutive Saturdays for Killie against Celtic and their tough schedule continues against Rangers. McInnes said: "It is quite unusual to face those type of fixtures consecutively but at the same token it's part of the excitement of being back in the Premiership. I actually think on the back of Saturday's disappointment it's a great game for us because the game demands that focus, demands real concentration. The fact it will be busy, live on Sky, all the ingredients are there. If we can take the positives of the last couple of weeks, a lot of the good despite not getting the desired outcome, I feel we can be a really tough opponent for Rangers."