Just turn off Scottish football's lights now if we decide to change final time at broadcasters' whim
There was once a time when Scottish football enjoyed sufficient confidence to stand on its own two feet.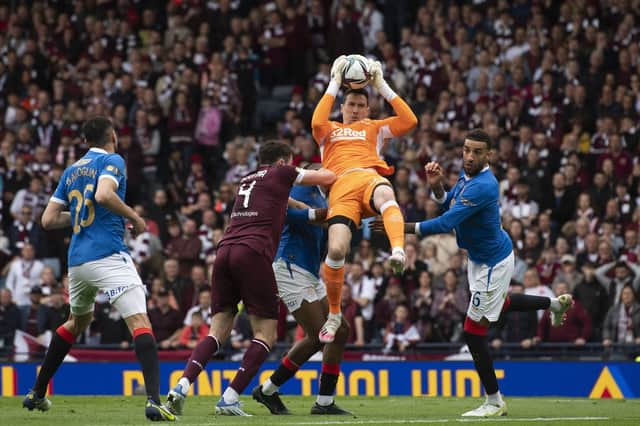 Events such as the Scottish Cup final were celebrated, cherished and protected. Why should it matter if the English equivalent was happening simultaneously? Who cared which teams were involved. The cup final was the one at Hampden Park. It kicked off at 3pm.
What happened underneath the twin towers of Wembley was someone else's affair. It was sometimes possible to catch some of the FA Cup final on television providing that game had stretched into extra time and the Scottish Cup final had not.
If so, it was a pleasant enough treat, no more than that. Why should anyone, never mind the Scottish game's own governing body, think to defer to another game in another country?
We had ours, they had theirs, although it wasn't always along such precisely defined borders. It's foolish to pretend there was no interest in the FA Cup final in Scotland but then there were also those in England who looked to Hampden Park first of all, including an English World Cup winner in the shape of the peerless Bobby Charlton.
"While growing up in the North East (of England), the odds were that when you talked about going to a cup final you meant the one at Hampden not Wembley, unless Newcastle might be involved," he wrote in My England Years, the second volume of his autobiography published in 2008. "It was too expensive to go to London as a neutral, even if you could get a ticket, and in Glasgow you were guaranteed the most extraordinary theatre."
Despite having little skin in the game, Charlton respected the occasion. Gloried in it, even. So why can't the Scottish Football Association treat the Scottish Cup final, their Scottish Cup final, with a little more regard?
It's utterly dismaying to hear that the kick-off time for next month's final was under review, at the behest of rights holders Viaplay and BBC Scotland, from almost the moment Celtic booked their place to meet Inverness Caledonian Thistle in the showpiece occasion.
Well, we say showpiece. But can it ever be described that way again if a match featuring a team based over 150 miles from Hampden Park is moved to either very early afternoon or early evening to accommodate the English equivalent at Wembley.
The powers that be will have sold part of Scottish football's birthright for, well, for what exactly? A few thousand extra eyeballs – perhaps - being trained on a match shifted because there's a more showy showpiece occasion happening elsewhere.
Please, if this happens, would the last person out of Hampden Park turn off the lights and bolt the door behind them as they leave. The supposed guardians of the game can claim an achievement of sorts by uniting supporters of all clubs in opposition to the reported change, with discussions understood to be continuing between the SFA, broadcasters and the two clubs involved. Inverness' complaints are understandably loudest.
A mooted 12.30pm kick off would require a Herculean effort for their fans to get to the game once again. It was bad enough that their semi-final against Falkirk was scheduled for that time. But even if Billy Dodds' side had lost on Saturday any plans to reschedule the final from the traditional 3pm slot could still not be countenanced.
Consider if Falkirk had staged a shock and booked their place in the final. A 25-mile journey to Hampden is far more manageable, if we are presuming of course that all Falkirk fans live in the Falkirk area, which is patently not the case. Just like not all Celtic fans live in Glasgow. Ferries, flights and coaches will already have been booked on the understandable assumption the final will start at 3pm.
The optics are terrible in a year when the SFA will celebrate the 150th anniversary of the first round of the inaugural Scottish Cup, which falls this October.
It's one thing being required to change the Scottish Cup final to a Sunday, as happened when Hibs took on Celtic in 2013, due to new Uefa regulations prohibiting games being played on the same day as the Champions League final.
But it's something else entirely when a Nordic subscription channel is being allowed to call the tune to everyone else's inconvenience. Anyway, they've already had their 'Scottish Cup final' - Rangers v Celtic was on Sunday.
BBC Scotland will also show the final live but they do not have the same desperate need to court viewers as a subscription channel whose business model hinges on that measurement. At least one would think that's the case.
It's understood the contract agreed with the broadcasters includes the right for them to dictate the kick-off time, which is where the problems stem.
The SFA might not have imagined Manchester United would meet Manchester City in the FA Cup final. It hasn't happened before, after all. They may not have expected their English counterparts being forced to bring kick off forward to 3pm, for the first time since 2011, because the Manchester derby has been deemed a "high risk" fixture by police.
The English FA has long since given up protecting the magic of the FA Cup. The final has even been played on the same day as Premier League games. The kick off changed to 5.15pm in 2012, the FA explained, after "discussions with stakeholders and broadcasters" and because 5.15pm "allows more football fans around the country to watch The Cup Final in its entirety".
Note the capital letters. The Cup Final. It's a wonder they haven't inserted a little trademark symbol alongside the phrase just to emphasise it's been turned into a marketing slogan above all else.
Well they can keep it. They can keep The Cup Final. Scotland has its own competition, with an even older trophy, and its traditions deserve to be preserved. More than this, the SFA should be demanding they are preserved.
Comments
 0 comments
Want to join the conversation? Please or to comment on this article.