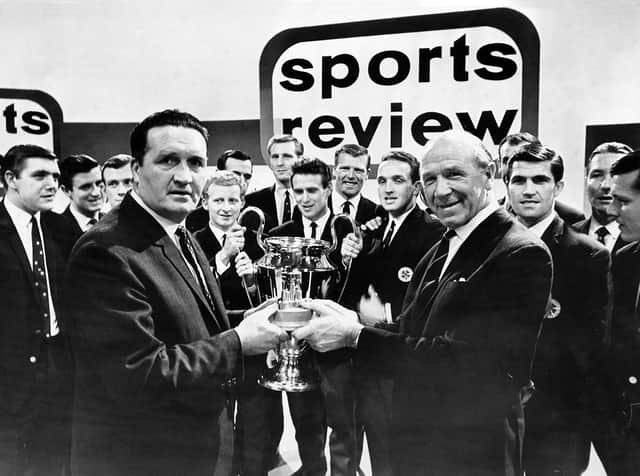 Matt Busby presenting Jock Stein with the team prize at the BBC's Sport Review of 1967 in recognition of Celtic's European Cup triumph in Lisbon
We hear everything too and rolling sports news will, out of necessity, thrust microphones into the faces of those who alas do their best talking on the pitch. But have you ever seen footage of Matt Busby, Bill Shankly and Jock Stein chatting together in the same room?
I thought I had but am now wondering if I imagined this. I expected a clip to turn up in The Three Kings, a fine new documentary released today celebrating the towering achievements of the tartan triumvirate, but it doesn't. Still, just about everything else does. The story is as old as the hills and as deep as the Lanarkshire and Ayrshire mines where the Big Man & Co once dug for coal, but some of us will never tire of its retelling.
The film is the work of Jonny Owen, a Welshman of many parts including indie-band bass player, actor (Shameless, Murphy's Law) and director (an award-winning doc about the Aberfan disaster). The husband of Line of Duty star Vicky McClure and a sometime creative sidekick of Irvine Welsh, he has sound football credentials, his previous doc being I Believe in Miracles, telling the story of Nottingham Forest's rise to European champs under Brian Clough.
Jock Stein and Bill Shankly at Billy McNeill's testimonial in 1974.
Clough was an inspirational manager but even Ol' Big Head would have acknowledged the greatness of our three Scots, not least in their continental trailblazing. And who would quibble with one of Owen's contributors, the author and journalist Richard Williams, when he says he can still feel their presence in the game?"Although their heyday is a long time ago it seems like they've always been within touching distance," remarks Williams near the end. "Their heartbeats were so strong that we can still hear them. They are the makers of modern British football."
Devotees of the game before, as Shanks remarks, "it all became about money" will revel in the footage of Jimmy Johnstone stunning Ibrox with, for him, a rare long-range rocket into the top corner, left foot as well; of Old Trafford enraptured by its three kings, Bobby Charlton, George Best and Denis Law; and of Anfield's Kop swaying to a Beatles singsong then wave-crashing forward to acclaim another goal.
All of this - every shot of a jam-packed ground - is especially poignant right now as the current season continues without any fans present. Last night Hibs and Hearts convened at Hampden for only the third-ever time. Celtic are going for ten-in-a-row - and before that, the quadruple treble - yet no one can bear witness.
The film includes Stein's remark that football without supporters is "nothing" and throughout its one hour and 45 minutes you're never in any doubt that for our trio, the punters came first. The Busby Babes, in conception, had to be exciting because, according to the boss: "The public must be entertained."
Shankly's decision to take the Liverpool job was down to this: "I knew there was a public for the game there." He waxes lyrical about the Kop: "A big society, friends all around you." Messianic on a civic balcony after the Uefa Cup triumph he tells the huge turnout: "It's you we play for." In retirement comes the reflection: "Everything I did was for the people because Liverpool Football Club is their life."
The Stein philosophy was identical. Billy McNeill describes being told by his manager: "Remember the people on the terracing, they're important." And with almost his last breath on that dreadful night at Ninian Park in 1985 Stein told his Scotland No 2 Alex Ferguson: "You must keep your dignity - go out and acknowledge the fans."
How important was the Scottish landscape - and, for these ex-miners, the subterranean perspective - in moulding them into giants of football? Very, according to Archie Macpherson who goes on to recall how Celtic let Stein leave, not believing he was the right man - he was Protestant, after all - before realising their mistake.
Dunfermline Athletic and Hibernian get mentioned in dispatches. The Pars' Harry Melrose recalls Stein "hitting the town like a tornado" and from Easter Road there's footage I've never seen before of two young fans parading the Summer Cup, Stein's parting gift to the Hibees before, as Macpherson puts it: "Celtic could no longer ignore the man who'd previously been told he could only be a reserve team coach."
Richard Burton, very actory, says miners considered themselves superior to other manual workers, possessing "the arrogant strut of the lords of the coalface". Does this sound like our three? Okay, so Shankly was a showman, borrowing moves from Jimmy Cagney, but football management was far from easy, even for them. "Every match is a dread," says Busby, to which Stein adds: "You're always frightened of the next game." Shanks quips that only being a debt collector on the mean streets of Glasgow comes close for stress.
Shankly says of Stein: "A man with the blood of Bruce in his veins." He hails the latter's Celtic as "the most successful club in the world - nobody can dispute that" and Owen and his researchers have done an excellent job digging up Scottish League goals not seen for a while. It is good, too, to see fondly-remembered TV troupers asking the questions including Richard Dimbleby, Cliff Michelmore, Donny MacLeod and a young Arthur Montford with jet black hair.
For Busby, Shankly and Stein, the leaving of their clubs was unsatisfactory and even a bit messy, but the legends live on. And the search for footage of the greatest triple-headed football meeting of minds continues.
The Three Kings comes close to it twice. Firstly when Busby at the BBC's Sports Personality of the Year hands the team prize to Stein and the latter replies with the hope that the next recipient will be his fellow ex-pitman, which of course was how it turned out. Then Busby and Shankly sit down together side by side, their great work completed, and share a joke. It's a lovely Still Game-esque moment.
A message from the Editor:
Thank you for reading this article. We're more reliant on your support than ever as the shift in consumer habits brought about by coronavirus impacts our advertisers.
If you haven't already, please consider supporting our trusted, fact-checked journalism by taking out a digital subscription.