James Forrest is Celtic prophet not appreciated in his own land; imports 'sexier' as testimonial response bewilders
A football testimonial is typically as the name would suggest.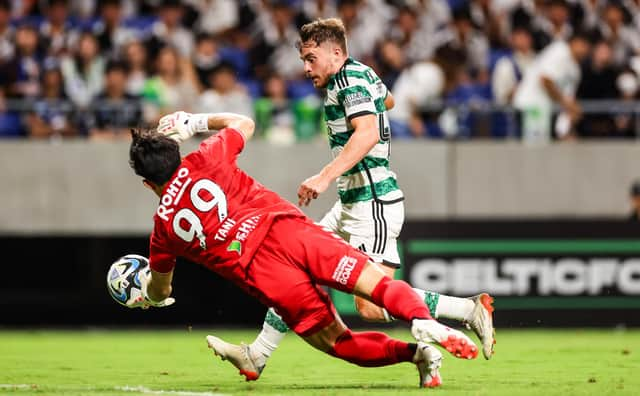 It is bestowed as testament to a player's longevity and lustre. There is no doubting those facets from James Forrest at Celtic as the 32-year-old prepares for his tribute game that brings Athletic Bilbao to the east end of Glasgow on Tuesday evening. Yet, it is inescapable that there is a certain New Testament dimension to the circumstances surrounding his special evening. More particularly the line in the Biblical canon that proclaims a prophet is not appreciated in their own land. Consider this. Peter Grant is always the first to admit that his staying power at Celtic was in part attributable to the lean times that the club endured in his era. His testimonial, on a bitterly cold January evening in 1997, came when he had helped the club to only one trophy – a Scottish Cup – in the previous seven years. Still in excess 40,000 turned up to watch Celtic lose to Bayern Munich.
Or, to put it another way, until a late uptake of ticket sales, more than seemed would be drawn to acknowledge the career of a Forrest who has no fewer than 22 winners' medals. A total that means only Bobby Lennox, with 25, and Billy McNeill, on 23, have earned more in the club's annals. A Forrest who is one of only 30 players to have netted more than 100 goals for Celtic. A Forrest who, across the only quadruple treble of national competitions in world football – which allowed Celtic to bring up a run of nine straight titles – contributed no fewer than 125 goal actions between finding the net and providing assists. His input on that measure unrivalled. A Forrest who is one of only seven players across all Scottish clubs to have scored in 13 consecutive top flight campaigns across the Premier League era that began in 1975.
Now it must be recognised that, as an attraction, Bilbao are no Bayern. That doesn't in itself though explain the initial underwhelming response of the Celtic support to a player they have always under-appreciated. For reasons that can bewilder, since Forrest is a bona fide club great who has enjoyed a remarkable career. Without ever being affected by it; the winger as endearingly unassuming now as when a 17-year-old academy product making his senior breakthrough in 2010. It is his diffident personality and his homespun, home-grownness that Celtic assistant John Kennedy alights on in tackling the question as to why Forrest isn't as celebrated as would truly befit his celebrated service. Conceding that players who provide that after breezing in from "different countries can sometimes feel a bit sexier".
"In years to come everyone will look back and recognise how terrific James actually was," said Kennedy, who sees no reason why the attacker cannot go on to surpass Lennox's all-time medal total. "When he's here it's sometimes like kids with a new toy when there are new players coming in. They get the headlines and cause a bit of excitement, while the guys who have been about a bit longer are just there and we know they are there.
"I think he's respected, which is the most important thing. Everybody respects James, from the fans to us in-house because of what he gives us. But because there is such a turnaround, and because of the excitement that comes from the newer guys, he doesn't get that same reaction. James doesn't put himself out there, he isn't on social media and doesn't interact with the fans so much. He's a quiet guy who likes to have a quiet life. At times he can be forgotten about a little bit. But in terms of what he gives us on a daily basis, and his contribution over the years, he's been unbelievable. We've had great success and he's been a huge part of it for such a long time. But it'll maybe be in ten years, or 20 years, when he's not there, that people who have watched him will talk very fondly of him to their grandchildren."
The Celtic assistant refuses to read too much into the sluggish ticket sales for an encounter which will see a portion of the proceeds donated to charities. "Everybody recognises it's a midweek," he said. "I think if this game had fallen on a weekend it would have been sold out immediately. Where we are now, there is a good support going to be there already. But I think it'll be a very special night, I really do. He's one of our own, he's been here such a long time. He's one we maybe don't recognise as much as others. But I think we need to highlight the greatness of what he's achieved at this club. There aren't many better than him in terms of what he's produced. That's from his own personal stats to the trophies, medals and everything else. And he's still got more to come."
How much more is a question that is inevitably begged by Forrest's current status. He is a wide man that in the past year hasn't been close to a first pick as Celtic operate with a busload of these types. Jota may have gone but Liel Abada, Daizen Maeda and Sead Haksabanovic remain ahead of him in the pecking order, with summer signings Yang Hyun-jun and Marco Tilio now added to that mix.
"In terms of the type James is, when he's playing, he's great. When he's not, he's pushing the guys who are in front of him to make them better as well," said Kennedy, hinting at a largely support role. "He's still very much a big part of the team. He will be going forward, Because he's been so professional, he's still in very good shape and is still able to produce great moments." Many more of these moments that his own fanbase give him credit for, indeed.
Comments
 0 comments
Want to join the conversation? Please or to comment on this article.