'It's easy to crumble under pressure': Celtic's Liam Scales on what he had to do before Rangers heroics
There is no naivety from Liam Scales about the backdrop to a stunning finest day in Celtic colours.
He know what lay behind his role in the most expectation-defying derby victories for his club in Rangers' cauldron of Ibrox over recent times, to allow the 25-year-old to become the unlikeliest of saviours for his team. Or, perhaps more accurately, unlikeliest of "warriors" – the word offered up by Brendan Rodgers over his man-of-the-match earning display in the 1-0 victory. Had Celtic not been deprived of centre-backs Cameron Carter-Vickers, Maik Nawrocki and Stephen Welsh to long-term injury, had new Liverpool loanee Nat Philips – signed to fill that breach – been up to speed, Scales in all probability would have been nowhere near the Govan ground on Sunday afternoon. As would have been true for his defensive partner in Celtic's first clean sheet at the home of their bitterest rivals since September 2019, Gustaf Lagerbielke. Essentially, the pair were last resorts for Brendan Rodgers, only for Scales to become first among equals.
The thoughtful Irishman, though, now believes there is no reason why he cannot capitalise on the very scenario that allowed him to perform in a fixture he had been desperate to experience since he joined Celtic from Shamrock Rovers in a £500,000 deal in August 2021. A prospect that had seemed desperately remote when, following a season under Ange Postecoglou where he earned only eight starts in left-sided berths, he was loaned out to Aberdeen for the 2022-23. It was there that he was deployed as a centre-back. As he had never been in Celtic colours until the club's defensive injury crisis led him looking more than a little shaky even as it was pallid forward play that condemned Rodgers' men to a scoreless draw at home to St Johnstone the week before their Ibrox exploits. Now, Scales – who was expected to rejoin the Pittodrie side before the window closed ahead of becoming one of the club's few centre-back options – is aiming to place himself firmly in Rodgers' thoughts for more than emergency situations.
"All I can do is do my best," Scales said. "I need to make it difficult for the manager by putting in good performances and if I can keep clean sheets with every performance and be good on the ball and defend well, then I will give him a headache at least. That's all I am looking at and that's taking it game by game and make him have a decision to make. I've only played a handful of games for Celtic and I had to go out on loan to gain experience last season. To be back here and get into the team, although there were a couple of injuries that helped that, it's a chance I have to take. Maybe if there wasn't a couple of injuries I wouldn't have got this chance. But it's great to be in this position and I have to make the most of it."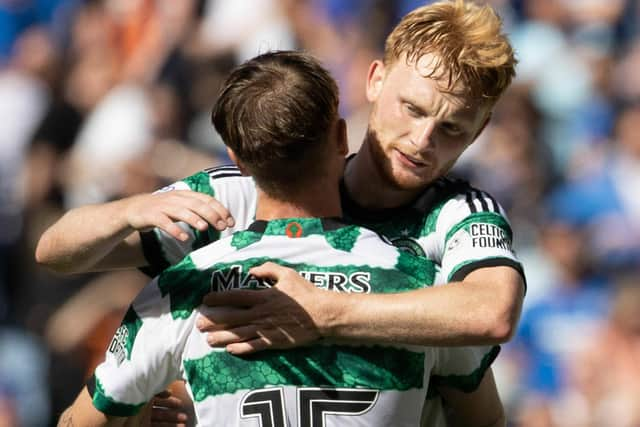 It can be forgotten that Scales now has 200 senior appearances under his belt. Even by him, it would seem. He played over 100 times for first club University College Dublin before racking up another half century of outings for Rovers. Seven of these in European competition. His time at the Tallaght Stadium led to him being described as the "hottest property" in Irish football. Aberdeen's struggles led to him being derided to the extent that it was almost presented – by the club's support as much as any else – Celtic would be going into their Rangers confrontation with practically a pub amateur and a junior at the heart of their backline, a duo who inevitably would be taken apart by their opponents. Scales blocked out that chatter.
"I don't allow any negative thoughts to come into the game, I only have positive thoughts. It's easy to crumble under pressure so I don't think like that," he said. "All the day of the game and all the night before it, I was just telling myself to go and do my thing and show people what I am about because there is no bigger fixture in Scottish football than this and especially at Ibrox. I've had to wait for over two years now for the chance to go and play for Celtic against Rangers, with being at Aberdeen last season. To do that and keep a clean sheet as well was brilliant. But I think me and Gus can do better. We are still getting used to each other's games. We are still learning each other's games. Neither of us are hugely experienced and it will take time to gel. We know we can do better and we are happy we have kept two clean sheets in a row."
Scales doesn't deny he thought Kemar Roofe had put the mockers on a Celtic clean sheet at Ibrox after the forward fired in with 28 minutes played, only for his apparent strike to be ruled out after referee Don Robertson was advised to go to his monitor by VAR operative Alan Muir over the challenge Cyriel Dessers made on Lagerbielke as the Celtic defender dwelt on the ball. The contact behind the frontman winning possession to set-up his team-mate.
"It was to be honest because the ref didn't give it at first and it looked 50/50 from my angle," the defender said on being asked if his heart was then in his mouth. "But for him to go and check on the monitor, it must have been clear that it was a foul, so it was a relief. But that we then went on to nick a goal just before half time was a bonus. The second half was all about the grind. Gus said to the ref at the time it was a free kick. Look, you get these decisions sometimes." And sometimes, you are given unexpected opportunities.
Comments
 0 comments
Want to join the conversation? Please or to comment on this article.