'I'm not going to let it happen' - Celtic's Ange Postecoglou on cup final cautionary tale as he recalls Maracana motivations
Celtic manager Ange Postecoglou has vowed he won't "let happen" a repeat of the tenure-wrecking Scottish Cup defeat suffered by predecessor John Barnes to Inverness Caledonian Thistle in February 2000.
The Australian considers the loss as the ultimate cautionary tale as he seeks to lead the club to a treble against the Highland club in this weekend's showpiece at Hampden. And precisely why his links to the vacant Tottenham Hotspur post – the 57-year-old expected to have talks next week – cannot enter his current thinking. "Oh yeah, oh yeah, I've heard about it on a daily basis," Postecoglou said of the 3-1 third round home loss that resulted in Barnes' being removed from post after only eight months. "All the other stuff you have been trying to drag from me over [the Spurs links]… that is what would be on me for the rest of my career [if lost the final]. Irrespective of what happens to me next. Irrespective. I could end up whatever you want in ten years' time [and that would be the case]. I'm not going to let that happen. It's not all in my power, obviously. But I'm going to make sure we are going to be absolutely well-prepared to deliver on the day.
"That story … there is a history with that and this football club and it has been mentioned to me numerous times. I was well aware of it anyway. It has destroyed a manager's career, and I'm not going to let that happen, I'm just not. You may all think I'm trying to deflect or whatever but I can't think anything beyond that because that is going to be the story. All these other questions are going to be there after the game, and that is fine, but that is going to be the story come the final whistle [if we don't win]."
Postecoglou understands the motivations that will fuel Billy Dodds' men in recalling his situation 23 years ago. When Inverness's exploits reverberated round the globe, he had recently returned from Brazil where his South Melbourne team had faced Vasco de Gama, Manchester United and Nexaca in the Maracana in inaugural World Club Championships, the Old Trafford men withdrawing from the FA Cup to take part. An experience that, following two 2-0 defeats and a 3-1 loss, made his side the toast of then FIFA president Sepp Blatter – having initially been mocked by the English press.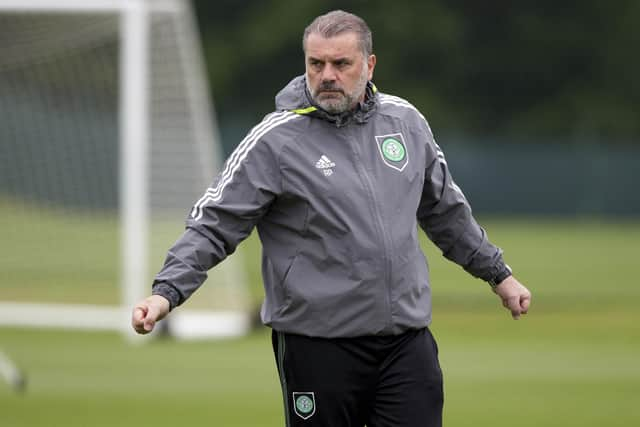 "I remember it, I do remember it. I was surrounded by Celtic fans at the time. I remember the headline," he said of the upset immortalised by the SuperCaleygoballisticCelticareattrocious wordplay. "We were semi-pro at the time and on going to Brazil one of the UK tabloids had our star striker, at the time working at a petrol station, filling up a car with the headline something like 'Man United gives up FA Cup to play petrol pump attendant'. It's fair to say we were underdogs, but what a tournament, we loved it, and pushed teams all the way and gave a good account of ourselves. It was a bizarre tournament.
"I remember Sepp Blatter visited our hotel the day before and for him to measure the success of the tournament we couldn't be beaten by double figures because it would have destroyed the whole concept. We had Vasco first, they had five World Cup winners, and we lost two-nil. He came to the hotel and threw a party. I have never seen anyone both so ecstatic and relieved in all my life - 'thank God, you've made the tournament'. It was incredible. We used [what Inverness will now] for the tournament … they are not going to rate us … they will take it easy … We have to try and take advantage. So I'm well aware of the power it has if your opponent underestimates you."
Comments
 0 comments
Want to join the conversation? Please or to comment on this article.