Ian Crocker: "I like Celtic and Rangers. That makes me unique"
Scrambled eggs on toast with mushrooms. As always, that will be Ian Crocker's pre-match routine before today's first Old Firm clash of the season - but for a change it won't be a hotel serving him breakfast but his wife Sharon.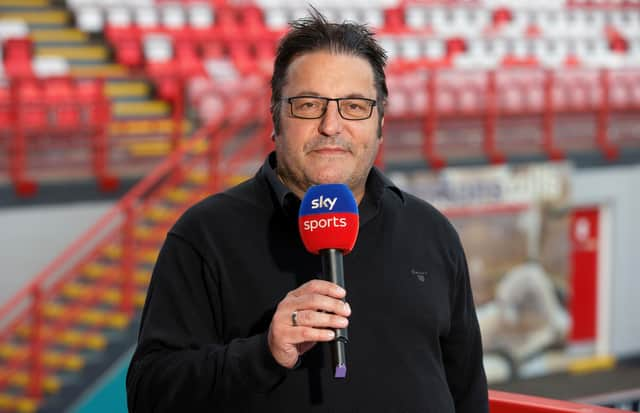 Ian Crocker is Sky's man at the mic for today's Old Firm clash
No longer driving up from England the night before commentating on games, the Sky man is now resident in Scotland. Crocker hesitates about confirming this when I spot a pleasing vista behind him during our Zoom call. After games such as this one, he likes to retreat quietly, and who wouldn't?
Celtic and Rangers fans - the more extreme ones, at least - bring Alan Turing-standard cryptanalyst skills to the scrutiny of Old Firm coverage. They reckon they can spot bias from several miles away. It could be the flimsiest of inferences, containing in the most innocent and throwaway of remarks, and usually only detectable by dogs accustomed to high-pitch whistles - but it will be spotted. Crocker, 55, has been accused of being pro-Celtic and pro-Rangers - who knows, possibly even within the space of the same sentence.
To make him feel better, I tell him that Archie Macpherson, last to leave BBC Scotland's HQ one night, picked up the phone to be interrogated by a caller from one half of Glasgow's great divide over why he'd used Christian names to identify certain players that afternoon but not any from the other team.
Crocker signs up for Sky at Hampden with Martin Geissler, Charlie Nicholas, Jim White and Davie Provan, still his regular co-commentator
Crocker laughs. It's an uncertain chuckle because he knows that for some, there is nothing in life more serious and all-consuming than Celtic vs Rangers. Once, there was a death threat. "Something on a website," he says. But amid all the madness he continues to believe - if words of religious meaning are permitted - in the sanctity of the fixture.
"I'm not someone who even remotely understands the side-issues of this contest," he says. "I know it comes with baggage but it remains a unique sporting experience. Of course that brings pressure, also for the person describing it. The games are so frenetic - 100mph and then some. You hope you come through them unscathed, that you haven't made an arse of yourself. But these are the matches where players want to play and it's the same for commentators."
Crocker is pretty sure today will be his 60th Old Firm encounter. "I've loved every single one of them," he adds. He has learned the art of diplomacy so his conversation is sprinkled with qualifying remarks like "That doesn't make me a Celtic fan, of course" and "Apologies to Rangers for that". Favourite goal? Well, Henrik Larsson's lob against Rangers in the 6-2 game was, as he called it at the time, "Sen-sational!", and only the other day in Glasgow's Central Station a punter quoted his 20-year-old exclamation back at him. But, he quickly adds, also to be admired was a Pedro Mendes rocket at Parkhead in 2008.
"I don't mind banter, wind-up, even some of the name-calling. When Rangers fans up at Pittodrie broke into a chant of 'You're just a fat Harry Potter' I laughed. Sometimes on Twitter I've got involved in the heated debates over something said in commentary but I don't do that anymore because there's no point in trying to answer a charge of bias from folk who themselves are as biased as they come. I'm from a little village in Dorset and regarding the Old Firm I'm genuinely neutral. No one really wants to know this but I like both Celtic and Rangers, which I realise in this country makes me quite unique."
Ian Croker's Scotland services dates from 1998, our last appearance at a major finals, and jokes that the two things aren't related
"This country". Crocker was once mistaken for Bobby Moore, one of his football heroes and, for a spell, a colleague at Capital Radio. Crocker was collecting the passes for a game at West Bromwich Albion and the man on the door had clearly never heard of the World Cup-winning captain. So I'm guessing that while hanging out with the personification of English football he never guessed he would later become the voice of the Scottish version.
"You're right. The first Scottish game I covered was for Grampian TV, Dunfermline Athletic vs Aberdeen in 1995 and that told me I needed to brush up on my knowledge. I knew a fair bit about the Old Firm although obviously it's not all about them even though some people insist it is." Three years later, with Sky, the northern posting became permanent - league games every Sunday evening at five past six and the national team. "Yes, that's 22 years - the time that's elapsed since Scotland last reached the finals of a major tournament - but I'm not taking the blame!"
Crocker may seek to live quietly in Scotland but not reluctantly. Sharon hails from Dundee - the couple have a daughter, Eve - and at both Sky and Capital he's worked for Scottish bosses. "I honestly didn't think I would last this long covering Scottish football but it's been great fun and maybe it was meant to be." In conversation, if not yet in commentary, there's a Caledonian inflection to that voice. "I say 'aye' a lot now." What about other parts of him, the mind and the heart? "Because I'm English some folk think I've been wallowing in Scottish failure by being here. Far from it. I've become more of a Scotland fan than an England one. I absolutely love the country and Scotland are my team now."
It's the passion which has converted him. "For me, Scottish football comes from the heart. Players play from the heart. Fans support from the heart. People may criticise the quality but I always see honest endeavour and there is plenty of skill."
Crocker with Andy Walker at Hamilton where, unlike Arbroath, no safety harness was needed. "I love scottish football because it comes from the heart," he says.
Crocker's last three assignments have been that trio of Scotland wins, all at a deserted, Covid-hit Hampden. He doesn't think he'll ever get used to football without fans, adding that today's match at Celtic Park will be "the weirdest yet". Still, the most important of these successes for the national team takes them one step closer to the Euros and Crocker was thrilled by it.
"I'd dearly love Scotland to be at the finals of a major tournament again," he adds. In those 22 years, he's had to find the words for heartache and misery and a phrase often used is "It's the hope that kills you". Now he says: "I want this squad to do it and I think they deserve to as well."
Crocker describes his home village of Sutton Poyntz as "sleepy" and sure enough a Wikipedia check throws up no facts. Dad Cyril was a bus driver who died when Crocker was 15. His mum, Molly, passed away this year, telling fellow residents in her care home: "Ian was so quiet as a boy and now he yap-yap-yaps on the telly."
The nearest team were Weymouth three miles away and young Crocker saw the likes of Andy Townsend, Steve Claridge and Graham Roberts turn out for the non-leaguers at the beginning of their careers, the high point being the latter scoring "a 40-yard screamer at our place in the pouring rain". Scotland at that time was far, far away. Crocker couldn't have envisaged that Roberts would one day play for Rangers, becoming the Copland Road's choirmaster - far less than he would commentate on the same man bossing Clyde to a famous Scottish Cup win over Celtic. "I mentioned my favourite goal to Graham that day but I don't think he remembered it."
But from an early age he was intrigued by the men who called the plays in football and at Weymouth's games a hot ear would be plugged to his little transistor radio for the excitable words of the Peters, Jones and Lorenzo, and Bryon Butler. He fancied writing about football but was knocked back by the Dorset Evening Echo, forcing a move to London. He got into the BBC but only as far as the unit seeking out locations for TV dramas. Then he won a competition to become match-day announced for West Ham United who because they played in the same colours as Weymouth had become Crocker's team.
He just missed the Hammers' tilt at the league title, spearheaded by Frank McAvennie. Displaying his fan-boy tendencies again he says: "I saw Frank in [Glasgow curry-house] Mister Sing's recently and would have happily re-lived '85-'86, game-by-game, but could tell he wanted to get back to his rogan josh."
At Capital he fell out with a radio legend - "Tony Blackburn doesn't like football and didn't understand why my sports bulletin was all about Bobby Moore the day he died" - and under the influence of Jonathan Pearce, then a more jokey version of the commentator currently heard on Match of the Day.
Crocker experimented with knockabout at BRMB when the Midlands station was taken over by Capital and this must have suited the local football scene with Ron Atkinson and Barry Fry prominent. But Crocker came a cropper in a Birmingham City game, Jonathan Hunt on the ball: "I meant to say 'And Hunt cuts inside …' but it came out wrong, like what's happened a few times to [politician] Jeremy Hunt. Very unprofessionally, I couldn't stop laughing for three or four minutes. I haven't repeated the mistake up here … yet."
Crocker has found his true voice in Scotland. Opening coverage of Wednesday's game against the Czech Republic, he said of the men in dark blue in the previous matches: "Maybe not pretty but definitely effective." That might sum him up, too, for Crocker doesn't attempt to show off with lyricism or humour or an over-rehearsed phrase and nor does he over-talk a game. Team and commentator are a good match, though he's quick to acknowledge the wisdom of Davie Provan and Andy Walker alongside him.
None of this means, however, that Crocker's words are mere flim-flam. Not striving for immortality in the slightest - how could he have known that Hibernian of all teams would finally smash their Scottish Cup curse, even from the advantage of a corner kick in added time? - he was fast-tracked into the role of unofficial town cryer for Leith on the back of the declaration: "What a moment this!"
This was just before 2016's winning goal. "I didn't know I'd said that until afterwards. A commentator can only hope to capture a moment." The moment prompted another unforgettable line as Liam Henderson placed the ball by the flag. "Henderson to deliver … " duly became a hit ringtone and tattoo message. The players ran to the crowd to celebrate David Gray's goal. "I said 'Hibs are standing on the brink of history' and suddenly the players were standing on the wall. I was pleased with how the day went but I got lucky." The final has been Crocker's greatest day thus far. "What commentator wouldn't want to be telling that story?" Still, it wasn't the perfect commentary: bearing in mind the scoreline, he wishes he'd spotted that Henderson, wearing No 3, had crossed for No 2 David Gray - "I could have made something of that." No matter: "It was a fantastic final and Hibs fans are very kind to me, sending me lots of nice messages every time the anniversary comes round." Then he adds: "Apologies to Rangers fans there."
Crocker has submitted to the full Scottish initiation for football acceptance. Before basing himself here he'd felt the full force of The Alex Ferguson Post-Match Stare. Then he fell out with Gordon Strachan - "I'd be disappointed if I hadn't done." At Aberdeen, he had a pie thrown at him. At Arbroath, fierce winds threatened to propel him into the North Sea - "Even a fat commentator like me was at risk that night so no wonder I was offered a safety harness." Now, are his adopted dark blues standing on the brink of qualification?
I ask this because Crocker would seem to have a hunch about how football will pan out. Before his prophetic words in Hibs' cup final, he'd speculated on them winning the trophy as far back as the fifth round against Hearts, a tie in which they were two-nil down with ten minutes remaining. Then there was Hibs' 6-6 draw at Motherwell back in 2010, Crocker sensing the home side weren't dead even when three goals in arrears.
No, he can't predict outcomes. He's realised this a few times, including his first 12-goal thriller: "That was an FA Cup replay, a freezing cold night in 1995 and prospects were bleak. But it turned out Walsall 8, Torquay United 4 which goes to show that if football you never know what's going to happen."
One thing is certain, though. When Scotland line up against Serbia on 12 November he'll be switching on his microphone and rooting for our - and his - team.
A message from the Editor:
Thank you for reading this story on our website. While I have your attention, I also have an important request to make of you.
With the coronavirus lockdown having a major impact on many of our advertisers - and consequently the revenue we receive - we are more reliant than ever on you taking out a digital subscription.
Subscribe to scotsman.com and enjoy unlimited access to Scottish news and information online and on our app. With a digital subscription, you can read more than 5 articles, see fewer ads, enjoy faster load times, and get access to exclusive newsletters and content. Visit https://www.scotsman.com/subscriptions now to sign up.
Our journalism costs money and we rely on advertising, print and digital revenues to help to support them. By supporting us, we are able to support you in providing trusted, fact-checked content for this website.
Joy Yates
Editorial Director
Want to join the conversation? Please or to comment on this article.