'I really miss playing in those big games': Celtic's Matt O'Riley laments being restricted to TV dates during the week
Those of a Celtic disposition are entitled to feel good about their lot as Ange Postecoglou's men make faultless progress in the pursuit of a clean sweep of domestic honours.
Pangs remain, though, over one dimension of the club's campaign for midfielder Matt O'Riley. The Champions League will throw up what would ordinarily simply be fascinating fair for an Englishman over the next two days. Manchester City's last 16 tie with Leipzig on Tuesday evening is delicately poised after last week's 1-1 draw in Germany. Meanwhile, Liverpool appear to have an impossible task to make the quarter-finals through requiring to overturn a 5-2 deficit when they travel to the Bernabeu to face Real Madrid on Wednesday evening.
Two encounters that don't make for the easiest viewing for O'Riley as a result of Celtic falling short against Madrid and Leipzig in the group stages, with missed chances their undoing as they largely proved competitive. Their points haul was restricted to two draws against Shakhtar Dontesk that left them propping up their section. "I probably have had mixed emotions watching the Champions League," said the 22-year-old. "I have watched some of the games and I have been thinking 'it would be good to be involved in that'. But at the same time there is a lot to learn from these games because of the sides who are involved and the level they are playing at. I try to watch as many of the games as I can when they are on because there are a lot of things to learn and a lot of things to study."
That study will involve how teams capitalise on periods of ascendency, as Celtic did not across the first half of their home encounter in Madrid, and when carving out regular openings in both encounters with Lepizig. "As much as we performed well in my opinion, we were very disappointed in how we finished results wise," continued O'Riley. "We learned a lot in terms of the ruthless side of it. But it is definitely something I constantly think about.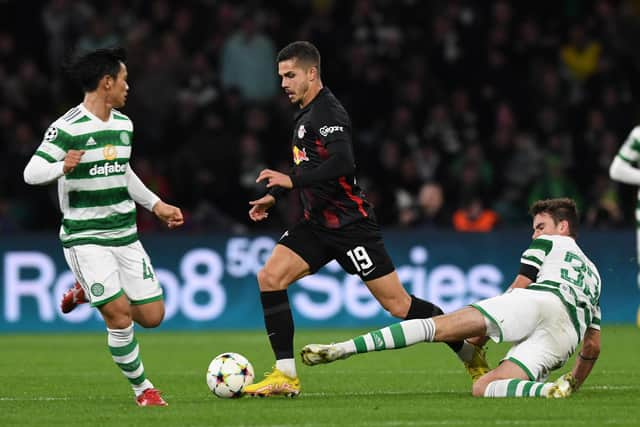 "I really miss playing in those big games against the best players. I felt like it brings the best football out of you, makes you improve as well. It is great winning games in Scotland, but it is not the same as playing against the very top players in Europe. But in saying that, if we can keep our level really high and try to dominate teams in Scotland then the hope is that will help our transition into the Champions League and competitions like that."