'I don't like these things being messed about': Celtic boss shows his traditionalist side and provides key update
Celtic manager Ange Postecoglou has lamented the meddling with tradition that he sees as inherent in the kick-off time change for his club's Scottish Cup final with Inverness Caledonian Thistle on June 3.
For the first occasion in the 150-year history of the competition, the initial staging of the showpiece will have a 5.30pm start after the usual 3pm slot was shelved to avoid a clash with the FA Cup decider between Manchester City and Manchester United. The SFA's decision to switch to the evening, believed to be pushed by the BBC who are screening both finals, has provoked outcry from the Scottish football public and the competing clubs, with objections raised both on a point of principle, and over the travel arrangement issues created for supporters travelling from the Highlands and overseas. The Australian considers the switch as regrettable on all fronts.
"The Scottish Cup is one of those prestigious competitions, it ends the season at a certain date, at a certain time," Postecoglou said. "I'm a traditionalist in a lot of those things, I love them because they provide historical context for why it is played on the last day, and at that time. I'm not too involved in the logistics for supporters, but for the Inverness supporters it is more of a challenge. I would loved to have had it as it was; I don't like these things being messed about. But at the end of the day, that is the decision and we just have to get on it and make sure we play our football."
As Celtic head to Tynecastle on Sunday looking to wrap up the title that will see them head to Hampden seeking to complete a treble, Postecoglou has not written off the possibility that he will have right-back Alistair Johnston fit for the final. The Canadian was left celebrating in a moonboot and with crutches following a foot problem that forced him off during his team's success over Rangers in last weekend's semi-final. However, while the Celtic manager described the injury as "significant", it has not been deemed campaign-ending. "We are still hopeful he will play some part before the end of season, though it is a kind-of week by week thing and we have to make a decision as we go along," the 57-year-old said. "The medical team are still hopeful he might play a part."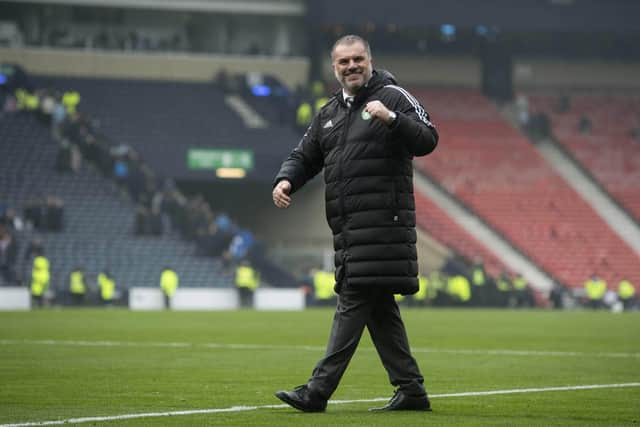 Meanwhile, contrary to reports earlier this week, centre-back Cameron Carter-Vickers is on course to be returned to full health in time for pre-season having delayed surgery on a long-standing knee issue to play a crucial role in Sunday's derby victory, which is why no consideration was given to the US international playing on while the title was still live, according to Postecoglou.
"With Cameron it was a case of how early he had the surgery," said the Celtic manager. "He has already had it, and it all went well, and the earlier he did the better chance he had of being ready for the start of next season. At the same time he was really keen to be involved up until last weekend with such a big game, and in terms of what it meant for our season as a semi-final. I was really guided by him in the end, he was the one to tell us when the right time was. But he was never going to go beyond last weekend because I want to make sure he is right for the start of the season so for us it is a good outcome."