How recent Celtic business shows Brendan Rodgers' willingness to make tactical tweak from Ange Postecoglou era
Celtic's acquisition of Hyeok-kyu Kwon means the club ostensibly now possess four defensive central midfielders.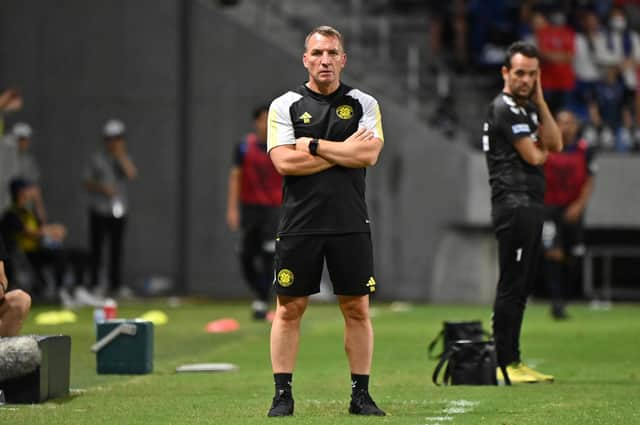 It is doubtful that the Korean, Odin Thiago Holm and Tomoki Iwata are all merely being perceived as back-ups to Callum McGregor, special talent that the club captain is. The near £1m deal for the imposing 21-year-old from K-League club Busan I-Park can only set the hares running on a potential tactical tweak by Brendan Rodgers from how Celtic were set up under Ange Postecoglou in the past two years. Essentially the role of McGregor-understudy was the scenario for any player occupying the holding role under the Australian. It seemed to offend the footballing sensibilities to deploy two defensive midfielders. In what is known in the modern game jargon as the double pivot. McGregor, who had performed in such a set-up during Rodgers' first spell in crafting a partnership with Scott Brown, explained Postecoglou's credo as selecting two number eights and pushing them forward to operate essentially as tens. To put Celtic firmly on the front foot and create attacking overloads in the front third.
In the domestic scene, where Celtic's domination of possession is overwhelming, the fruits of this were to be found in flailing opponents. However, and this was viewpoint never accepted by Postecoglou, in Europe there was a feeling the system left Celtic too open. Effectively, taking a step back in facing up to more threatening opposition in continental competition was anathema to the previous Celtic manager. It is notable that three of the four starts made by Iwata last season in midfield – he completed two full 90 minutes as an auxiliary centre-back over the closing weeks – came as a holding player. Postecoglou did not deviate from having only one of his midfield three sitting off the play. Well, almost never.
In October 2021, following a difficult opening 10 weeks in which results had wildly fluctuated, Celtic travelled to face Aberdeen at Pittodrie. Without a league win outside of their own environs across the previous six months, Postecoglou knew that failure to nip that in the bud could prevent his tenure blooming. And in rapidly. He privately told an Australian associate that a loss in the confrontation could imperil him. Little wonder. Such an outcome would have allowed Rangers to establish a nine-point lead in the title race. The gravity of the situation resulted in the very un-Postecoglou-like ploy that amounted to his fielding Nir Bitton and McGregor as double pivots. A move he had scoffed over when asked if he would ever consider it only a matter of weeks earlier. Celtic were far from their fluid best that afternoon in Aberdeen, but they did scrape a 2-1 win that was instrumental in their title tilt taking off. But two holders never again were combined for an arduous away assignment, or testing European outing.
It seemed he had little interest in acquiring such types, beyond James McCarthy existing in the shadows at the club and picking up Iwata. A strong, aggressive, strapping enforcer type – as Kwon is regarded – just didn't seem of great interest to Postecoglou. Scouting reports detail that the player isn't lacking in terms of pace and technique, but he is very much defensively-minded. And if he is allowed to deploy such traits with McGregor at his shoulder, the first impact of Celtic's managerial regime change could be witnessed.
Comments
 0 comments
Want to join the conversation? Please or to comment on this article.