How Joe Biden and Ted Lasso helped frame Celtic defender Cameron Carter-Vickers' World Cup memories
In earning his stripes as a US player at the World Cup, Celtic defender Cameron Carter-Vickers could have been forgiven for becoming starry-eyed.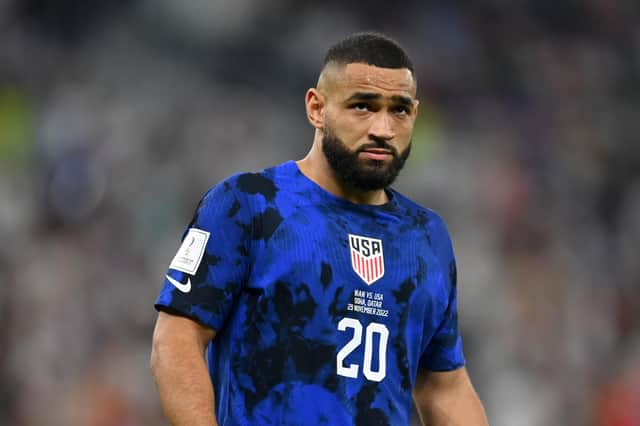 The 25-year-old's experiences surrounding the finals in Qatar – where he played in the vital group win over Iran – had some novel moments. The squad received an video-link address from none other than the most powerful politician on the planet, in US president Joe Biden. And the country's most famous fictional manager, Ted Lasso, sent the players off to the Middle East with motivational letters plastered on billboards. A wheeze by the country's football federation that included one in Baton Rouge written to Carter-Vickers, the city that is home to the Essex's centre-back's father Howard Carter, a former player in the NBA.
"We knew [the Biden address was coming]," the Celtic player said. "We didn't really know for a long time in advance, to be fair, but when we went into the meeting room we knew he was going to be on the call. Any time you see people, especially people like that, supporting you it definitely gives you a boost. [In comparing his speech to Ange Postecoglou's, I'd say] they're slightly different … I'd say Ange's probably have a bit more tactical knowledge of football. But they're both obviously two motivational people who you can take stuff from.
"[As for the billboard] anything that can build support for the team, it can only be positive and some of them were quite funny. I'm not sure if dad went to look at the billboard himself but he said he had friends and family who sent him pictures but Baton Rouge is quite a big place. I went there for summer as a kid and still go over when I can. I go out to see him or sometimes he'll come over here. But growing up I went out there quite a lot. I have good memories from those days going there when I was younger, spending time with family. The whole of my dad's side of the family is over there – cousins, aunties, uncles, stuff like that. They really got into the World Cup. I talk to my dad regularly anyway but he and the rest of the family were watching the games together."
Comments
 0 comments
Want to join the conversation? Please or to comment on this article.