How Inverness CT have been preparing for Celtic: Starting XI, weddings, friendly struggle and why Highlanders can win
Twenty nine days. Twenty nine long days, from the 2-1 loss to Ayr United which cost Inverness CT a place in the Premiership play-offs to the Scottish Cup final against Celtic and what could be the biggest 90 minutes in many of the players' career.
When those chosen XI emerge from the tunnel and step out onto the Hampden Park pitch just before 5.30pm on Saturday they will have gone nearly a month without a competitive fixture. Nine of those days were spent on rest and recuperation, followed by a period of conditioning, planning, preparation, even frustration over friendlies. The final stretch will be the excitement, nerves, tension. That feeling in the stomach of the players building and building. A feeling which acts as a reminder that they are entering a very special period where they can become heroes. Become remembered for producing the biggest shock the final of this great tournament has ever seen.
'Step it up a notch'
"Time makes you think," ICT boss Billy Dodds said. "I'm hoping that will be the case but I can't say for sure. Some of the players haven't played in a final before and they can be nervous. I want nerves but I want good nerves where you go out and perform. Not nerves where you go out and they overwhelm you.
"I said that to my players in the semi-final. It wasn't any disrespect to Falkirk being a league below us, but it was such a big opportunity. I just said to them 'have your nerves, have your adrenaline, but don't let it overwhelm you because if it doesn't you can go out there and perform'. It will be similar this time but we will have to step it up a notch this time."
Dodds, a thoroughly engaging individual, has full clarity that his side can beat this juggernaut of a Celtic side, even if Ange Postecoglou's treble-chasing champions have taken their foot off the gas somewhat in recent weeks. They've already defeated Livingston and Kilmarnock on their run to the final, in both games they looked like the top-flight, rather than Championship team.
"We are a right good team, we've suffered this season with injuries but we're a right good team," Dodds said. "Only if we are on the money and it's going to have to be against Celtic. I'm not stupid, I'm not daft. I know what's required and it's going to have to be a humongous performance."
Trip to Ayrshire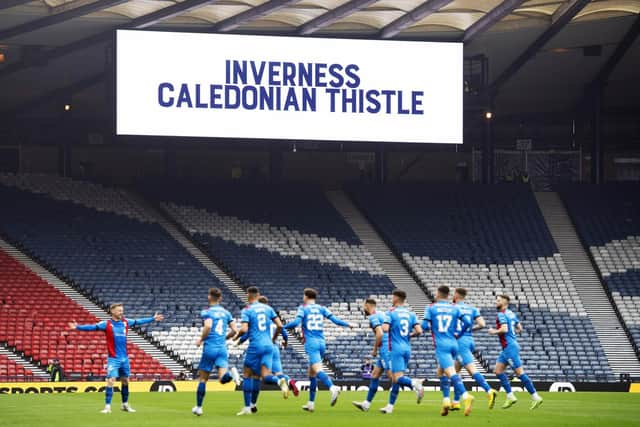 That "humongous performance" is what this period of inaction and mini pre-season has been building to. Dodds would have preferred to be in the play-offs, noting the less demanding scheduling of the matches compared to last season when the Highlanders lost in the final to St Johnstone. But the time can be seen as a positive. It has given him time to think and analyse. During that first week off, he took a trip to Ayrshire to see his mum. Celtic were on his mind, however.
"Then you start thinking about the machine, the animal that you're going to face in Celtic," he said. "Then you think about what we can do to stay nice and solid, but also be a threat as well. You have wee ideas and things you want to do in training when you're back. All that has been going on in my head, I'm not going to kid you on. It was a good nine days to freshen the mind.
"They've had a long, hard season and a lot of them were catching up on injuries. We had to give them time off. We then got in for a full week's conditioning and training, not that you need too much. I think it was better because we made it a three-week block rather than a month."
Starting XI and weddings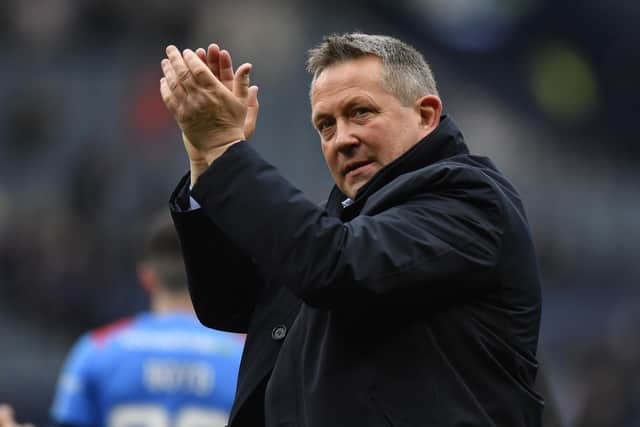 Such were the injury issues, Dodds named nine teenagers in his starting XI for an SPFL Trust Trophy match. He knows the starting XI which will face Celtic "if all goes well" but "it's not set in stone". Saturday's inter-squad practice match can still change his mind. The fact the team are having to play amongst each other demonstrates the difficulty of arranging friendlies. The Highlanders have managed just two, against Northern Ireland's Dungannon Swifts and Highland League opponents, with teams "dropping out left, right and centre"
"We had about 40 teams where we thought we could get a game but it wasn't forthcoming," Dodds explained. "At this stage of the season teams are either finished or having three games in a week in the Premiership. The Championship is finished, apart from the play-off. You have to go to England and Ireland. England it's the same, teams are finished or don't want a game. Most people are on holiday."
He added: "It's to make sure we're nice and solid, make sure we stay in the game, make sure we're a threat. It's all these things combined. That's where my head is with my teams."
Inverness will travel down the day before the game as they did against Falkirk but they won't be in the same hotel. Celtic had booked it out prior to their semi-final with Rangers. It prompted a search due to the need for 40 rooms and with plenty of weddings on. Travelling to and from fixtures on the day of the game is in the players' "DNA", it presents another sign of how special an occasion this will be. All that remains is the final week.
"I'm going to prepare my players for everything," Dodds said. "This week is all about preparation and I'm meticulous in that. I'll be getting my message across to the players. We'll know what we're doing at set-pieces, what they're doing at set-pieces. We'll know how we're going to play and go about it."
He added: "Can we win the game? Aye. I've never gone into a game thinking I can't win it. You'd be as well not turning up and I've told the players that."
Comments
 0 comments
Want to join the conversation? Please or to comment on this article.