How Celtic's Tomoki Iwata found 'new version of himself' with intervention from Ange Postecoglou
The puddles that had formed in the car parks outside Parkhead underlined why Tomoki Iwata, Celtic's latest Japanese signing, regards the Scottish weather as the biggest challenge since his move west.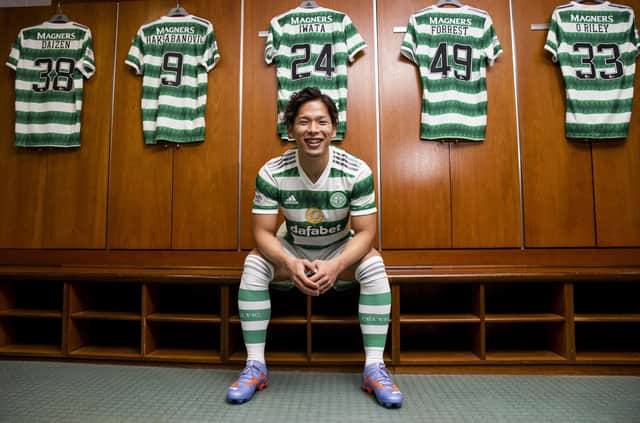 But the goosebumps he revealed he felt while watching Celtic's 2-0 win over Kilmarnock the previous Saturday were nothing to do with the inclement conditions and everything to do with the atmosphere. The midfielder stressed that it was very rare to experience such passion in Japanese football.
Seeing for himself how much emotion was stirred by a humdrum league fixture in January convinced Iwata he had made the right decision although, in truth, there was no decision to make when Ange Postecoglou made it clear he wished to sign the player for a second time.
The Greek-Australian brought Iwata to Yokohama F. Marinos months before he left the Japanese club to join Celtic in 2021. Postecoglou then made another significant intervention in the player's career by turning him from a defender into a "No 6" midfielder.
"I feel grateful," said Iwata, speaking through an interpreter, at a very dreich Celtic Park on Tuesday. "Thanks to him for picking me and playing me as a No 6 so I managed to find a new version of myself and another possibility for myself. I feel very grateful to him.
"I would like to play as a No. 6 (at Celtic) but the most important thing is the victory of the team, that is independent from which position I play."
Iwata also hopes to deliver some Shunsuke Nakamura-style free-kicks. He has even been practicing with his left foot. Like many Japanese footballers, Iwata regards Nakamura, who only retired last year at the age of 44, as inspirational and he is why he first became aware of Celtic.
"Of course, I knew about Celtic from the times since our legend, Shunsuke Nakamura, was playing for the club," he said.
"Since I was little I have been aware of Celtic and watching games. So I have known about the club for a long time. Shunsuke is a player I would like to imitate. For example, with free kicks. I'm right footed but I try to kick with my left foot, too. He is my example to follow.
"I got to meet Shunsuke in a game," he added. "He is a really good player in terms of his touch on the ball. He is someone who always tries to make a difference in games with the ball at his feet. I think he was also an example to follow in terms of making young Japanese players believe they could come to Europe and play in the Champions League."
But first Iwata knows he needs to establish himself at domestic level – and the likelihood of that seems high. Postecoglou is clearly a big fan of the 25-year-old, who hopes the move to Scotland can bolster his international ambitions. Absent from the Japan squad for the recent World Cup, he has four caps to date.
Iwata is also keen to improve his grasp of English, which is already good enough to handle addressing over 50,000 people from the pitch at half time on Saturday. He was blown away by his first experience of Celtic Park. "I got goosebumps," he said. "I was really surprised by the atmosphere, which you cannot experience in Japan. To play in that atmosphere will be the greatest thing. I would like to play on that pitch as soon as possible."