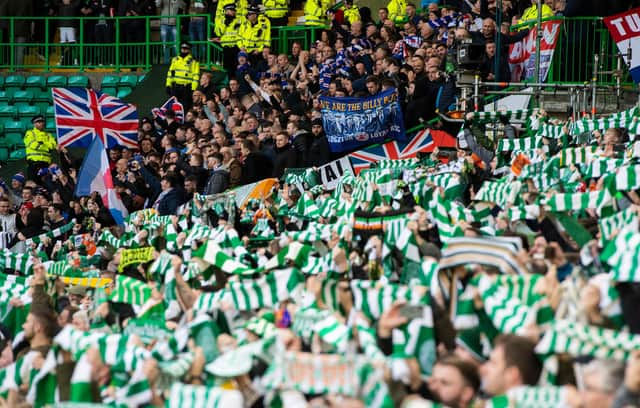 Celtic and Rangers are wanted as part of a Premier League reform. Picture: SNS
It follows the shambolic attempted European Super League breakaway.
However, there is a strong feeling in England that the Premier League needs to be revamped.
The league could become a 22-team division or controversially an 18-team top-flight with play-offs at the top to decide the winner.
Celtic and Rangers would be a huge draw due to their passionate and sizeable support, both in the UK and around the world.
Equally, the Glasgow duo would likely be attractive by the money that is on offer by playing in England.
To do so, however, will likely take at least two years with the teams needing "express authority" of the SFA, as per Article 4.4 of the body's Articles of Association.
It reads: "Members cannot become members of any other National Association without the express authority of The Scottish FA, the prospective National Association and FIFA. For the avoidance of doubt, the express authority of the Scottish FA for the acceptance of membership in any other National Association can be granted only by the adoption of a special resolution to that effect by the members in a general meeting."
Celtic and Rangers can cease their membership which takes the two years to come into effect, as per Article 16.
It states: "Except with the prior written consent of the Board, subject to the terms of Article 4.4 and further on such terms as specified by the Board, no full member shall resign, retire or cease for whatever reason to be a member of the Scottish FA unless it shall have given a minimum of 2 full seasons' prior written notice of its intention to do so and such member does not owe any money to the Scottish FA or to any other member, or player or recognised football body on the expiry of such notice. The prior written notice required from the member, as aforesaid, shall be irrevocable. In the event that subsequent to providing such written notice the member intimates a desire not to resign, retire or cease for whatever reason to be a member of the Scottish FA, the written notice shall nonetheless remain extant and if the member wishes to continue in membership of the Scottish FA, it shall be required to apply for membership of the Scottish FA in accordance with Article 6."
It adds: "A club or association ceasing to be a member for whatever reason shall thereupon forfeit all privileges of membership, save that liability as provided for in the Memorandum shall nevertheless continue. Any club or association ceasing to be a member for whatever reason shall nevertheless remain liable for and shall pay to the Scottish FA, its members, the players and recognised football bodies all monies which at such time may be due by such club or association to the Scottish FA, its members, the players and recognised football bodies."