'His quality is undoubted' - Callum McGregor backs Celtic team mate Leigh Griffiths for Scotland recall
Callum McGregor has backed Celtic team mate Leigh Griffiths to lead Scotland's attack in Serbia next month if he can convince Steve Clarke he deserves a call-up.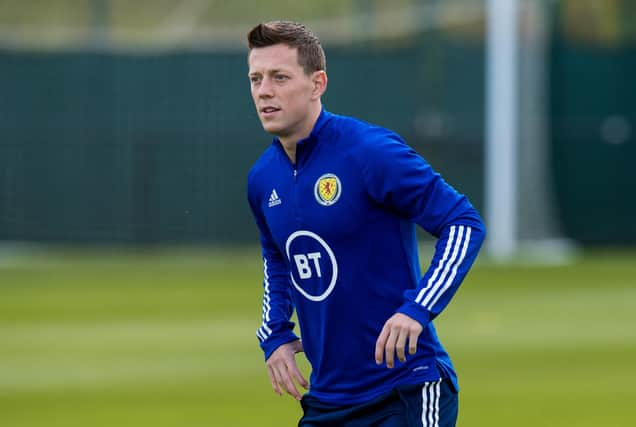 A combination of fitness and personal problems has kept Griffiths out of the international picture for the past two years but the striker issued a reminder of his goal-scoring prowess when he climbed off the bench to secure a vital three points for Celtic with a last-minute opener against St Johnstone last weekend.
The 30-year-old would have been in contention for a place in Clarke's squad for the original play-off dates back in March, which were postponed due to the coronavirus outbreak, and McGregor believes that a fully fit Griffiths is capable of getting himself back into the reckoning by the time the trip to Serbia comes around on November 12.
"The game should have been played in March and Leigh was firing, he was fit and well and scoring goals," he said.
"It's down to him first and foremost, to get himself playing games.
"We know from what happened last weekend that if he gets a chance he is going to score. That's the kind of quality that Leigh has.
"The national team would benefit from that too. It's a challenge for him. He knows himself that he has to get out on the pitch and playing games.
"Scotland would then be looking at him to come in and help the group."
Griffiths last cap came in a 2-0 win over Albania at Hampden in September 2018 but McGregor believes the striker would not be fazed by the prospect of stepping back into the limelight for what will be the country's biggest game in years.
"He just has that mindset that he loves playing football. No matter the level, if he gets that one chance then he will score," he said.
"We have a lot of good strikers in the squad. So the challenge is to get fit, if he does that I don't think anybody would doubt his quality.
"It's just a question of whether he can get himself on the pitch enough to be included in the squad.
"He is working hard every day and those are the demands we put on ourselves as footballers, to be fit and available for selection.
"It's down to him, down to us, to get him as fit as can be. Get him on the pitch. His quality is undoubted."
McGregor can feel that momentum is with the national side ahead of the Nations League matches against Slovakia tonight and the Czech Republic on Wednesday after the penalty shoot-out win over Israel made it six games unbeaten since the 4-0 defeat in Russia exactly one year ago.
"That's what we're trying to build," he said. "It takes time but once you get a good result you try to get another then three and so on.
"It's been a work in progress but slowly we are building towards having that solidity in the team where we know teams are not going to get many chances against us.
"From there you work on trying to get your own chances too.
"I think the play-off games were always going to be nervy. You saw three of them going to penalties and the others very tight. It was just a case of getting to the final, however you do it is irrelevant.
"Thursday was probably the reverse from what it's been like for Scotland in previous years where we have played well and had glorious failure.
"We want to be creating chances and scoring goals but ultimately the result is what matters and that's where momentum comes from."
McGregor also pointed to the collective celebrations which followed Thursday's shoot-out win as an example of the team spirit that carried Scotland through a difficult night.
"There was a lot of pressure on the squad to do the job. It had been building for months and everyone was waiting on the result," he said.
"To get that first bit of success collectively, you could see the relief and the joy in the camp. We've managed to take that step and now we are in the final. That was the job at the start of this campaign. That's how you build team spirit.
"The first part of the job is done and if we go there and manage to get a positive result that will be huge for the country.
"It shows great character and also strength in depth, that you can miss six players and still go and win. It says a lot for the quality and the mindset. When you get success like that it starts to build and people start to really believe."
Attention now turns back to the Nations League where Scotland will be looking to cement their position as League B Group 2 leaders after following up last month's 1-1 draw with Israel with a valuable 2-1 away win over a coronavirus-afflicted Czech Republic side.
"The Nations League has been great for Scotland," McGregor added. "Obviously it has given us this platform to be one game away from a major tournament.
"So we have to take these matches in the same light. We want to continue the good work we did last month and carry on that momentum.
"These are two matches that can help us to prepare for the massive game in Serbia but the Nations League has proven a good route for us."