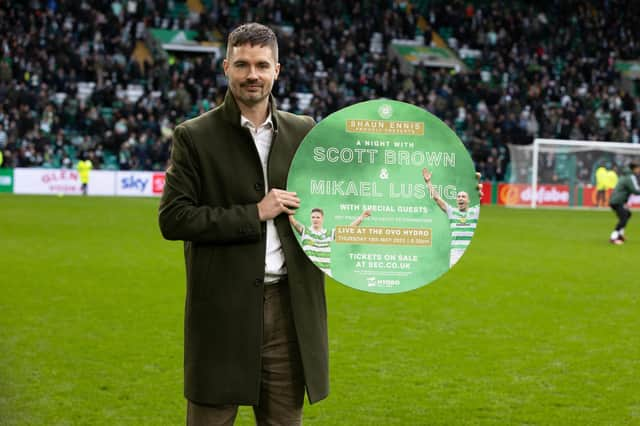 The Swede played at the stadium around 150 times across an eight-and-a-half year career that yielded him 16 major honours. Yet, nothing about those experiences made a return to the ground for his old club's 3-1 win over Hibs familiar. The 36-year-old in Glasgow for the first time since leaving in the summer of 2018 to promote his night with Scott Brown event at the SECC on May 18, which will raise money for the club's charity the Celtic Foundation.
"Coming back to Celtic Park now I'm like a supporter or a tourist. I think, 'wow, this place is amazing'," said Lustig, who said the visit made him appreciate the good times. "You can forget that when you play so many games here, it all feels a bit unreal. It was the same when I quit playing for the national team and went to watch them play. It was cool. When you are in it, you don't think so much about it, but when you step back and look, it's very cool."
Lustig had a real rapport with the Celtic support - cemented by his fondness for winding up rivals - and witnessing them give it plenty in their backing Ange Postecoglou's side reminded him of why he felt such a connection to them. "It was great to see a full house and three points," he said of the Hibs encounter. "There are lots of special things about Celtic fans. There are so many of them, all over the world. They are never satisfied and that's why we are always a good team, we keep on pushing. They are amazing. They are everywhere. I remember my first game in pre-season in Austria against some lower league team [after I left for Gent] and there were about 10 of them making noise and singing songs."
He can't help but be envious of Alistair Johnston, his present-day successor at right-back, when ruminating on the licence given to full-backs in Postecoglou's system.
"He [Johnston] has made the perfect start," said Lustig. "His first game was the derby as well. That's football. He took his chance straight away and ever since then he's been really reliable. He played on the big stage with Canada at the World Cup and he's been fantastic since day one. I'm really happy for him. I played the inverted full back role a little bit. With Brendan [Rodgers] we had KT [Kieran Tierney] who pushed on and I stayed back a bit. I always liked to get forward and I would have loved to have played under Ange at the moment. It would suit me quite well, I think."