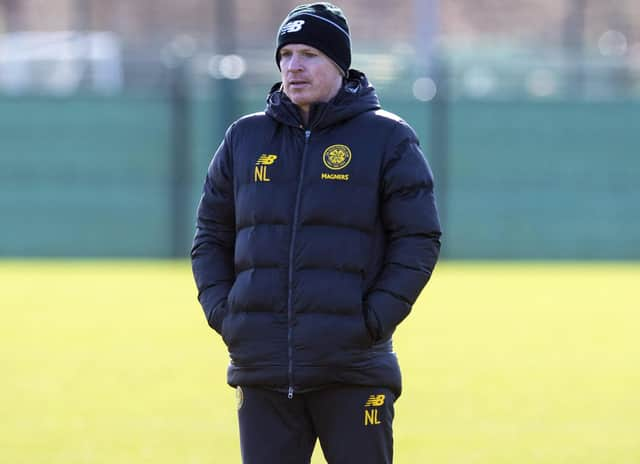 There is a growing belief that the indefinite suspension of the campaign announced yesterday is a precursor to a permanent one as a coronavirus pandemic that could yet 
be two months from reaching its peak takes hold.
Lennon posits a question of those who would suggest his club, currently holding a 13-point advantage in the Premiership, could not be declared champions if there is no capacity for completing the remaining league fixtures.
"Would they take the title away from Liverpool? They're so far ahead. Would they take the Championship title away from Dundee United?" Lennon said. "If it's stopped then we should be awarded the championship, based on the average points per game.
"We are over 30 games into the season so if we weren't 
to get it I would be shocked and surprised if there was any other outcome, in those 
circumstances.
"Our players have been brilliant all season and have opened up a massive gap. We were hoping to extend that on Sunday [away to Rangers]. We had the opportunity to do that. It could have been closed, it could have been the status quo. [But] we would have had to drop more points in the games that are left than we had all season and I'm pretty sure that wouldn't have happened.
"I think [the season ending now] that's Armageddon. But it's unprecedented. It's the last resort, really, isn't it? The thing is, we don't know how far and wide this is going to go. And it's probably only a matter of time before somebody [among the playing staff] does pick it up. Then we'll have to self-isolate everybody."
Lennon says he "feels" for everyone in football and beyond over the situations created as Covid-19 has taken a grip right across the globe. The Celtic manager believes that, with the direction of travel in recent days, the suspension was "inevitable" and correct .
"I think there might have been pressure on the government, as well, to do it," he said. "The health and safety of everyone, not just the players but everyone, is paramount. So there was an air of inevitability about the announcement when it came.
"It's just disappointing, obviously, with the nature of the game coming up. We were primed and ready for that. Who knows when we will be able to return?"
The English football authorities declared games would be suspended until 4 April, but Lennon thinks that will not be met, and sees little possibility of Euro 2020 going ahead – a decision to be made on that by Uefa on Tuesday.
It has been suggested that if the finals, to be staged across 12 countries, is pushed back for a year, this would allow for SPFL commitments for 2019-20 to be completed as late as the middle of June. However, with European qualifiers in early July, the impracticability would come with players having no close season, and loanees – such as Celtic's Southampton pair Fraser Forster, right, and Mohamed Elyounoussi – having been required to return to parent clubs. Indeed, voiding the season would mean that Scotland could not nominate representatives for next season's European competitions.
"I would imagine that Euro 2020 would be postponed. The Nations League play-offs
aren't going ahead at the moment. Whether that [Euro 2020 being postponed] creates a window…" said Lennon. " But then you have got the Champions League qualifiers. So when does it stop?
"We had been training as normal up until now. But we just decided to give the players a couple of days off, because there is no definite comeback time. And, while the EPL have called 4 April, I'm not convinced that will be long enough. From the information we've been given about this virus, it will be another month or two before it reaches its peak.
"There has a been a sensible, pragmatic approach to it here. But it's been sort of business 
as normal. No-one here has been tested, no. No-one is showing symptoms. Touch wood.
"Our head physio has had executive briefings every morning and has come up and briefed us every morning on the progression of this virus. He thinks it's only a matter of time before we get it. You have then just got to ride it out. I don't know what sort of effect that is going to have on the sporting calendar. We can only look after our own house. If one of the players does get it then the rest of them will be quarantined and then it goes on and on."
Lennon says being handed the league title without playing any further games would not mean a devalued success – "a win is a win" – but admits it would be strange receiving the trophy with no supporters present. He accepts the potential for completing a quadruple treble this season appears slim with little prospect of playing out the Scottish Cup semi-finals and final in the coming months.