Charlie Mulgrew breaks silence on Celtic Scott Brown event - 'my full focus is on Dundee United'
Charlie Mulgrew has stressed his appearance at Thursday night's tribute event for his former Celtic team-mate and captain Scott Brown at the OVO Hydro in Glasgow will have no bearing on Dundee United's on-going battle to avoid relegation.
The defender's decision to take part in the show two nights before a vital relegation clash against Livingston has been questioned by some fans of the Tannadice club, but Mulgrew revealed he sought and was granted permission by manager Jim Goodwin. Adverts promoting his involvement have vexed a number of United supporters. Mulgrew has assured them that his limited duties on the night in question will not impact on his preparations for Saturday's game at the Tony Macaroni Arena He claimed he has turned down previous invitations to appear at similar events but agreed to accept this one because it was for a friend, for a charity (proceeds from the night will be donated to the Celtic FC Foundation) and he is only due to be on stage for 30 minutes.
"It's an event celebrating a good friend and his career at a club that I so happened to be at," explained Mulgrew. "There is no way that it will interfere with my preparation for the game on Saturday and my full focus is on Dundee United. It always has been since I came here. I've knocked back events and charity games. I was asked to play in the Liverpool charity game recently. I've knocked back multiple things because they don't suit Dundee United — and rightly so. This is a Thursday night for half-an-hour, to speak about a friend of mine and his career. That's as far as it goes."
United are fighting for their top-flight survival having dropped to bottom of the Premiership after last weekend's defeat to Ross County in a game that Mulgrew missed due to suspension. But he is due to return against Livingston on Saturday and assured supporters he will be 100 per cent focused on United's bid to beat the drop despite taking part in the Brown event, which is being billed as an official goodbye to the legendary Celtic skipper two years after he played his last game for the club.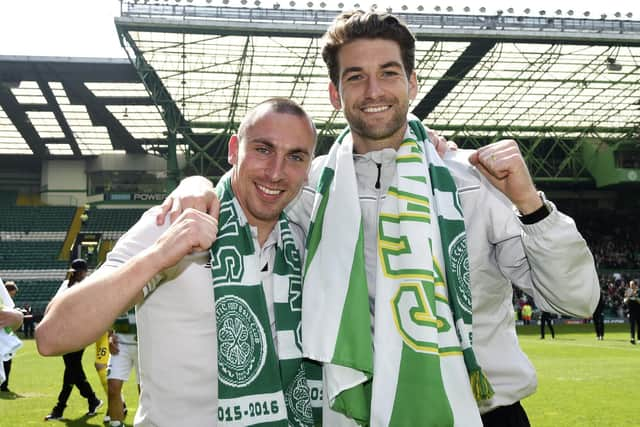 Former defender Mikael Lustig is also being celebrated at the show, with Celtic fans having been urged to come and pay tribute "to Broony and Mika on what is sure to be a night of laughter, songs, reminiscing and even more laughter with the star-studded cast". Former Celtic manager and current Dundee technical director Gordon Strachan is due to be on stage as well as Mulgrew and Ange Postecoglou, who has just led Celtic to their second successive Premiership title.
"I don't know if people think I'm going there to stay up until all hours of the morning and jump about — I don't know what the perception is," said Mulgrew. "But I would be the same in the house. I'd be awake at that time anyway. So to go along and speak about my friend and help him on a night that suits me doesn't in any way interfere with my preparations for the game. If it did, I wouldn't be doing it."
Brown, now manager of League One side Fleetwood Town, appreciates his friend's willingness to appear. "If this was an appearance in a nightclub at 3am on Friday night then I'm sure he would understand that I couldn't make it!" said Mulgrew. "Players have a life — but we also respect the fact this is your profession, your priority. The club pays you a wage and you have a responsibility to live your life as best you can. But you do need to have a life. What has happened in the past, and what I have achieved in my life and career, is done. I've had time at Celtic but my full focus has always been on Dundee United."
Mulgrew stressed that he followed protocol after being invited to attend and sought approval from United. "I did speak to the club first and got permission from the manager a few weeks ago. I would always speak to the club and get their permission and give them respect. But, if it was interfering with preparations then I wouldn't even speak to the club — I would know myself not to do it."
He added: "The proceeds go to charity — and I'm not getting a penny, just for the record! It isn't for any gain of mine whatsoever. It's for a charity and for a friend. I can totally understand the fans' point of view. I did think about putting something out there (through social media) but this is probably the best way to deal with it, and hopefully it helps supporters to understand where my full focus is, and where my priorities lie."
Mulgrew's manager Goodwin also leapt to the defence of his player, saying he sees no problem with the decision to attend an event that will raise money for charity. "I'm a little bit disappointed with the negative reaction to that," the United boss said. "I mean, Charlie is going there to support an ex-team-mate, it's a charitable foundation, and it's a Thursday night. It would be different if it was (Friday) night and he was going to be out until all hours of the morning.
"Charlie is going to go there and do a little bit of a Q&A along with Scott Brown, and he's not hanging around too long. He is going to drive to the event and drive back, there will be no alcohol involved. People just need to relax a little bit and understand it's for a good cause, what Charlie is doing."