The two nations, part of the former Yugoslavia that fractured amidst bloody conflict, were conjoined as both nations and on the football pitch until 2006. The dissolution that then followed an independence referendum in Montenegro appeared to sour previous cordial relations. The two countries may be ethnically akin - Serbians are the second-largest grouping in Montenegro - but while Montenegro has since pivoted towards Europe, Serbia remains under the Russian sphere of influence.
A combustible mix when football enmities are added to the mix, Haksabanovic appears sanguine about the hostilities that could ensue on the pitch, and in the stands, when he experiences his first such international 'derby'. The third meeting between the pair in Montenegro will follow his nation's pursuit of a place in the finals next year kicking-off in Bulgaria on Friday. Indeed, the 23-year-old doesn't seem to expect an intensity of the sort he has known from experiencing his club's tribal tussles with Rangers. Three such dust-ups across six weeks - including the Scottish Cup semi-final on April 30 - to follow the international break.
"I look forward to it," he said of facing Serbia. "It's always nice playing a derby or a big game. I haven't been in one with the national team but I think it'll be good and the atmosphere will be good [though] I think the atmosphere here in Celtic Park, I don't think you can beat that. [But I'm not thinking of club derbies just now]. There are some big games to come from Celtic but for now I'm just focusing on the national team and trying to come back with some more confidence. What happens in the next weeks we'll talk about that when it comes."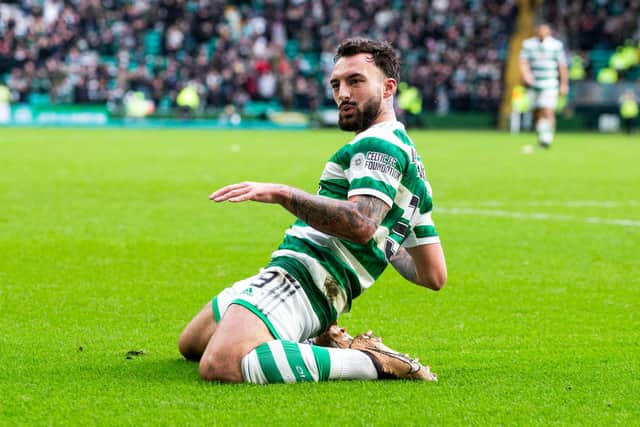 It is little surprise that Haksabanovic feels energised by the ambience in his team's east end of Glasgow arena. His drifting run and precision, added-time strike as a late substitute that sealed Saturday's 3-1 win over Hibs followed him carving out an even more exquisite finish in similar fashion from his previous home cameo - which secured the same scoreline against the other capital side, Hearts, 11 days earlier. These finishes have taken his goal tally for the season to five, despite being restricted to 11 starts since his £1.7m move from Ruban Kazan last summer.
"As strikers we get more opportunities than my last clubs," said the Swedish-born attacker, who was on loan with Djurgården last season as a result of the Russian invasion of Ukraine and has had stints with IFK Norrköping and Halmstads BK. "We play in a way our strikers can get more chances to go one against one and do the stuff we like. I'm enjoying the time here, I love the way we play so I'd say here for a striker like me, it is very good to be here.
"We have such a big squad and we can put any player out there and they will do well. It doesn't matter if we start or, like Saturday, if I come from the bench, we all want to play and want to show the manager we want to play and help the team. I'm very happy to score at home as well. I haven't scored in an away game yet but I'm hopeful that will come. But I'm enjoying myself here in front of our fans."