Celtic's report card: Can hardly improve on results, but why is team struggling to click?
Only once in the 74 years of post-war Scottish football have Celtic had a superior record across their first nine league games than this season.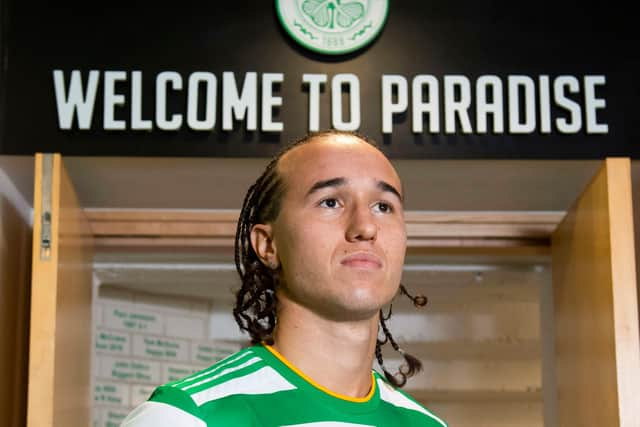 New Celtic signing Diego Laxalt is among a cluthc of calibre signings that will improve the champions as they bed in. (Photo by Craig Foy / SNS Group)
Indeed, their record of eight wins and a draw means that, were the Premiership to be called now on average points per game as was necessitated by the Covid-19 shutdown last term, the club's obsessive quest for the Holy Grail of 10-in-a-row would be accomplished. To drill down further, Neil Lennon's men racked up eight straight victories going into the international break. With four shut-outs on the spin to end that sequence, they are on their longest run of clean sheets since April 2019.
All of which naturally begs the question: why are the Scottish champions failing to click? It might appear a facetious-sounding poser, but the basis for it is not. The stats associated with Celtic this season carry real heft. The performances that have set them up, though, have been largely underwhelming.
It was only Odsonne Edouard, now laid low with Covid-19, that Lennon implored to move "up three or four gears" following last Sunday's added-time success away to St Johnstone. Yet, the typically halting nature of the display - this season anyway - suggested he should be making the same demand of his entire team.
A lack of selection consistency
It must be said straight off that there are mitigating circumstances for Celtic's inability to find the fluency and rhythm that framed their showings in the early part of 2020.
There has been a singular lack of appreciation as to the comprehensive nature of the squad overhaul initiated over the summer. Seemingly calibre additions Vasilis Barkas, Shane Duffy, Albian Ajeti and David Turnbull have all required to be bedded in, as will now be the case with deadline-day loan signing Diego Laxalt. In tandem with that, Lennon - rightly - has been determined to ensure he brings the entire up to speed so that he can tweak the side, as and when required, and derive full value from boasting a pool depth unrivalled in the country.
Essentially, this has led to the Celtic manager fielding untried starting line-ups practically every week. In Perth, it wasn't only the first XI that had never played together before. Following five substitutions during the second period, the very different XI that finished the encounter had never played together before either.
It takes time to build partnerships, and Celtic still require to gel these in all departments of the team. With such obstacles to overcome, it is nothing short of a marvel that Lennon's team have still been able to churn out the wins. Devoid of consistency in not only selection, but the contributions derived from pre-eminent performer Edouard, they have been consistent where it really counts: scorelines.
Spirit and soul
It is a given that Celtic will find their mojo. They have too many good players - the current squad arguably their strongest in more than a decade - not to do so. And such as Ajeti, with five goals in six league outings, Duffy, who has looked ever-more commanding in recent appearances, have provided signs they are growing into the demands of their new postings. It should not be forgotten either, what sort of club they have joined. The 11 straight domestic trophies Celtic have annexed in just under four years haven't won themselves. Indeed, it must be disturbing for Rangers that Lennon's men have out-resulted them domestically while the general acceptance is that they have not played to the level of their bitter rivals.
Moreover, however weak some of the game passages that Celtic have put together, their spirit appears as potent as ever. Lennon has regularly lamented that the intensity of his team's endeavours has been adversely affected by the absence of supporters in stadiums. Yet, there has been no diminution in a vitality considered the mark of champions. When they have needed to find a way to win as the clock has ticked down, they have delivered.
Coping without a crowd
It was thought that the absence of a crowd egging them on would dilute their traditional capacity for fashioning late winners. Not a bit of it. Three times across their 13 games in all competitions, Celtic have turned scoreless draws into victories with goals bagged in the closing minutes. In terms of the victories over St Johnstone and Riga in recent weeks, it wasn't until added time that they administered the coup de grace. Late flurries that placed even the 83rd-minute decisive strike fashioned by Ajeti to break the resistance of Dundee United in late Auust, seem like an early counter. The preciousness of that quality cannot be overstated.
Europe
Undoubtedly, Celtic's opening months of the season have been cast in an unfavourable light as a result of their failure to qualify for the Champions League – for a third straight season. Yet, the fact is that, however needless the qualifying loss at home to Ferencvaros, it was hardly a break with recent past. The over-the-top maulings of Scott Brown and Lennon that ensued left a bitter taste.
Celtic have lost seven European qualifiers in the past 10 years. Fortunately, two of those didn't do any damage because Sion and Legia Warsaw stupidly couldn't follow the rules. The record demonstrates how flaky they can be in the initial stages of any campaign. When it comes to domestic climaxes, though, they haven't been found wanting. And for all their recent teething problems, there is no evidence to suggest it will be different in this season for the ages.
Want to join the conversation? Please or to comment on this article.