Celtic's perfect response with 'pending' rout - Champions League hope remains, Luis Palma pushed further
Celtic's six-goal pasting of Aberdeen on Sunday has been presented as a product of the Pittodrie side proving patsies.
Matt O'Riley would suggest, though, it had nothing to do with the opposition – or lack of – for his team. And that such an outcome was simply in the post. Something of a red letter day for Brendan Rodgers, incredibly the 6-0 slamming stands as the biggest league win Celtic have delivered under him across his two spells. Hardly could such a reminder of the Scottish champions' destructive powers on the home front been more timely. Coming, as it did, at the end of the week when Atletico Madrid meted out precisely the same treatment to his side in the Metropolitano Stadium to suggest the Champions League bullied merely turned bullies in their domestic domain.
Celtic midfielder O'Riley, certainly doesn't disagree with the ideal bounce back assessment, but is keen to introduce a caveat over the perception it was no more than a boot-on-the-the-foot lop-sided scoreline. An eighth straight win over Aberdeen contrasts with the fact Diego Simeone's men were held 2-2 in Glasgow last month … as Celtic weren't forced to play three-quarters of the contest with ten men, which befell them with Daizen Maeda's 23rd-minute red card in the Spanish capital.
"It was the perfect response, I think, to midweek," the Celtic midfielder said of the mauling. "I think a result like that was pending in the league, to be honest. We've put in enough good performances and it was time – with the utmost respect – that we gave someone a real doing. There were a lot of chances created and it could've been more. It was needed. But I think we've played well in Europe.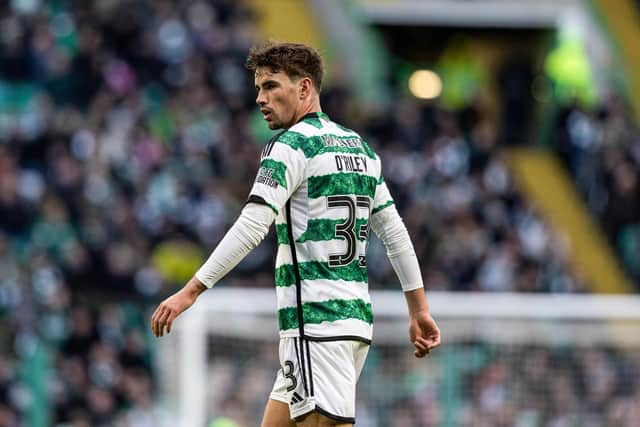 "Last Tuesday wasn't obviously fun for anyone, but Champions League games are always very difficult when you have ten men on the pitch, naturally. And especially against top teams. I think if we had kept 11 it would be a very different game. I know that is hindsight but I genuinely believe that. I think we showed that at home against Atletico for the majority of the game that we were able to go toe-to-toe with them. I don't think you should ever lose a game six-nil but at the same time I think we are more than capable of playing at that level. We've two games left and we've still got a chance, so we'll give it our all."
For all the hand-wringing over the Atletico abomination, it does tend to be forgotten that Celtic can actually still qualify for the knock-out stages in Group C. With one point from their four games it looks unlikely they could scrabble the two-goal win away to Lazio at the end of this month and follow that up with victory in their own patch against Feyenoord required for a dramatic turnaround. Despite giving a decent account of themselves with nine men in their opening night 2-0 loss in Rotterdam, and being worthy of at least a draw in the last gasp 2-1 defeat at home to the Italians. Yet, as domestic football pauses for the last international break of the year, reflections on the season so far for Celtic intimates that durability has been one of the through lines as they have established an eight-point lead in the Premiership.
The campaign has never run smoothly: an early exit from the League Cup away to Kilmarnock, new signings taking time to settle, and injuries to key players at key times. Another such blow coming with the knee problem that will leave Maeda on the sidelines alongside his Japanese international team-mate Reo Hatate for at least the next month. In the face of these issues, securing 11 wins and two draws from their first 13 top flight games – a sequence that has required them to visit Ibrox, Pittodrie, Tynecastle, Easter Road, Livingston and Fir Park – represents a pretty decent return.
In the lead-up to the Aberdeen encounter, there were concerns over how much Celtic would be drained of the whizz from wide areas which has made Maeda so integral. It turned out they still had oodles, Luis Palma providing three assists and a penalty conversion and Yang Hyun-jun turning in his best jinking display for the club as he claimed his first goal in Scotland with a sharp header. His countryman Oh Hyeon-gyu in on the act with an added-time double as a replacement for the dazed Kyogo Furuhashi, the striker nearly having his head taken off in a wild aerial challenge by Slobadan Rubezic.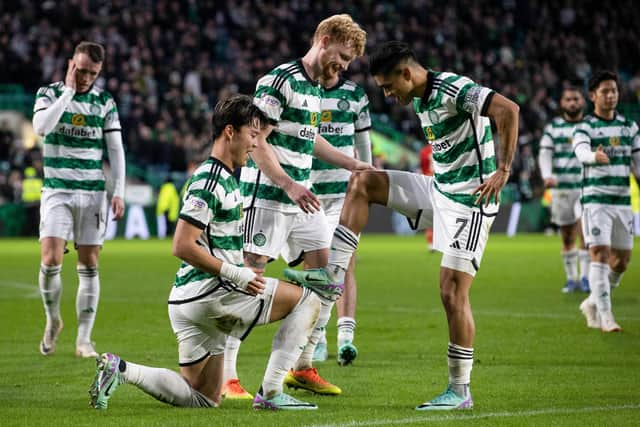 "We've missed loads of good players, we've missed Liel [Abada] since early in the season, who's a really important player," said O'Riley. "We have other players like Maik [Nawrocki] injured as well. We've a really strong squad and it shows with boys like Yang, who came in and left his mark on the Aberdeen game, as Oh stepped up again. That shows the depth of the squad, and if everyone can start to get a bit of momentum we'll be in a really good place going forwards. The way we play we're always going to create lots of chances and the more people who score the better.
"Naturally, they are going to have a bit more confidence, and you sensed that throughout the team in the 6-0. I thought everybody looked really, really sharp and we're all happy for each other when we score. Definitely [Luis stepped up with the other wingers out]. He has a lot of quality, we know that. We have to keep demanding that from him every game, pushing him to be at that level, because he's definitely got a lot about him. I think he has impacted really well at this club so far, so the hope is that can continue."
A dread for the rest of the teams in Scotland.
Comments
 0 comments
Want to join the conversation? Please or to comment on this article.