Celtic's Leigh Griffiths recalls Garry O'Connor swigging Grey Goose in front of Rod Petrie after Hibs-Hearts in 2012 and nearly returning for third spell
Forward recounts how close he came to rejoining Easter Road club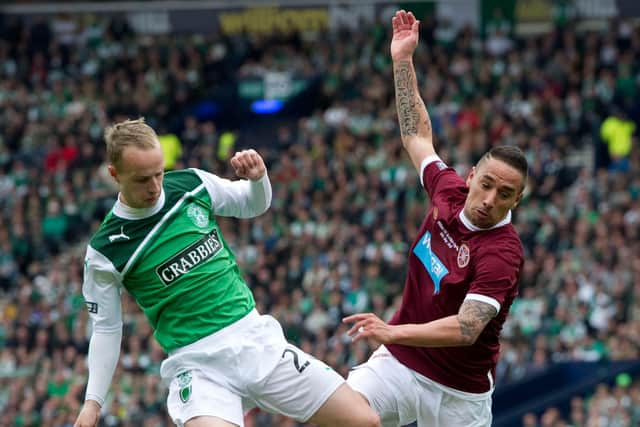 Leigh Griffiths has described seeing Garry O'Connor with his tie around his head and swigging straight from a bottle of vodka as being the moment he knew it was time to go home after Hibs were humbled 5-1 by Hearts in the 2012 Scottish Cup final.
O'Connor, a boyhood Hibs fan, was letting off steam after the humiliating result. Griffiths recalled the post-match scene back at Easter Road, where the club had arranged a party in the hope it would be marking an historic victory.
"I stayed behind Easter Road at the time," he recalled in a humorous anecdote from one of the darkest days of his career.
"I said: 'I am going straight home'. But the guys were like, 'come in for one – see the chairman and that, blah, blah'. I remember about half an hour Gaz has his tie around his heid drinking a bottle of Grey Goose, straight out the bottle right in front of Rod Petrie's face. I was like: 'nah, I need to get out of here'."
O'Connor, who Griffiths described as "clueless, but he's got a heart of gold," was trying to erase the memory of the afternoon, where a Hibs side featuring several on loan players had been torn apart by Hearts. Griffiths, in an interview with Simon Ferry in an Open Goal podcast, admits the result might have been far worse and believes there were too many Hibs players not invested enough in the outcome.
"We were embarrassed," he added. "Fair play to Hearts, they deserved the victory on the day. We knew what was coming, not just from Hibs fans, from Hearts fans. I'll get it for the rest of my life.
"Other guys like Matt [Doherty] and the others who were on loan could disappear afterwards. It's just another game for them, they couldn't care.
"Hearts fans sing 'it should have been ten'. They took their foot off the gas. If they wanted it to be more it could have been. They could have destroyed us.
"The boys just couldn't care," he added. "Obviously me, James (McPake), Paul Hanlon, Lewis Stevenson and Gaz [O'Connor], guys who grew up supporting Hibs, they knew how big this final was. But other guys just tossed it off, 'it's just another game for us'."
Griffiths also revealed how he was all set to return to Hibs for a third spell, this time on loan from Celtic after falling out of favour. He was all set to play for Hibs against Rangers at Ibrox in a Monday night fixture in the Championship near the start of the 2014/15 season but then manager Ronny Deila had a change of heart on the day of the game.
"I had spoken to Alan Stubbs, he said we will get it done. I'd spoken to Celtic. It was basically agreed. I was supposed to meet at the [Edinburgh] Marriott at quarter to five on the Monday. I was just about to leave, it was about half past three, quarter to four, and I got a phone call. I was like: 'my boots are ready to go, I am supposed to be playing at Ibrox tonight'."
Griffiths also opened up on his prolonged absence from the game after suffering mental health issues during last season. "It was lonely at times," he said. Before his return at the start of this season, after eight months out of the game, he sent a "massive text" to his Celtic team-mates and asked them to treat him like any other player.
"And sure enough, nobody has mentioned it," he said. "They've been taking the p*ss as usual but that's what it was like before and it was just like I'd never been away."
Asked by Ferry who his best strike partner has been, Griffiths selected current partner Odsonne Edouard. "He's the one I have struck up the best partnership with," he said. "Me and Stokesey [Anthony Stokes] were good at the start but then it became a competition to see who got the most goals and it became a bit selfish between us."
As for his memorable late free-kick brace against England three years ago, which put Scotland 2-1 up only for Harry Kane's even later equaliser to rob the hosts of a famous winner, he lamented: "I could have been William Wallace if we'd won 2-1!"
Watch the full Simon Ferry interview with Leigh Griffiths here.