Celtic's last Scottish Cup meeting with Falkirk: The trauma of Tommy Burns' final game
This season has felt like a crackers time for culminations at Celtic.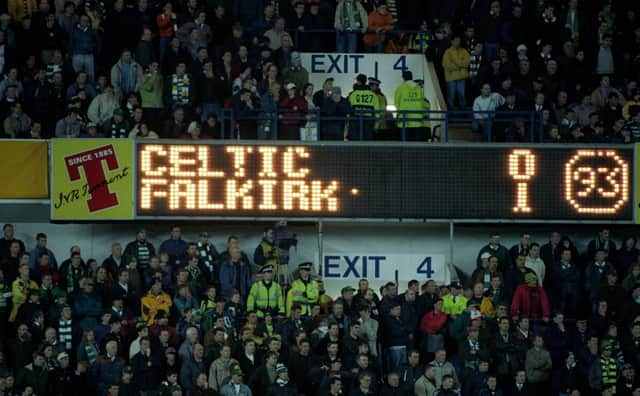 A title run crumbling in pursuit of a record tenth has given way to chief executive Peter Lawwell, manager Neil Lennon and now iconic captain Scott Brown announcing farewells. Yet for the seismic, even this calamitous campaign pales when set against events in April 1997. A month that brought Celtic's last Scottish Cup meeting with this weekend's second round opponents' Falkirk.
Celtic were then in a state of disarray to oustrip any they have found themselves in over the past nine months. A Scottish Cup semi-final against Alex Totten's men therefore became monumental, especially to manager Tommy Burns. The April 12 encounter arrived as their bid to stop Rangers matching their prized record run of nine titles had collapsed. A 1-0 derby defeat on an afternoon drenched in acrimony a month earlier – a win then crucial to reeling in Rangers – followed a loss to Kilmarnock and preceded three league draws. A sequence that ended any pretence over the championship outcome. The last of these, a 1-1 away to Raith Rovers the week before the semi-final, turned out to be monumental in a manner no-one then realised. It proved the last of the 683 games Paul McStay played for the club, the Celtic colossus forced to retire with an ankle problem that summer.
McStay was then in a contract dispute with Celtic owner Fergus McCann over an appearances-based contract for the following season. Similar disagreements were also then being manufactured by Paolo Di Canio and Jorge Cadete. On top of all this, it had become apparent there was no enthusiasm from McCann to retain Burns as manager beyond the forthcoming completion of his three-year deal. The issue became a deafening screech when Celtic could not see off their mid-table First Division in the semi-final. A 66th minute first Celtic goal for Tommy Johnston – the £2.4million signing from Aston Villa then making his first start – seemed as if it would snare a place in the final … only for Kevin James to net an equaliser eight minutes from time. The brittleness on show meant Burns' position became so all-consuming that he left pre-match press duties for the semi-final replay 11 days later to assistant Billy Stark. All knew that the Scottish Cup – which only two months earlier had witnessed Celtic end their Rangers hoodo by defeating their rivals for the first time in 11 games to seal a 2-0 quarter-final win – was Burns' last shot at redemption, and last chance to avoid a second barren season.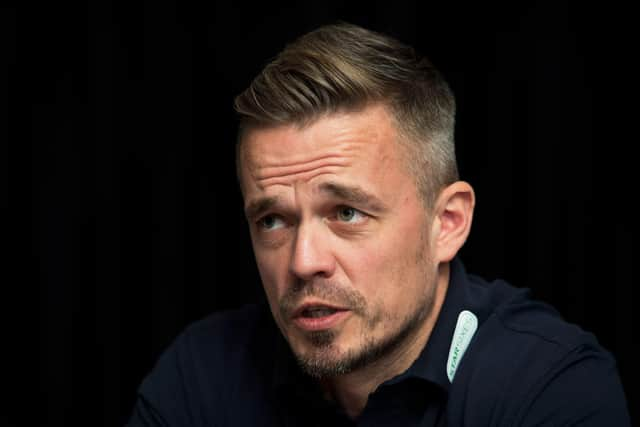 "We were going through a difficult time with only one trophy since 1989, but we couldn't help but thinking, as everyone does when a big club is taken to a replay by a so-called smaller team, that we would put things right second time," recalled Simon Donnelly to The Scotsman this week. The Celtic attacker starting the replay, having remained on the bench for the first tie. "I remember it being a lashing wet night at Ibrox, and it was a ground I loved playing at in those conditions. But we just couldn't get the job done."
Burns' team failed in a typically exasperating fashion, going down to a 19th-minute strike from Paul McGrillen despite Di Canio leading Falkirk a merry dance with a never-ending series of dribbles. Celtic had 35 crosses into the area, with 20 corners, but were bereft of conviction. Burns was said to be inconsolable in the dressing room after the final whistle, and acknowledged post-match the defeat would "probably" make up McCann's mind. "People know my feelings for Celtic, they will know how deeply hurt and embarrassed I am," Burns said then. "I have never been frightened to accept my responsibilities. It was my team who lost the game. My responsibility. No excuses. I spent 15 years as a player at Celtic Park. I can handle pressure. But I have to admit that we have too many players who can't take the strain. We have been hanging on to Paolo Di Canio's coat-tails and need someone to help him shoulder responsibility. There was a desperate lack of leadership against Falkirk. It was disappointing and embarrassing."
Donnelly, like all, knew what was coming for Burns. It took a week-and-a-half of being left twisting and turning before confirmation a restructure of the football department, with the creation of a head coach and general manager axis, was given for Burns' requiring to accept another backroom position. He refused and demanded to walk out the front door, just hours after Tony Blair had walked through the front door of No.10 as the first Labour Prime Minister in 18 years.
For Donnelly, the exit cut deep. "It was really upsetting, so many of us in the squad felt it really sore because we had such strong associations with Tommy. An older group had grown up with him as a team-mate and a number of us younger guys had him take us under his wing. He always had me, Jackie [McNamara] and wee Bran McLaughlin out in the afternoons for extra sessions and, though I know it might sound a bit much, he genuinely was a father figure.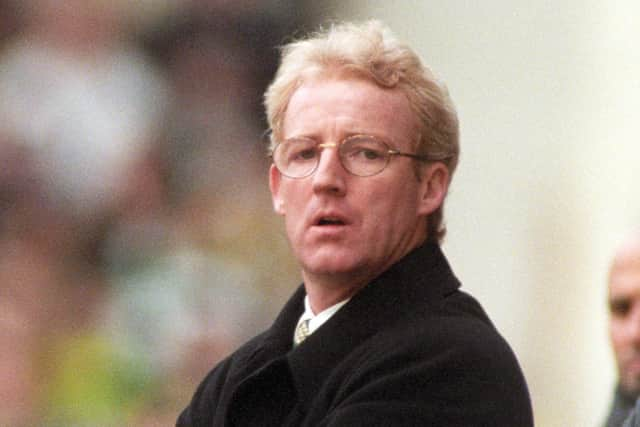 "The pinnacle for me at Celtic was winning the league in 1998, but I never enjoyed playing in any side more than Tommy's teams. He added guys like Pierre [van Hooijonk], Andy [Thom], Di Canio and Cadete to the talent we had in Paul [McStay], Peter [Grant], Charlie [Nicholas] and Andy [Walker] and we were built to thrill. The season [1995-96] when we lost only one game and the league to one of the greatest Rangers teams, we so oozed flair and flamboyance, and just expected to put on goal-shows. People still talk fondly to me about Tommy's teams, even when the success we so wanted eluded us. That says everything about how he played the game the right way."
A message from the Editor:
Thank you for reading this article. We're more reliant on your support than ever as the shift in consumer habits brought about by coronavirus impacts our advertisers. If you haven't already, please consider supporting our trusted, fact-checked journalism by taking out a digital subscription.
Comments
 0 comments
Want to join the conversation? Please or to comment on this article.