Celtic's James Forrest says Jimmy Johnstone comparison is ultimate compliment
Latest league title is winger's 19th major honour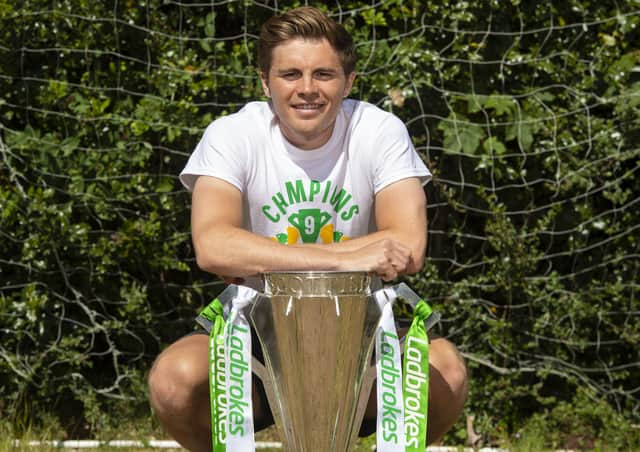 Celtic winger James Forrest. Picture: SNS
A 19th major honour for James Forrest this week inspired the ultimate accolade.
The confirmation of Celtic's ninth straight title on Monday didn't merely move the winger on to the same winners' medal haul as all-time great Jimmy Johnstone. It moved Bobby Lennox, the best friend of the man adjudged to be the club's best ever player, to say that Forrest would have given the dazzling wide man "a run for his money" when it came to earning a place in Celtic's most successful side – the 
Lisbon Lions.
The 28-year-old, now only behind Scott Brown, Billy McNeill and first-placed Lennox in the club's most decorated player list, was typically abashed about being paid the highest compliment. And typically focussed about the requirement to live up to it.
Jimmy Johnstone in his prime. Picture: SNS
"It's quite humbling and I think my family will feel really good about it, but you don't want to just rest," said Forrest. "You can't think: Oh someone has said this about me, so I don't need to work as hard now. You have to keep the head down and push again.
"But, of course, when you hear something like that said about you by someone like Bobby Lennox, it's far better than hearing someone say something negative about you, that's for definite. It is obviously good for your confidence. It shows you are doing something right."
Forrest has been doing oodles right for the past four years, when he has hoovered up 11 winners' medals. And indeed the covid-19 health crisis that prevented Celtic confirming their record-equalling championship on the pitch brought to an end a remarkable run for the Scotland international. He is the sole performer to have played in all the 10 games that clinched the honours that have allowed the club to monopolise Scottish football's prizes in unprecedented fashion. Inside three years, he has doubled the number of goals he has netted in his decade for the club – 50 to take that number to 88 – and turned out in 160 of the almost 400 club games he has played since he made his debut in May 2010.
"In the last couple of seasons, I feel as though I have kicked on," he said. "Last season was good and with I feel the way things were going this again with goals and assists, it was going to be strong again. I thought I might have been on my way to better the numbers from the year before [with 16 goals this season compared to 17 last season] and that was good because that's what you need to do.
"Celtic get stronger and you need to keep improving, so you need to keep pushing forward to do well there and then the opposition gets stronger every year, so you need to keep dealing with that as well. Always up your game.
"It's easier said that done, but I did feel it was a strong season and I did quite well. You don't really focus at the beginning and set a target of: Oh, I want a really good season this year.
"You just get into it with the big games coming early with the qualifiers and you take it game by game. All of a sudden, there's 10 games left.That's the best way to go about it."
There is genuine potential for Forrest, last year's player of the year, to amass a greater haul of winners' medals than anyone in the club's 133-year history. He is now six short of Lennox, whose 25th medal was earned when he 36, seven years older than Forrest is now. The prospect isn't one that the player appears to ruminate over.
"When you are playing, you don't think about things like medal tallies or anything," he said. "But it can be nice when you hear about later and realise that you have done it.
"As you are involved in it, it's about playing as much as you can and keeping standards up to be as successful as possibleMaybe when my career is finished, I can think more about it. But you can't think too much about it now. You have to keep setting targets."
Forrest is much more comfortable bigging up others than himself. Especially, Neil Lennon, the man who gave him his debut and has been his manager for half of his senior career. The Irishman has earned the right to be considered a great Celtic manager, Forrest is in no doubt.
"I don't think anyone would question that." said Forrest. "Celtic was his first-ever job when he went from reserve team to first team and he did incredible. "He went away for a bit and then came back and just picked up where he left off winning trophies. I don't think anyone would question that 
if it's said.
"The manager and Broony [captain Scott Brown] have been incredible for the club.With Rodgers leaving when he did, the only right man for the job was Lennon coming back."
Want to join the conversation? Please or to comment on this article.