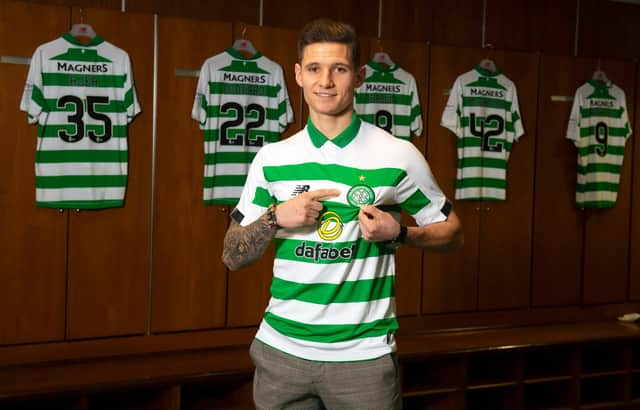 Patryk Klimala signed for Celtic for £3.5m in January.
Patryk Klimala struggled to make much of an impression before the Covid-19 pandemic lockdown in March but Celtic's Polish striker has been working hard during lockdown and looks determined to establish himself in the new season.
Klimala, signed in January from Jagiellonia for £3.5 million, has been doing strength and conditioning work ahead of Celtic embarking on their bid for a record tenth successive league title. The new season is due to begin behind closed doors on 1 August."Patryck has shaved his head a few times – he's looking like a bouncer," revealed team-mate Callum McGregor. "He has come back looking in great condition. He's obviously been working hard on the physical side during lockdown and he's returned looking really strong.
"He's still looked really quick in training.
"It's important not to lose that half a yard of pace when you are starting to bulk up a bit. But he looks in top condition and raring to go.
"I've got a lot of sympathy for the boys who made big moves in January. It's a whole new life for them and they are trying to settle in – but then the whole world shuts down."
Klimala, who signed a four-and-a-half-year deal, made just four Celtic appearances before the season was shut down in March.