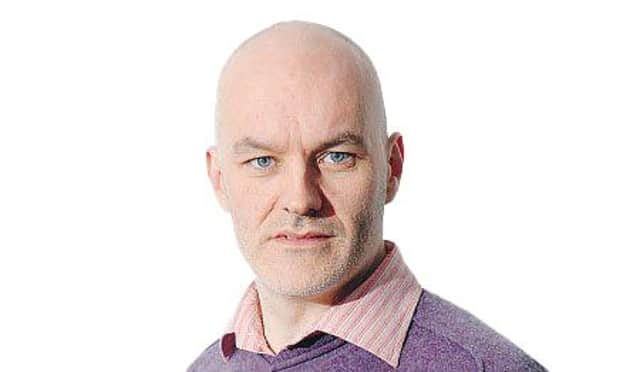 Scotsman sports writers byline pics
The universal calls for him to be removed from his managerial post put the Irishman's head in a spin. In turn, anything he says, anything that happens on his watch, has the fanbase flailing around. Lennon won't get a hearing on anything from a support seething over Rangers rampage towards a title. A 23-point deficit in a league campaign expected to deliver the Holy Grail of 10-in-a-row has made sure of that. Yet even still, the vicious denigration of the 49-year-old extending for some to Jeremie Frimpong's surprise exit was one more indication that perspective has left the building for many among the club's followers.
Lennon's inability to develop the 20-year-old this season was framed by this fraternity as the root cause behind the Dutchman travelling to Germany to finalise an £11million move to Bayer Leverkusen, expected to be completed in the next 24 hours. In reality, it would have been bonkers for the club to have turned down such an offer for a player who has appeared unhappy off the pitch for months. Certainly the past two, at least - the juncture when Leverkusen started to take a keen interest in a full-back. The Dutchman then rejecting a contract extension at the Glasgow side he joined from Manchester City for a fee rising to £1m in the summer of 2019. In that scenario, the only one outcome had little to do with Lennon.
"The size of the offer was good business for the club and the fact is that he'd also come off it a little bit in his last few games, as though he'd been distracted by all the speculation surrounding the move," said the Celtic manager, who admitted he felt "a little let down" by Frimpong. "It's difficult when it's a player you've helped to develop. You're sorry to see him go but, eventually, he didn't want to stay and progress here. There was a determination about him to go so we took our decision."
Liverpool are now enduring a similar flatness in playing without supporters as has beset Celtic this season. (Photo by Ross MacDonald/SNS Group).
All fairly standard football practice, as is Lennon's contention the club will now look to recruit "a quality right-back" and maybe another player before the January window shuts. Nothing, though, is viewed through that prism where he and the Celtic support are concerned following four league games without a win going into the home encounter with Hamilton. Indeed, it is the same story when it comes to the Celtic board's constantly-referenced January review of his position. For some, it is as if Lennon is to blame for this not prompting managerial change. "I speak to Peter [Lawwell, chief executive] every day. We talk about selling players, we talk about bringing players in and I take the training every day with my players. So my role hasn't changed one bit."
Lennon was asked if the review and the steady stream of managers now being linked with his position meant he had been left "twisting in the wind" by the Celtic board. His answer was one sure to infuriate those who long ago donned the black caps over his employment status.
"No, absolutely not," he said. "I think I've had some great support from the board. I can't control speculation or fake news, fake stories. That's the way the world is now. I'm very comfortable with what I'm doing and I have great support from the board, Peter, and also my backroom team as well. So, no, I don't feel isolated in any way, shape or form. I'm not happy with the way the season's gone so far but I'm very comfortable with my role and pretty determined we get the best out of the rest of the season."
Lennon knows results and performances have not been good enough. He stresses the "abnormal" Covid-19 circumstances that will see football played without fans for the entire season can't explain all these away. Yet it's not the outrage it will be presented as by his band of haters that he sees merit in the suggestion it may be more than simple coincidence Celtic's downward spiral has been akin to that of Liverpool - the two clubs more than any others in the UK that have such symbiotic relationships with their supporters in their home environs.
Celtic's 2-2 draw at Livingston last week has left them on a four-game run without a league win that is their longest such run since April 2000. (Photo by Alan Harvey / SNS Group)
"I think that is a fair comparison. I'm watching with interest how Liverpool are going this year," he said. "There is a 30-point swing between them and Manchester United from this time last year. Now that's not normal; it's just not normal. Now Man United have improved, but not to the extent of it being a 30-point swing. Liverpool are probably finding things a little bit difficult the way we have, for some reason. It's difficult to put your finger on it. Listen, I would not have enjoyed playing this season, as a player, with what I experienced at Celtic, or even Leicester in the Premier League. I would not have enjoyed it. You thrive on the atmosphere. It brings the best out in you. We talked for years of the European nights at Celtic Park where it lifted us to another level. The players have been bereft of that. Again, I'm not using that as an excuse. It's part of the explanation, it's not the total explanation. But I think it is a part of it that there has been a flatness about it and that comes from the lack of energy, atmosphere, rawness that normally the players would pick up on, thrive on."
A message from the Editor:
Thank you for reading this article. We're more reliant on your support than ever as the shift in consumer habits brought about by coronavirus impacts our advertisers. If you haven't already, please consider supporting our trusted, fact-checked journalism by taking out a digital subscription.
Jeremie Frimpong (left) with manager Neil Lennon. The Celtic manager says he feels a little "let down" by the Dutchman's desire to leave but that the £11m offer from Bayer Leverkusen was "good business" for the club. (Photo by Craig Williamson / SNS Group)
Neil Lennon has revealed that Jeremie Frimpong (above) is set to leave Celtic. Picture: SNS
Neil Lennon. (Photo by Ian MacNicol/Getty Images)