Stunning winning consistency
It hardly tells the story of Ange Postecoglou's Celtic stewardship that his team's Tannadice success was his 50th league win from the 61 such games in which he has helmed the Parkhead side. It is fair to say that it took him a full two months of transformation to create a team capable of swatting aside all domestic opposition. During that process, Celtic won only three of their first seven cinch Premiership encounters. No-one could anticipate the stunning winning consistency that would follow. Starting with an eked-out 2-1 victory over Aberdeen at Pittodrie on October 3, 2022, Celtic have contested 54 top flight games. They have won no fewer than 47 of these, drawn six and lost only one. That represents an 87 per cent win rate and has made for a year-and-a-half of league football that stands comparison with the very best produced in the annals of the game inside these borders.
Rangers…and the rest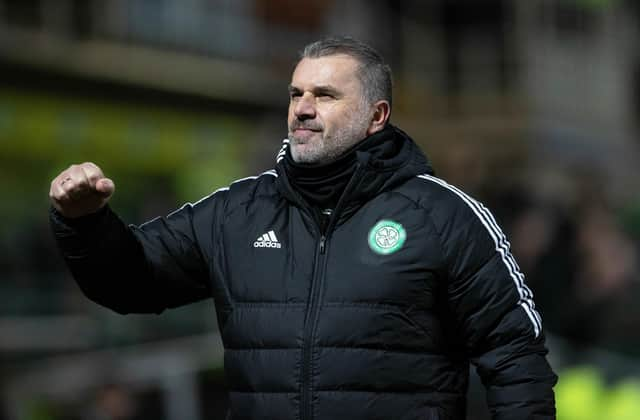 Scottish opponents typically not only make little impression when confronting Celtic. They make little impression on the ball in confrontations with the champions. The 73% possession Postecoglou's men enjoyed at Tannadice is bog standard for them in domestic games. There is rarely back-and-forth in this domain. More forth, and more forth from them. Even in their one league loss this season – the 2-0 defeat by St Mirren in Paisley four months ago – they had 80 per cent possession. Only twice this season have they had to sort-of share the ball in games. Both these occasions came in their derby meetings with Rangers. In their 4-0 thumping of the Ibrox men in September, they actually only had 55 per cent possession. For the 2-2 draw in Govan at new year, the figure was slightly up, but at 61 per cent it was still well short of their regular ball-domination.
More Super Trouper shame
Celtic supporters are never done claiming they are better than 'the other lot'. To which the retort must always be, don't say it, be it. They struggle with the latter. At Tannadice, once more our ears were assaulted by their version of Abba's Super Trouper that mocks the deaths of a number of notable Rangers figures. And it wasn't a rogue group in the West Stand indulging in this appalling refrain. It looked, and sounded like, a large section behind the goal that took it upon themselves to further trash their club's reputation. Don't hold your breath for Celtic, or any of their supporter groups, showing some backbone and actually calling them out for it …