Celtic reaction: Palma now outpacing Jota; penalty-spot shenanigans; pitch invasions pathetic
Celtic's 6-0 whalloping of Aberdeen on Sunday was the product of an afternoon when all sorts were going down in Glasgow's east end.
Any number of talking points could be homed in on from the flailing or fan behaviour and Andrew Smith, who was at Celtic Park, picks out a trio.
Palma now outpacing Jota
Celtic pining for their previously beloved pacey, trickster of a winger Jota was voluble in the early weeks of the season. It seemed that when the Portuguese accepted the riches of Al-Ittihad with his £25million move to Saudi Arabia, the Scottish champions had been robbed of the sort of sorcery that made Jota one of their primary matchwinners. Luis Palma is now beginning to change such perceptions. The Honduran doesn't possess the electric and athletic qualities of the man now struggling to make it in the Middle East. But he is proving able to impact games with a different form of chicanery that is just as potent.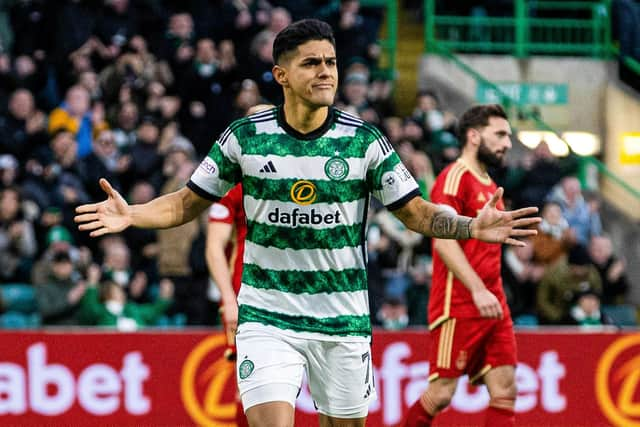 The stats would suggest more so, indeed. His exquisite touch and sorcery with the ball – and ball striking – are amply compensating for not being a quicksilver wide-man. As evidenced in the third of the assists he had lodged in his figures against the Pittodrie men – on a day when he slammed in a penalty after a stop-start, zig-zag run up that made him look like a remote control car being driven with a blindfold on. It was no wonder online comparisons were made with the glorious technical prowess of Lubomir Moravick over his audacious outside of the foot, whipped in cross that allowed Oh Hyeon-gyu to glance in a header for Celtic's fifth.
The intervention means Palma now has five goals and five assists in 612 minutes of competitive football for the Scottish champions, Sunday his first full game since a £3.5m move from Greek club Aris at the end of August. By this stage of last season, Jota boasted seven goals and six assists, but these were claimed from 1037 minutes. So while Palma has a goal action every 61.2 minutes this season, a year ago that figure was one every 79.8 minutes for Jota.
Penalty-spot shenanigans
A new front in football's dark arts would seem to have opened up in the Scottish game. Aberdeen keeper Kelle Roos was booked by referee Willie Collum for attempting to duff up the penalty spot before Palma stepped up to drive in his 77th-minute kick. The curious moment came after Kyogo Furuhaashi found himself in a shoving match with a number of St Mirren players at Celtic Park the other week as he sought to protect the spot from any scuffing in the immediate aftermath of Brendan Rodgers' men being awarded a penalty.
Pitch invasions pathetic
Celtic seem to have increasing numbers of fans who don't know how to behave themselves at games, or know only how to besmirch the name of the fanbase and club. The Green Brigade were again missing because of their ban over various safety and security infractions, but there now should be a few more joining them in being excluded. The result of at least four supporters running onto the pitch at different points across the afternoon. It doesn't matter if the majority appeared to be children, they have no business doing so. The actions were just embarrassing. As with the singing from a section of supporters that disrupted the minute's silence to pay respect to all those who have lost their lives in conflict – disturbing what would have been others' quiet reflections over the children losing their lives on a mass scale in Gaza, or civilians unlawfully killed by the British army. Which these boors completely fail to understand.
Comments
 0 comments
Want to join the conversation? Please or to comment on this article.