Celtic reaction: Huge onus on duo; Jota's linguistic marvels; Postecoglou speaks to McGarvey family and on Kevin Bridges
Celtic's 2-0 home win over a Kilmarnock that they will meet again in next week's Viaplay League Cup semi-final produced some unexpected musings.
Huge onus on Johnston and Bernabei
The tough old life of the Celtic full-back in the Ange Postecoglou era was evidenced as the Scottish champions struggled to click into gear on Saturday. A first time that Alistair Johnston patrolled the right flank as Alexandro Bernabei was posted on the left, it isn't that both finding-their-feet defenders weren't decent. It is just that there are so many requirements on the players in their positions, it was obvious they were often second guessing themselves, taking thinking time, with the result that their team's tempo was sometimes slowed. Their inverting, and quick release of the ball in those midfield areas - where Greg Taylor is so adept – or picking the moment to bomb on, or hit of the byline to provide cross – the fortes of Josip Juranovic and Anthony Ralston – didn't always appear natural. Little wonder, with Bernabei's appearances restricted since his arrival last summer, while Johnston is just in the door. Their manager is understanding.
"It's not easy [for Alexandro], he's a young guy and he hasn't had an extended run in the team," said Postecoglou. "He has probably played more than I thought he would but less than he deserves because Greg Taylor has been outstanding. The good thing about him was second half he finished really strong, he was still getting forward, so he has the physical capacity to play in that position which is really important – it's not just tactically in those full-back positions, there is a fair physical demand on the players. It shows he has a good engine and the same with Alistair, right to the end they were working hard to get forward to provide support."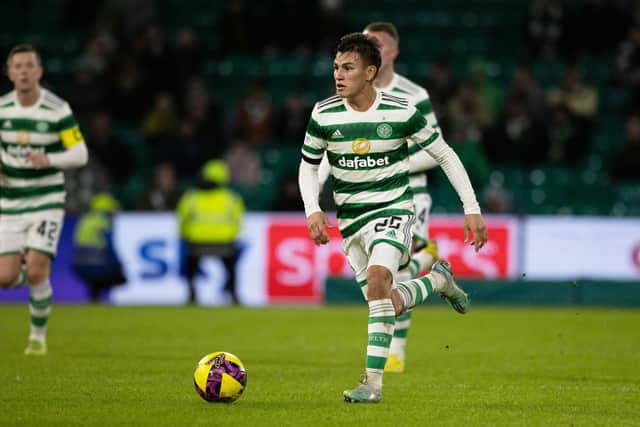 Jota's linguistic marvels
Few footballers would ruminate on the challenges of playing on the opposite side from their norm by grasping for the phrase "peripheral vision". Even fewer whose first language isn't English. Jota, then, is patently a smart cookie in doing so as he sought to explain how playing on the right – as the Portuguese wide man did on Saturday – can require re-orientatation a when, from his youth, his brain has become accustomed to computing options on the pitch from the left. "I don't know how to say this in English … periphery?" he offered, without a stumble on a rarely-heard word, the broader concept he was seeking to communicate perfectly apparent.
Postecoglou the football stateman in thoughts offered for McGarvey family and Kevin Bridges
Those who have no feeling for football have zero concept of the power of the game in dark times … as an escape, a comfort. It can be immensely powerful but articulating that when discussing the bereavement others are going through can be awkward. The whole notion of the football family has been overworked by clubs to the point of cheesiness – especially at Celtic. It was quite something then for Ange Postecoglou to appear so genuine and authentic on being asked about Saturday minute's silence for Frank McGarvey, the great Celtic striker who died on new year's day. The Australian's emotional intelligence was further reflected in how it did not seem out of place, or tacked on, for him also to offer thoughts for one of the club's celebrity supporters, comedian Kevin Bridges, following the death of his father Andy on Thursday.
"I know his kids were here today and I did speak to the boys about it before the game," the Celtic manager said of the McGarvey family's presence. "Frank was a guy who sat in that dressing room, wore that shirt over 200 times, scored over 100 goals for this football club and we have got to make sure we always honour those kind of people because they are part of the Celtic family. For all our guys in the dressing room now, some of them have kids and are watching them play, just like Frank's kids were watching today. So hopefully in a pretty difficult time we gave them a little bit of joy today. I'm sure Frank would have been pleased with what he saw. I know Kevin Bridges, who is also a massive Celtic fan, lost his father in the last couple of days as well. Our thoughts and prayers to those people, they are all part of this family. We know in difficult times it's amazing what this football club can do for people."
Comments
 0 comments
Want to join the conversation? Please or to comment on this article.