Celtic reaction: Did Dundee create history at Parkhead? Young team help prove the watching Gordon Strachan's on right path
Celtic maintained their place at the top of the Scottish Premiership with a 3-0 win over Dundee at Celtic Park on Saturday. Second-half goals from David Turnbull, from the spot, Kyogo Furuhashi and Matt O'Riley secured the points for the hosts, but it was hard going at times against a well-drilled and very young Dundee team.
When Gordon Strachan got back involved at Dundee over four years ago, it was because he said he had become "obsessed with youth football". After leaving the Scotland manager post in 2017 he travelled the world researching youth academies in other countries.
He also had his own views. He wanted somewhere to put his ideas into practice. Hence the return to Dundee, where he had started his playing career. It's now plain to see what he had hoped to develop at the club. The accent is very much on youth even at first-team level.
Strachan would be the first to refute claims it's down to him, and a lot of the promise now coming to fruition was in place before he joined. Still, it would be negligent to ignore the shift in focus towards younger players at Dens. Last year the Dundee side that finished their opening Championship fixture against Partick Thistle had an average age of around 22.8. It was reckoned to be the youngest-ever side Dundee had fielded.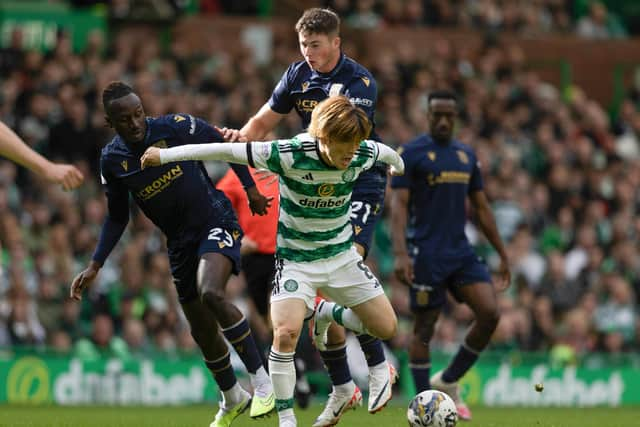 One wonders whether the side that took to the pitch at the start of yesterday's 3-0 defeat to Celtic was the youngest the club had ever sent out at Parkhead. Certainly, that is, in terms of outfield players (Trevor Carson, their veteran 'keeper, is 35).
By my crude mathematical calculations the ten outfield players had an average age of 24.2. The average age of the front six was just 22. The three midfielders in Dundee's starting XI were Finlay Robertson, Ryan Howley and Malachi Boeteng – aged 20, 19 and 20 respectively. When is the last time Celtic faced such a tender-aged midfield? Two of Dundee's brightest youngsters did not even start. Lyall Cameron and Josh Mulligan, who featured in Scot Gemmill's starting XI as Scotland Under-21s lost narrowly to Spain last week, were named among the subs by Tony Docherty.
Only Mulligan, 20, saw action and caught the eye in his last cameo. It's not necessarily something to commend Dundee over, or even laud Strachan, who was an animated presence as he watched his current club take on the side where he had such success as a manager. After all, Howley and Boeteng are on-loan from other clubs.
Owen Beck, meanwhile, is just 21 and looked the best of the lot at left-back. He is on loan from Liverpool and seems assured of a bright future. His progress to date has had little to do with Dundee although the Anfield club will be pleased Beck is experiencing such outings as on Saturday, when even Celtic fans were wondering about the identity of Dundee's No. 3.
As for Howley, the 19-year-old who was handed a full debut in the middle of midfield in front of 60,000 at the home of Scotland's champions. He was excellent bar the rush of blood to the head that saw him challenge David Turnbull when he did not to on the fringe of the box shortly after half time. The result was a game-changing penalty following a VAR intervention, with referee Grant Irvine originally awarding a foul just outside the box.
Docherty later described Howley, who is on loan from Coventry City, as "really energetic and athletic". He fits the bill for the kind of player Dundee – and Strahan – seem to want to attract. Indeed, Strachan's football foundation is based in Warwickshire. Mark Robins, the Coventry manager, revealed this week that Strachan had called him on a couple of occasions about Howley, although Docherty made the ultimate decision.
The Dundee manager is trying to give Dundee the right blend of youth and experience. "It is just important to get the right balance," Docherty said after the game on Saturday. "I thought we had great experience in the backline today, with Carson, Kerr, Lamie and Shaughnessy and the performances from young Beck are just getting better and better. It is getting the blend. The young ones have come in and experienced that and it will make them better." Dundee's policy is an interesting one.
It's impossible to avoid making a reference to Alan Hansen's famous remark on Match of the Day about not winning anything with kids. But then Dundee don't have to win anything – they just need to stay up.
Comments
 0 comments
Want to join the conversation? Please or to comment on this article.