Celtic reaction: Ange Postecoglou lauds 'player who would have fight by himself', say on Rangers statement
Celtic manager Ange Postecoglou chose not to restrict himself to feasting on aesthetic brilliance of two-goal forward Kyogo Furuhashi as he reflected on the effectively title-clinching 3-2 victory at home to rivals Rangers.
The artisanship of Alistair Johnston, the Australian acknowledged, was also key on an afternoon when his team produced an uneven display as they extended their cinch Premiership lead to 12 points but could hang their hat on the Canadian full-back aggressively fighting his corner.
"Alistair loves a battle, doesn't he? I think he'd have a fight by himself," said the Celtic manager. "When you bring guys in, you look at what he can bring from a playing perspective. But having been here 20 months, you also know that it takes a special kind of personality to play for this club. The expectations are there every week and you have to perform and be at your best. You have to overcome every opponent and Alistair exemplifies all of that. He's a good footballer and physically he's outstanding. But he also has that character and winning drives. He's only been here for four months but has played in three of these games. In every one, he's stood up really well."
Furuhashi's contribution as he took his derby goals record to five in his past three such outing was undeniably of huge significance but Postecoglou joked he had to take care in assessing his unerring brilliance, which has now delivered him 28 goals this season. "I knew what he had to bring [when I brought him from Japan], not just as a player but as a person," he said of the £4.7million signing from Vissel Kobe in the summer of 2021. "He's a winner. He's outstanding. The positive thing is that people don't pump him up too much. If they do, other people might notice. So he's struggling at times – but he's alright …"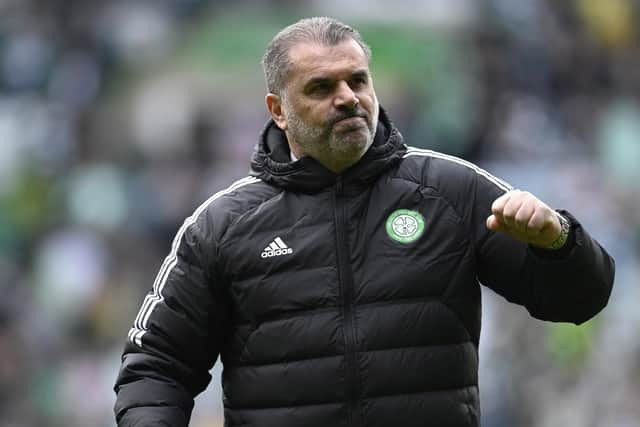 Meanwhile, Postecoglou chose to sidestep the idea that Celtic had made a statement against an improved Rangers, not just snuffed out even the possibility of resparking their championship ambitions. "I don't know about statements," he said following his team's 18th straight domestic home win, that leaves them on course for a record Scottish points total with only five points not claimed from the 93 contested. "Is it something you write down or have to proclaim? All we want to do is represent this football club and be the best possible people that we can be. So far this season, the group of players has been outstanding. In every challenge that has been put before them that has been the case. The season is not over, there are still games to play and we are not going to waste any one of them. Why should we?
"What that means beyond is of no relevance, the drive comes from within. From the dressing room and what we do every day. I keep telling them, don't waste a day. Don't miss a special moment because you are thinking about something in the future that might never happen. Just think about today, be your best and move onto the next day."