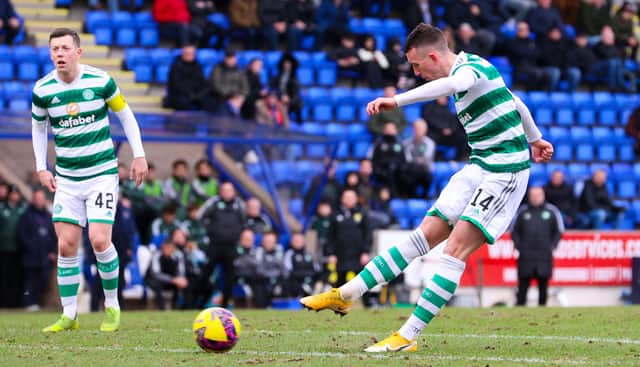 Three millennium titles already surpassed
The latest beating handed out to a cinch Pemiership opponent brought up an astounding statistic. Ange Postecoglou's men have now plundered 78 goals in 25 league outings. It means that though they are only two-thirds of the way through the top-flight campaign, they have already scored more times in this campaign than they did in winning the league in 2006-07 (where they hit a meagre 65), 2017-18 (when the haul was 73 goals) and 2018-19 (77 the total then). McDiarmid Park witnessed the fourth time in only their past eight Premiership outings when they have bagged a quartet. Only twice in their 25 league games – the 2-0 defeat away to St Mirren in September, and the 1-0 win up in Aberdeen just before Christmas) have they failed to net at least twice in a game. It would require them to dry up markedly as they are exhibiting absolutely no signs of doing for them to fall short of setting a new Premiership goals record – that currently standing at the 106 goals bagged by Brendan Rodgers' Celtic in their loss-free treble winning campaign of 2016-17.
Jimmy McGrory-inspired all-time best under genuine threat
Celtic's goals-flow is setting up the possibility of Postecoglou's men rewriting their own record books. The best goals return for a top-flight campaign from a Celtic side came in 1935-36 when, underpinned by a 50-goal booty from their magnificent marksman Jimmy McGrory, a total of 115 goals were bagged. In terms of Celtic's goals-to-game ratio in this campaign, they could eclipse this tally. With 78 goals in 25 encounters, they are running in the goals at 3.12 per game. If they kept up this scoring rate, they would add 40 more to their current total for a figure of 118, which would surpass the club's 1935-36 best. However, they have very little chance of creating a new Scottish record, with Hearts' total of 132 in the 1957/58 season looking untouchable
No excuses for abuses
There have been some strange attempts by some among the Celtic support to claim that Orange isn't a religious term. True in the same way that Fenian is not a religious term, the origins of Fenian an Irish society of the 19th century dedicated to the overthrow of British rule on the island. Surely, no-one seriously believes the use of these epithets in Scottish football, and society, now are not shorthand for Protestant and Catholic. As required to be said constantly, it is the settled view of the courts – and is case law – that abusing someone as an Orange b… or a Fenian b… leaves the issuer open to a charge of religiously aggravated breach of the peace.
One Celtic blogger said the nuance was being lost in this stance, pointing out that the difference in the uses of the terms was that Rangers support exhorting violence when singing the line about being 'up to' their 'knees in Fenian blood' in The Billy Boys. By extension, does that mean that they are not guilty of sectarianism if they merely sing it in the Super Rangers song with the line 'we hate Celtic, Fenian bs…'? Right. It might be difficult to accept that a section of Celtic supporters are sectarian on a weekly basis, but it is inescapable.