Celtic, rabbits out of hats and magic circle - Saints sliced and diced despite being competitive
A proper game of football threatened to break out at various stages in Perth, but Celtic put the kibosh on that prospect through their peerless ability to conjure up killer goals.
Aspects of Ange Postecoglou's side performance were middling on a midden of a surface – microwaved butter wouldn't have cut up so easily – but it would be remiss to overlook St Johnstone's willingness to engage the Scottish champions in advanced areas for at least the 4-1 win being removed from Celtic's long list of practical walkovers in this campaign. What was St Johnstone undoing, as is the way of it for Scottish teams pitted against Postecoglou's team, is that their quicksilver shuttling of the ball in and around the box possesses the fluidity of mercury under a bunsen burner.
What ensued from the disparate elements at McDairmid Park was not always an engaging encounter, but certainly, at times, a surprising one. The story may ultimately have ended the same as is almost always the case when Celtic take to the pitch these days – their latest success a 20th victory from a 21-game unbeaten domestic run, with a mighty 27 wins from 29 such assignments. But there were a couple of unexpected chapters ahead of the conclusion that restored the nine-point advantage in the cinch Premiership for Ange Postecoglou's men.
Gloriously sliced and diced for two goals inside the opening 22 minutes, St Johnstone seemed certain then to be truly desiccated. Almost instantly, a squiggler of a drive from Drey Wright from 22 yards that wobbled its way under the outstretched arm of the fully extended Joe Hart put the home side back in contention. But Celtic shred opposition defences as if their players' passing, movement and delicate touches make them akin to human cheese graters.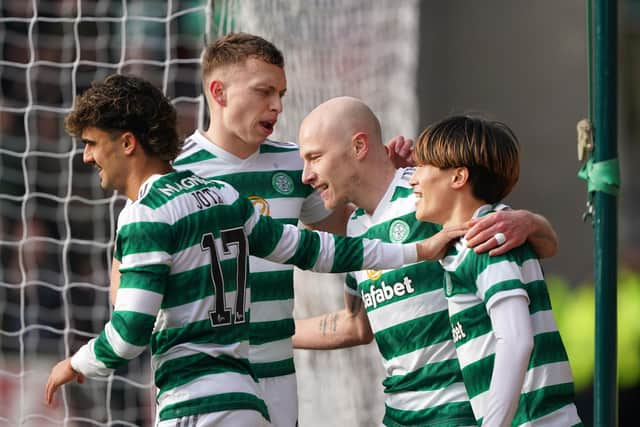 Andrew Considine was certainly the home player left in bits by such capabilities. His 600th senior appearance in football was one of his most excruciating, starting with an own goal and ending with a red card. For the first agonising intervention after 13 minutes, the home backline were reduced to spinning tops as Daizen Maeda fed Mooy, whose reverse ball set off Kyogo Furuhashi down the right wing. When he slid over a cross, Considine, at the front post, slid out a leg as Reo Hatate hared in behind him, only to see the ball fly past his helpless keeper.
There was no life left in the confrontation when substitute Oh Hyeon-gyu rolled Considine in the second minute of added time. But the St Johnstone centre-back changed that needlessly by yanking by the South Korean to be sent off by referee David Dickinson and concede a free-kick that Matt O'Riley rolled to David Turnbull belted into the corner with murderous intent.
In between, Mooy was the man in Celtic's glorious goalscoring. He delightfully flipped the ball over for Jota, on the right-hand edge of the box, to thread inside – via a deflection from sneaking through Considine's legs – to Kyogo Furuhashi. The Japanese striker, then nimbly and ruthlessly, set himself up to slam high into net for his 23rd goal of the season. The piste de resistance for the Australian was the 38th minute strike that restored Celtic's two goal advantage. Making a run through from deep, he was picked out by a chip from Jota and, boy, did he make full capital from doing so. Bringing the ball down as if it were velcroed to his foot, the 32-year-old's next trick was lobbing the advancing Ross Laidlaw with consummate ease. Celtic, even when not at their absolute best, are so capable of producing such rabbits out of hats they could gain entry to the Magic Circle.