Celtic players lift lid on Ange Postecoglou post-match address as Hampden hero says: 'Maybe the Gods support me'
Pride comes before a call, with Ange Postecoglou all lined up to have a chat about his future in the coming days. But defender Carl Starfelt said there was no hint of a farewell when he addressed the players after they wrapped up a world-record eighth treble.
"He said how proud he is of everyone: the staff, the players," Starfelt said of his post-match address. "That was the main message. If anyone knows how hard we've been working… it's not only the games, it's coming into training everyday with a big focus and desire. Everyone sees the games but that's what's needed if you want to win things. He is really proud that we have won.
"He is a really good manager and is really important for Celtic. Whatever happens, I have no idea. We will just wait and see, I guess. But he is really proud of this season."
Hard to find flaws in a season that has reaped yet another clean sweep of the domestic silverware, Kyogo Furuhashi accumulated a horde of personal honours as well, including the PFA Scotland Player of the Year, the SFWA Player of the Year, the club's Player of the year and the SPFL Premiership Player of the Year. But the Scottish Cup trophy, which had proved the most elusive of all the awards, was something worth treasuring.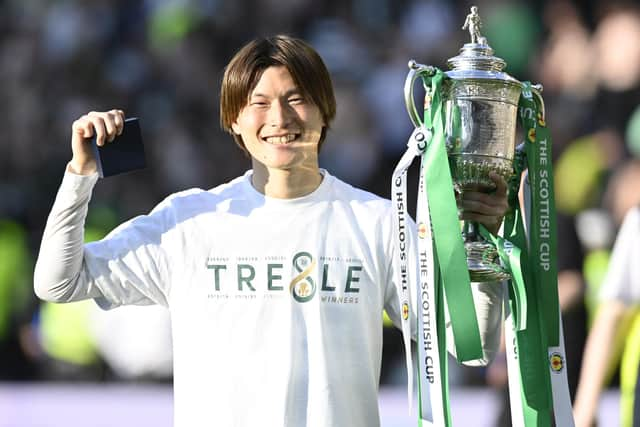 "Where does this rate in my Celtic career?" said Furuhashi. "This is the max! I wanted the Treble and I am so happy that we managed to do it. I didn't get the Scottish Cup last season and that was a big aim. I am so happy that all the hard work we put in paid off and that we could finish the season like this. This is what we have all worked so hard to achieve."
The goal which set Celtic on the way to victory over Inverness Caledonian Thistle was the Japanese striker's 34th of the season and his fifth in the three finals he has played at Hampden.
"Maybe the Gods support me every time I play here! I am so happy," said the 28-year-old, who shrugged off an injury picked up in last week's victory over Aberdeen to make his mark. "My injury was fine. I had no doubts. No problem. I was happy to play when I spoke to the manager. All the staff supported me and I had it in my head that I would play. I am happy that I could do that and score. My team-mates always give me great passes and I make the runs. When we link up like that, things are quite easy for me. I was happy to score again and finish the season with another trophy. It's been a perfect season for me."
And, his contribution earned him a massive hug from manager Postecoglou. "To be honest, I don't know anything about the manager. But everyone, not just me, is so happy to work under him at Celtic. How big an influence has he been on me? I don't think I need to say too much – you can see from the performances. We have had good results, we have won trophies and we have played attractive football. But, now, I don't want to think too much about the future. I want to rest."