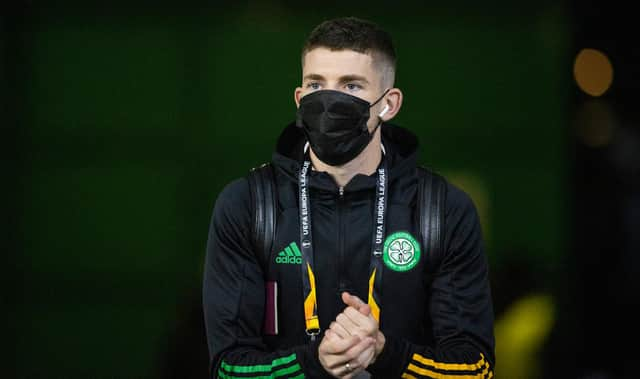 And, speaking at length for the first time since the Covid-19 controversy that left him self-isolating for a fortnight, the Celtic attacker is still perplexed and exasperated as to why that was so.
The 25-year-old was only able to return to competitive action in the second half of Thursday's 3-1 loss to home to AC Milan in the Europa League. He missed Scotland's three internationals earlier this month, and Saturday's derby defeat by Rangers as a consequence of being adjudged a close contact in the international camp of Stuart Armstrong, who tested positive for Covid-19 two days before Steve Clarke's men faced Israel in their Euro 2020 play-off semi-final on October 8.
From that point, Christie believes reason and "common sense" was cast out of the window. That is because, despite Kieran Tierney also being deemed a close contact of Armstrong, the Arsenal full-back was able to feature for his club in their meeting with Manchester City last Saturday. In contrast, Christie was forced to remain home alone and watch his team slump to a sorry defeat against their bitter rivals from the couch.
How Christie paints the circumstances of his falling foul of the track and trace process raises questions over the Scotland protocols put in place by SFA doctor John MacLean, and the disconnect between the football authorities and the Holyrood government in comparison to their equivalents south of the border. Christie maintains that he, Armstrong and Tierney breached no guidelines in their Playstation gaming session at the Scotland hotel. In a sizeable suite, he said they effectively could have been in separate rooms.
Plenty of space between them
"The crazy thing was we were spaced out that even unintentionally we were social distanced. It wasn't like we were on the one TV or the one Playstation," he said. "This is going to sound really geeky but one of us was on one side of the room, with a TV on that side, one of us was in the middle facing [towards another wall with a TV] and the other facing a different way [with their own TV]. We all had headsets, and we weren't even looking at each other to speak to each other, or anything like that.
"Before the decision was made [that I had to quarantine] and we were speaking to the government, at the time the Scotland guys measured the distance between the seats and it was 3.8m, or something. We were following rules and social distancing, plus through previous camps we were told by the international doctor that this was ok to [have a gaming session like that]. So, it was very frustrating to have done that and still been punished for it.
"I was following every single protocol. We've done it since June/July at club level, so it's not as if we go away for internationals and throw all that in the bin, we follow the same duties. It is frustrating when you follow all these protocols and it still comes back to bite you. I was tested five or six times over the period [that followed] and every single one of them came back negative. I know there is a so-called bedding in period for the virus but you need to wonder when it goes past common sense I need to stay in despite constant negative tests.
'How long does this really need to go on for?'
"I get it in normal walks of life, when normal people come into contact and it is different if they are not getting tested as regularly as we are, or in as controlled an environment as we are. But, you can see how restrictive it is, how many rules are in place, how many protocols we follow. I just felt when I'm sitting on the couch and have someone coming to test me every morning and the next day I'm getting a text saying I'm negative again. I was left thinking: how long does this really need to go on for before it is just getting a bit ridiculous. Maybe it is a rule that can be looked at. I know Celtic reached out to see if they could make any progress on that, and just fell short.
"It opened my eyes to it in terms of personally not doing anything wrong and still being liable or being punished. You now you just need to be very, very wary. Even if you are following the guidelines you, I don't know, maybe go that extra step further so nobody can point the finger at you and say you've done wrong or that you could've been in distance with somebody carrying it.
"I had to get my head round it in the first few days. Obviously it was frustrating to be in the same boat as Kieran, who then went down and played for Arsenal at the weekend."
What's the difference between me and Kieran?
Christie still struggles to understand why he could be treated differently from Tierney last weekend. "I have no idea," the Celtic attacker said. "I think that there was a more open communication between the governing bodies down there and in terms of the chief medical officer and the Premier League. They were in talks with the doctor at Arsenal and once everybody was OK that KT had tested negative so many times then everybody was happy for him to play. I think it was just about more common sense down there. Which was frustrating for me."
Christie now wants to put it behind him, and is "buzzing" to face old club Aberdeen on Sunday. But he admits his father Charlie believes the Fates are all too often dealing him a dodgy hand. "That was the first thing my dad said when I called him, that somebody's out to get me. Now I'm over it, just like the other lockdown, you realise your love for football and how much you want to play."
A message from the Editor: Thank you for reading this article. We're more reliant on your support than ever as the shift in consumer habits brought about by Coronavirus impacts our advertisers.
If you haven't already, please consider supporting our trusted, fact-checked journalism by taking out a digital subscription