Celtic lavished with praise for the way they dealt with St Mirren's ten men - 'with them it's different'
St Mirren manager Stephen Robinson looked beyond the shortcomings of his own players in maintaining that Celtic warranted "credit" for making the Paisley side pay for the actions of Charles Dunne in earning a red card 37 minutes in.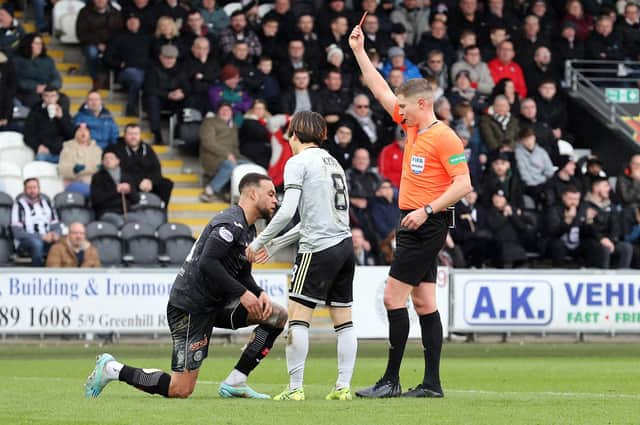 Robinson had no doubt the defender's "poor decision" last-man pull on Kyogo Furhashi with his team 1-0 up was they key turning point that allowed Celtic to score five without reply in the second period. But that was not the only facet at play in the 5-1, with the industry and rotations of Ange Postecoglou's men rendering them unstoppable.
"If you have 11 men against Celtic you have more of a chance, I think that's stating the obvious," the St Mirren manager said. "When you have ten men, you have to give them credit as well, they move you about so much. Sometimes the spare man is the centre-half and it's still the exact same all round the pitch, but with them it's different. They play their full-backs so narrow and high they are like midfielders and they overload in areas all the time. Ultimately they break you down, they make you tired, they make you make tired decisions defensively, and I think three or four of their goals were tired decisions defensively when they move the ball about.
"Celtic are a very difficult proposition to play against with 11 men. We make the perfect start, it's our perfect scenario as a team. They have to come out and commit men forward, we play with two centre forwards where we can hit them on the break. You think you're in total control of it but we've made a poor decision when we were in total control of the ball. Ultimately in the second half we lost goals that weren't because of the 11 men … but because they wear you down. I have to be very clear now that we don't let that define our season. We're still very much in control of our destiny. We will reset the boys and there is no blame game here."