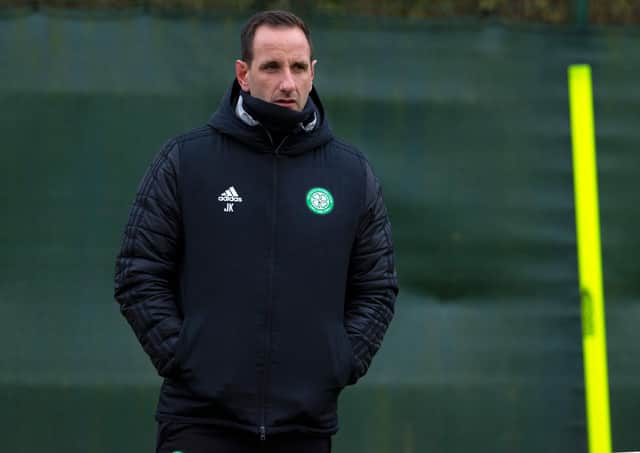 The Ibrox club last week appealed the six-game bans, with two suspended until the end of the season, imposed on March 25 - a full 39 days after the five received fixed penalty notice from police for attending a house party. The SFA last night confirmed that appeal will be heard on April 20 – nine weeks after their house party transgressions and a date that will allow Bongani Zungu and Patterson to play in the Scottish Cup tie with Celtic at Ibrox a week on Saturday.
Kennedy cannot comprehend why the saga has become so protracted when, in August, Celtic and Aberdeen had two games immediately postponed - on the demand of the Scottish Government - and had bans issued within weeks subsequent to Boli Bolingoli's failure to quarantine following an unauthorised a trip to Spain and eight players from the Pittodrie club attending a city centre bar. Celtic subsequently packed off Bolingoli on loan to Turkey.
Kennedy is perplexed over Gerrard's claim that the law-breaking from Patterson and his team-mates during a full lockdown should be handled more leniently than the punishments meted out to Ibrox players Jordan Jones and George Edmundson for attending a party in November, when the country wasn't in full lockdown. Rangers then accepted the seven-match bans for the pair, but Gerrard essentially stated last weekend they have appealed in relation to Patterson because he is one of the country's "brightest prospects" and because his age, and the damage the ban could do to his career, should be taken into consideration.
"We were addressed very quickly in the situation we were in," said the Celtic interim manager, speaking before the appeal date was announced. "We'd games postponed and the players were dealt with fairly quickly. I really don't [understand] the delay and the hold-up [in the current Rangers case]. Players played against us [in the derby at Celtic Park on March 21] who probably should have been banned. They've broken rules. Regardless if you are a talent or you're not, you've still broken the protocols and there's a punishment that goes with that. I'm saying protocols because we tend to use that word, but 100% they were breaking the law.
"Our players are talented. They've been punished. It's the same difference. The SFA need to address this and give a bit more clarity to everyone in terms of the hold-up and why it's taken so long. It's only my opinion but it's something I think should have been dealt with a hell of a lot quicker to remain consistent with all the other decisions that have happened.
"In terms of consistency, we were dealt with very quickly and were punished harshly and we had to accept that and move on. It wasn't a good situation and there was a lot of pressure on us because of it as we were then playing catch up. The SFA are the only ones who can come out and clarify why this decision has taken so long and what they are thinking.
"Steven's got his reasons to [use the talent defence with Patterson]. But our players are talented. We paid money for them and have high hopes for them. Look at the Boli Bolingoli situation. Yes, he broke the law and he was harshly punished for it, and rightly so. We're not defending that. But it was a massive set-back in terms of his career at Celtic. That's the punishment for stepping out of line. You can't do it. It was made very clear to our players that these are the situations that you can't get involved in. One because you'll be punished for it. But it also brings extra pressure and scrutiny on the club.
"Bolingoli was punished and we accepted that was the right thing. These [Rangers] players have been caught breaking the law themselves. The SFA have to address that quickly. We'd to deal with that punishment at the time. A lot of people in Scotland will ask for consistency, whether it's with officiating, the SFA disciplinary process or other things. It should be very clear in terms of how you deal with situations like this. And regardless of the player – how talented, how valuable he is – there comes a punishment when you step out of line in these situations.
"This is only my opinion and I'm not just saying this because it's Rangers – Aberdeen were dealt with in the same manner as ourselves when their players were involved in their situation. There's obviously been a process in place as to how they deal with these things but, for whatever reason, it seems to have broken down at this point and only they can answer that. Whether it's the SFA, the government or whoever it may be, these things must be dealt with fairly, no matter who the club is."
The eligibility of Patterson and Zungu for next week's cup-tie Kennedy called a "by-product" of the SFA dragging their heels. "I don't know why this has taken so long. It happened eight weeks ago but I don't have the answer to that," he said. "You'd need to ask the SFA directly. I can't tell them how to do their jobs but all we can ask for is that these issues are dealt with in the same manner during a pandemic which has been tough for everyone."
A message from the Editor:
Thank you for reading this article. We're more reliant on your support than ever as the shift in consumer habits brought about by coronavirus impacts our advertisers. If you haven't already, please consider supporting our trusted, fact-checked journalism by taking out a digital subscription.